Mature Students
Mary Immaculate College is committed to improving access to higher education for adults and the College provides a friendly, relaxed environment with specialised supports to make the third level experience beneficial and enjoyable. If you are at least 23 years old on the 1 January of the year of entry to college, you are considered a mature applicant and can apply for MIC's undergraduate programmes, or alternatively you can use a part-time programme to get a taste of, or prepare for, a course of study.

Why MIC?
Whatever your reasons for pursuing further study, MIC is a great choice—offering degrees in a broad range of academic areas at our two modern campuses in Limerick City and Thurles, Co. Tipperary. As a designated centre of excellence in teacher education, there are programmes in primary and post-primary teaching available as well as Psychology, Liberal Arts and Early Childhood Education. Mature applicants can apply through the CAO system (where applicable) but may be asked to do an interview, written or oral exam as part of the application process.
Lifelong learning is part of the MIC mission so there are also specific programmes for mature learners. The Teacher Education Access Programme (TEAP) is for applicants who are interested in applying to the B Ed (Primary Education) but do not hold the minimum entry requirements.
No matter what your age, there are plenty of extracurricular activities to get involved in at MIC and services designed to help mature learners in their individual college journey such as the Student Parent Support Service and the Academic Learning Centre.
Mary Immaculate College is a participating institution in Uversity - a Higher Education scholarship scheme for adult learners. Applications can be submitted from 1 February 2023 to 24 March 2023.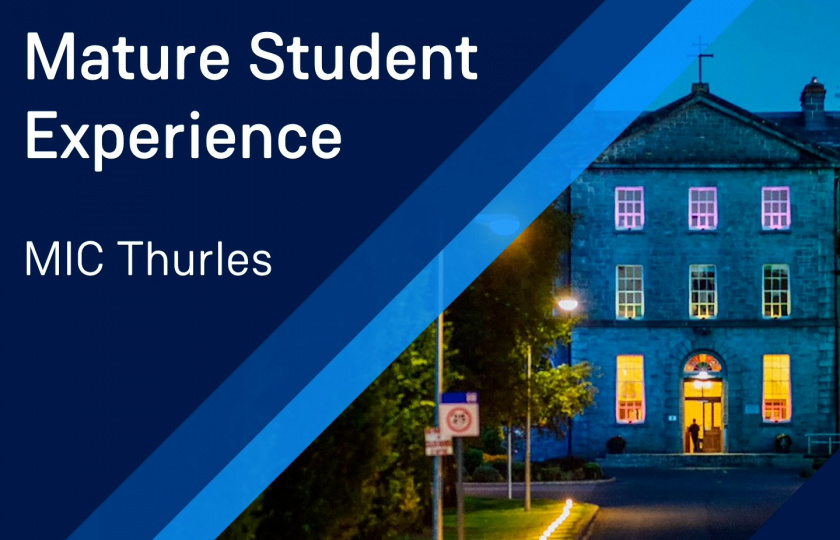 23
Minimum Age
You must be at least 23 years old on 1 January of the year of application to be considered a mature student, but MIC has students of many ages- older and younger alike.
95%
Student Retention Rate
Students who come to study at MIC tend to stay for the duration of their programmes, indicating a high-quality student experience and satisfaction level.
13
Undergraduate Programmes
All 13 of MIC's Level 8 degrees in Education and the Liberal Arts are open to mature applicants and there are two part-time preparatory courses to help gain access to our flagship B Ed and BA programmes.