Information for Parents
The Parents' Section of the Mary Immaculate College website is designed to inform you, as a parent or guardian of an MIC student, about college life and to help you support and guide the student through their college experience.
The College Journey
Each year MIC welcomes over 1,000 new first year students.  MIC's exceptional student retention rate of 94% shows that the majority of these students are happy with their choice and prosper.  The reason for this exemplary retention rate? In the main it can be attributed to our student centric ethos, highly supportive atmosphere and extensive range of support services.
However, the college journey, while exciting for most students, can be daunting for some. Whether it is advising them on their CAO choices, attending our parents' orientation evening or giving financial management or health and well-being advice your counsel will be important.
The entire MIC website is an invaluable resource on all aspects of college life. Explore it to find out about everything from Student Supports to Scholarships and Accommodation options to Fees, Charges and Grants.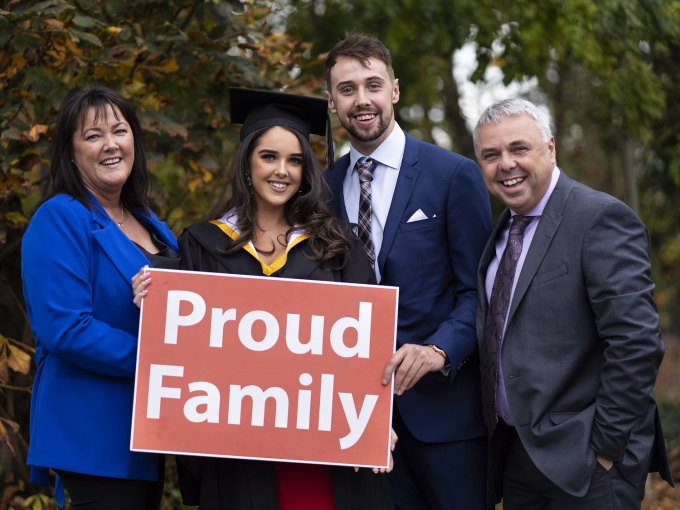 The MIC Staff Perspective
The main ways in which a parent can help a student during their Leaving Certificate, or in the first year in college, is to keep the lines of communication open.  It is important to get students to talk about their issues and problems. At Leaving Certificate level, this can mean checking if subjects are causing problems early so that some kind of action can be taken. It is also important to try to ensure that students are aware of the points necessary for programmes and that they, or their parents, are not placing unrealistic demands on them. It is also pertinent to remember that nowadays there are so many paths to college that the CAO points are not the be all or end all. 
In terms of college, it is important to talk to students and to get them to realise that every module now has built in the idea of student effort–that is that for each lecture given, there is an expectation that students will do some independent, or guided reading, around the issues of the lecture. If this is done on an ongoing basis there should not be problems. Also it is important to stress that universities now have a lot of systems and supports in place designed to help students and that they should avail of these if there are any problems.
Dr Eugene O'Brien, Vice-President, Academic Affairs (Acting) 
The MIC Student Perspective
For many students, the leap from the leaving certificate into third level education can be overwhelming and daunting to say the very least! Every emotion possible hits you at once going through the doors of the college but it is important to know that every one of your peers feels the exact same way. The excitement of meeting new friends, the opportunities to learn new things, and the new experiences you gain every day in MIC are truly amazing and invaluable. With so much going on in the college, it is often easy to forget how we got there in the first place. Our biggest supporters are those who have been there for us our whole lives and cheered us on from the side-lines all the way–our parents, guardians, and wider family!
They serve as our main supporter during our successes and challenges and college is no exception to this. If I was to give any advice to family members about their children transitioning to third level education, I would say that college is a chance for your child to grow, develop, and learn as an individual. It is important for us to support our children when they need it but to also give them that independence to learn about the world around them. No matter how far away from home they seem or how many times they call home to visit, they are only a phone call away. Rest assured parents, no student or child will ever forget where they came from and who got them to where they are today!  
Gary, current student at Mary Immaculate College