MIC Limerick Campus
Located a short walk from the social and cultural buzz of Limerick City centre, MIC Limerick's leafy 25-acre campus combines architecture from past and present that makes it truly unique. The essential facilities for lectures, study and recreation are all here but its compact size and friendly atmosphere ensures that students have 'a home away from home'.

MIC Limerick
Founded in 1898 to train school teachers, Mary Immaculate College has come a long way since the first students stepped through its doors. MIC is now a thoroughly modern institution, delivering a variety of education and liberal arts programmes to close to 5,000 students. It may be the oldest third level college in Limerick but the transformation of the campus, particularly over the last 20 years, shows a drive to offer the best amenities possible.
It maintains a historic charm with period buildings and fixtures but boasts contemporary facilities like the TARA Building, Lime Tree Theatre and Tailteann Sports Complex to complement the vibrant student experience. MIC Limerick is a strong fixture in both the local community and the national educational landscape. Take a virtual tour of the campus and learn more about buildings and facilities below.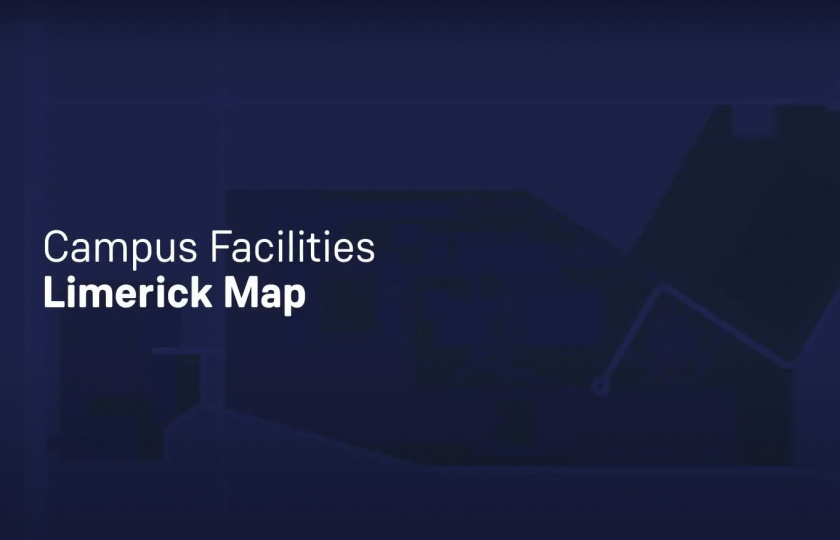 Foundation Building
MIC's rich history and contemporary vigour can be seen in the original main structure, the Foundation Building. The first stone was laid in 1899 and it is still in full use today for teaching, office space, student accommodation, dining and even worship.
The period classrooms and lecture theatres here offer great character but all have modern ICT and AV facilities.
The 350-seat College Restaurant is located on the ground floor and offers a menu of hot and cold food and drinks daily as well as a Starbucks coffee outlet and facilities for students who bring their own lunch.
The beautiful MIC College Chapel, which was built in 1906, is also located in the Foundation Building and one legacy of the Sisters of Mercy, the order that co-founded MIC, is that some of the rooms where nuns lived onsite have been given new life as meeting rooms and offices.
In the 1950s, the Foundation Building got its first major extension with the Residential Block. Along with offices and labs, there are 68 single bedrooms for female students here. The Quadrangle courtyard area between the Residential Block and the Chapel is a popular gathering point for students and staff.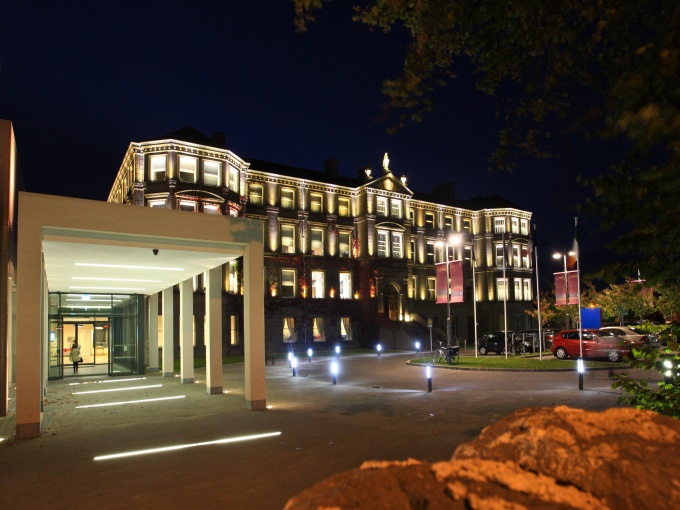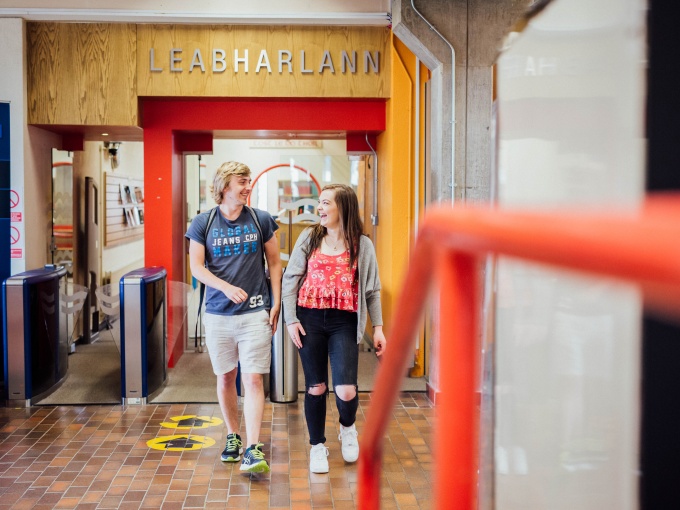 Library Building
Built in 1976, the library building is also known as Áras an Phiarsaigh. The library itself has a very extensive physical and online catalogue of texts and teaching resources, as well as an AV Library and study spaces. It offers numerous services such as book loans, inter-library loans, photocopying, and information skills training.
The Library building has one of the largest lecture theatres in the College (LG9), a small open-access computer lab and An Seomra Caidrimh, the College's Irish language resource and social space. 
The student radio station, Wired FM, is based. Limerick's only fully licensed student radio station (with bases at MIC and Limerick Institute of Technology (LIT)), is volunteer-led and broadcasts 48 hours of programming every week during the academic year on 99.9FM. 
This building houses specialist facilities for the Department of Media & Communications such as an AV Store, editing suites and a simulated television studio.
Plans were recently unveiled for a new state-of-the-art, 5,000 m2 Library and Learning Resource Centre at MIC. This will be situated in the heart of the Limerick campus and will replace the existing library.
TARA Building
The imposing four-storey TARA Building (Teaching, Recreational and Auditorium space) was officially opened in 2011 and is the home of dozens of state-of-the art lecture and tutorial spaces, computer labs and simulated classrooms. 
Among other facilities are the Medical Centre, the Counselling Service and the Forum—a stepped seating area—which hosts a variety of food stalls on Thursdays during term time and other events throughout the year like volunteer & career fairs, poster sales and public performances.
On the ground floor of TARA is An Siopa, where you can stock up on supplies like hot and cold food and drinks, stationary, books and other items. The MIC Students' Union headquarters (MISU) is also based here as well as a spacious Student Lounge with a pool table. 
The 510-seat professional Lime Tree Theatre is integrated into the building. The venue plays host to regular local, national and international arts and cultural events spanning theatre, music, comedy, dance and much more. MIC students get a discount on tickets.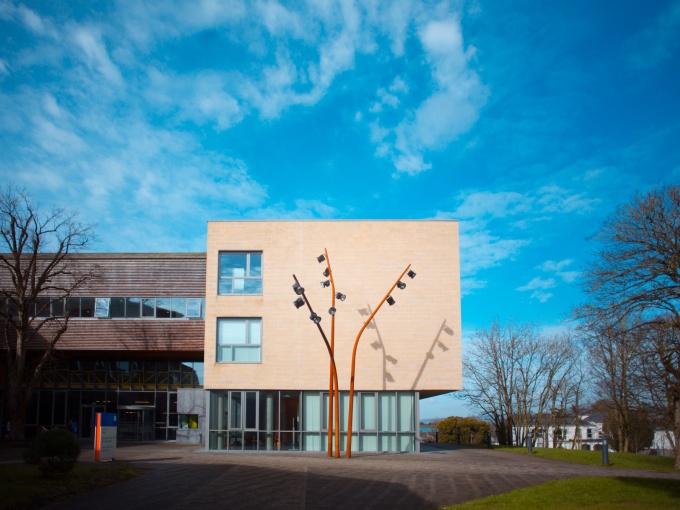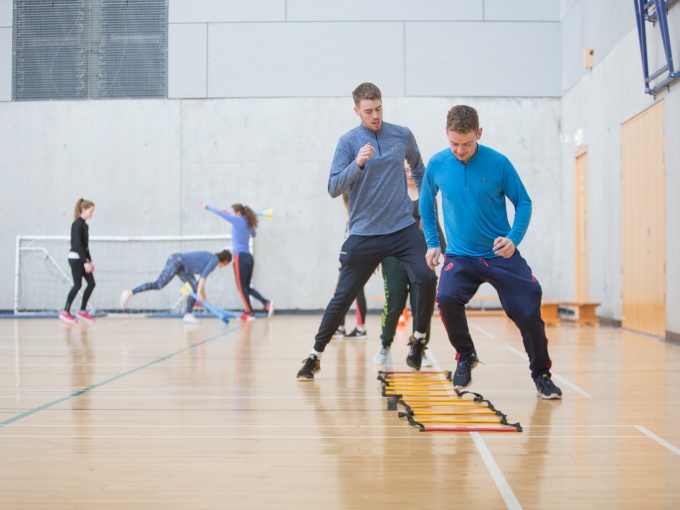 Tailteann
Beyond the TARA building towards the back of the campus is Tailteann- MIC's sports complex. The multi-purpose gymnasium was opened for students in 2007 and won the award for 'Best Leisure Building' at the 2008 Royal Irish Architecture Awards.
Perched on the side of a full-size GAA pitch, the building houses three gyms (the largest of which, TN3, is 8,000 square feet and has retractable bleacher-style seating), a well-equipped weights room, changing rooms and table tennis facilities. 
The GAA pitch includes an Astroturf running track around it and an Astroturf tennis/five-a-side soccer court on its far side. Across from the playing field, there is also a floodlit training pitch. 
Tailteann is primarily used as a teaching space for MIC's undergraduate and postgraduate primary school teaching programmes. Sports coaching and Continuing Professional Development (CPD) courses also take place here. There are numerous College sports teams training and playing regularly here, and a full schedule of exercise classes running during the academic year. Outside bodies rent the facilities outside of teaching and term time.
John Henry Newman Campus
In 2017, Mary Immaculate College expanded its footprint onto O'Connell Avenue through the redevelopment of the Mount St Vincent Convent site. It was named in honour of the 19th century priest, Cardinal and now Blessed, John Henry Newman, who also wrote the seminal work The Idea of the University.
Formerly occupied by the Sisters of Mercy, this landmark 19th century building (which covers approximately 4,000 square metres) is located across from the South Circular Road entrance to the College.
The main building has been refurbished into a fit-for-purpose research and postgraduate facility, bringing all staff research and postgraduate activities together into one space and significantly advancing provision in this area.
The JHN Campus is home to the Research & Graduate School and a number of other offices and services including the International Office (which is located on the ground floor). There are three teaching spaces in a building to the front of this campus.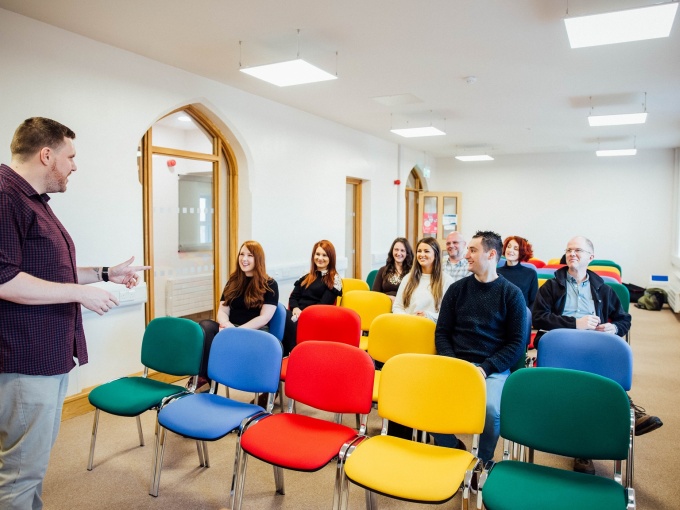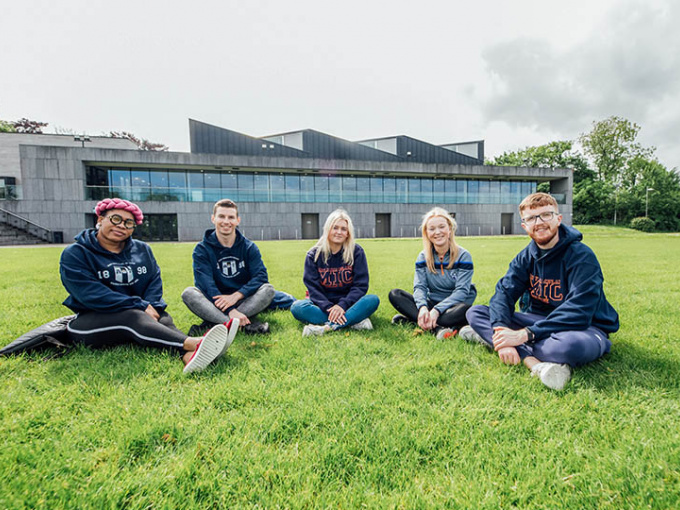 A Campus for Living
The MIC Limerick campus has an option to live adjacent to it in Courtbrack Accommodation.
Courtbrack Accommodation is a five-minute walk away, located near the Courtbrack Avenue Entrance to MIC on the Dock Road. Courtbrack can house up to 109 students at a time and is open to both male and female students.
It has communal bathrooms, showers and laundry facilities, self-catering kitchens, sitting room areas, unlimited internet and 24 hour security.
More information on the MIC Limerick accommodation is available here. 
Limerick Campus