Theology & Religious Studies
About
The Department of Theology and Religious Studies at Mary Immaculate College was founded in 1999. Along with a number of postgraduate programmes (taught and research), Theology and Religious Studies is offered on several of MIC's undergraduate degree programmes (MI002, MI010 and MI011) in Limerick and Thurles. The department has seven full-time academic staff working on both MIC campuses as well as the main University of Limerick campus, all with international teaching and research expertise. They are supported by several part-time academic staff with specialisms in all the major areas of theological scholarship.
Apart from research undertaken on an individual basis by its staff members and research postgraduate students (MA/PhD), the TRS department has close links with research centres such as the Irish Institute for Pastoral Studies, which is based at MIC Thurles.
The TRS department also works closely with the Benedictine Abbey of Glenstal, and has many international links with prestigious Catholic universities throughout Europe (such as Leuven, Innsbruck) and in the United States of America (such as the University of Notre Dame). 
Theology is perhaps one of the most exciting subjects one can study. The study of theology and religion entails an intellectual exploration of the belief systems that have played a vital role in the shaping of our world throughout the centuries. Human beings are in search of meaning, and an engagement with theology allows students to examine critically some of the most profound answers given to the most fundamental questions about life. 
Understood in the broadest sense, theology is an enquiry into the human conviction that life has ultimate meaning and worth. It is a rational and critical exploration of the human experiences of faith, hope, and love. One cannot be neutral about ultimate questions, and so theological enquiry usually takes place from the perspective of a particular believing community. Given that the majority of students at MIC are Christian in background, and given the College's ethos, the focus of the theology programme is a critical and rigorously academic study of Christianity. However, the department recognises the increasing need for detailed theological study of other religious belief systems and endeavours to provide for this.
There is hardly any significant aspect of life or society that has not been affected by religion, for better or worse, and this alone already justifies a study of religion. If you are interested in history, sociology, or politics, you will come to understand the impact that religion has had in the past, and continues to have in the present. Similarly, if you are interested in architecture, music, literature, or the world of painting you will find that some of humanity's most magnificent achievements are immediately linked to religion.
There are so many different exciting aspects to theology and the study of religion that it is difficult to think of another subject that covers such a diverse range of topics and ideas (see TRS Department flyer here).
Contact
Head of Department
Rev. Professor Eamonn Conway
+353 61 204353
Subject Overview
Undergraduate
The Department of Theology and Religious Studies offers a wide-ranging perspective on the phenomenon of religion, and Christianity in particular. It does so by drawing on a great number of sub-disciplines, such as philosophy of religion, historical theology, Christian ethics, pastoral theology, sacramental theology, ecclesiology and so on.
The programme is designed to ensure that all the requirements of the Teaching Council for the teaching of religion are met. Those taking primary teaching degrees can specialise in Theology and Religious Education.
No previous study of theology and religion, nor any particular denominational affiliation, is required to take TRS as an academic subject.
See below for a list of modules in the Bachelor of Arts programme in descending order from First Year onwards:
Staff from TRS teach on the post-primary concurrent teacher education degrees (MI010: Business Studies and Religious Studies and MI011: Gaeilge and Religious Studies) on MIC, St Patrick's Campus, Thurles. These programmes are accredited by the Teaching Council and graduates are qualified to teach Religious Studies to honours Leaving Certificate level after the completion of their four year degree programme.
See below for a list of TRS modules on the BA in Education (Post-Primary) programmes:  
Postgraduate
The Department of Theology and Religious Studies offers the following postgraduate programmes:
MA & PhD by Research and Thesis
MA in Christian Leadership in Education
Graduate Certificate in Christian Leadership in Education
In addition to various college awards and financial supports, postgraduate students may also be eligible for funding from the Bonaventure Trust, a private charity, which was founded a decade ago to support Catholic theology at Mary Immaculate College. Contact the Head of Department for further information.
For general research funding within the College, see the Research section.
MA & PhD by Research and Thesis
Staff of the Department of Theology & Religious Studies offer research supervision for both MA and PhD degrees by research and thesis.
Prospective students are invited to review the research interests and expertise of department members on the department homepage and contact the relevant staff member directly or else contact the Head of Department.
MA in Christian Leadership in Education
The MA in Christian Leadership in Education is an innovative postgraduate programme leading to a professional qualification. The programme will build much needed leadership capacity at both primary and secondary levels within the faith-based school sector.
The various modules in the programme will explore the following areas in depth:
Educational Leadership
Policy and Management
Scripture and Theology
Psychology and Leadership
Group Dynamics
Spirituality for schools
Learning and Curriculum
Liturgy and Sacraments within the school
Emotional and Relational Competence
Education and the Law
School Governance and Management
Issues of Social Justice in Education
Reflective Practice
Leading a Faith-based School in the 21st century
For more detail on this programme, click here.
Graduate Certificate in Christian Leadership in Education
This graduate certificate is designed to augment other qualifications participants may have achieved in areas of leadership and management so that they have the knowledge, competence and skills needed to lead a faith-based school.
The topics covered are the following:
Jesus the Teacher
Nurturing Personal Faith and Spirituality
The Catholic School and Contemporary Culture
Leading and Managing a Catholic School in Ireland Today
For more detail on this programme, click here.
Staff
TRS Department Administration
Administration for the Department of Theology & Religious Studies is handled by Deirdre Franklin in the MIC Arts Office.
T: +353 61 204507
E: Deirdre.Franklin@mic.ul.ie
Links
Institutes
TRS department members have links with the following institutes:
Professional Associations
Staff of the TRS department are active members of the following professional associations: 
Academic Institutions/Bodies
The TRS department has links with the following academic institutions/bodies:
Other
The following are some useful resources:
Testimonials
What Students and Graduates say about Theology and Religious Studies at MIC...
"The Masters in Christian Leadership in Education (MACLE) provided a solid foundation for my PhD studies in the Theology and Religious Department in MIC. My PhD research focuses on the area of forgiveness and reconciliation in education for children. A major benefit of studying for a PhD in Theology and Religious Studies is that it has provided me with the opportunity to present at international conferences. I am also really fortunate to have two supervisors who are always readily accessible whether in person or by email." Marie Raftery, PhD Student
"Studying Theology and Religious Studies has numerous advantages. The warm close knit community results in many social benefits, as after only a couple of weeks lecturers know students by first name as well as students knowing other students by first name. This creates a very good atmosphere and a very helpful learning environment." Daniel Kelly, BA in Education (Post-Primary) Student
"I was quite apprehensive about studying Religious Studies in MIC, Thurles, but it has really exceeded my expectations. We get to study many interesting topics, from World Religions to Christology. It is both a challenging and rewarding process, and I look forward to teaching it in post-primary schools." Kate Tormey, BA in Education (Post-Primary) Student
"Before studying Theology and Religious Studies in MIC, Thurles, I had no idea how fascinating it would be. I found particularly interesting the module Theology of the First Testament. This module gave me an opportunity to appreciate the origins and formation of the ancient Scripture. I intend to bring what I learnt in that module, actually all my TRS modules, to my teaching in post-primary schools." Marguerite Gooney, BA in Education (Post-Primary) Student
"As part of my study of Theology at MIC, I was lucky enough to go on two Flame of Hope trips to India (January 2017 and January 2018). Only for Prof. Eamonn Conway and the TRS Department, I would not have had the opportunity to go to India and work in a school for mentally and physically disabled children." Cian O'Brien, B Ed (Primary) Graduate
"My participation in a Flame of Hope trip to India provided me with great insight and knowledge for being a primary school teacher in a multicultural classroom." Sarah O'Keeffe, B Ed (Primary) Graduate
"Studying Theology and Religious Studies at MIC enables you to reflect on Christianity and your faith. I found the TRS department a very welcoming place to dip back into my faith." Brian Sheehy, BA in Liberal Arts Graduate
"I really enjoyed studying Theology at MIC. As well as exploring material in the different modules that are important for the various exams, this subject equips you with practical skills that you can apply to your own life. If you are interested in this subject, or even have a tiny spark of interest, then I would definitely recommend studying Theology at MIC." Clodagh Cummins, BA in Liberal Arts Graduate
News & Events, Media & Musings
Some Recent Publications by Department Members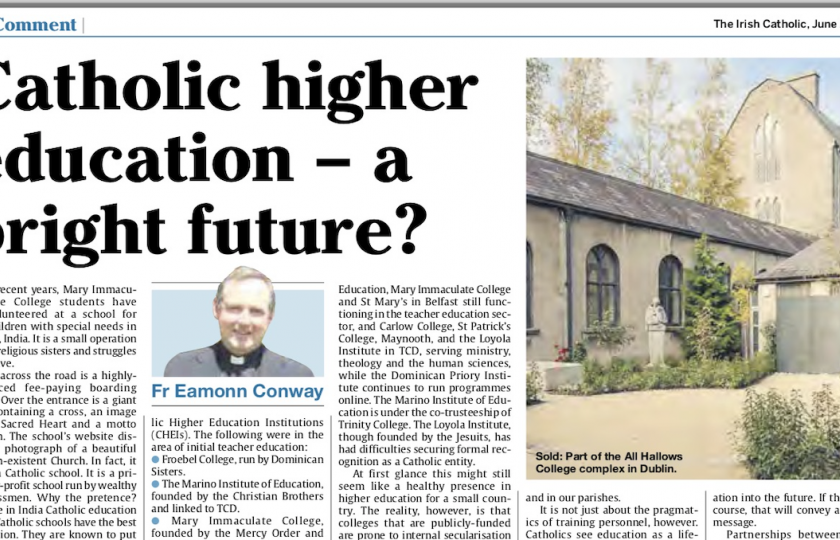 Introduction
In recent years, Mary Immaculate College students have volunteered at a school for children with special needs in Siliguri, India. It is a small operation run by religious sisters and struggles to survive. 
Just across the road is a highly-resourced fee-paying boarding school. Over the entrance is a giant crest containing a cross, an image of the Sacred Heart and a motto in Latin. The school's website displays a photograph of a beautiful but non-existent Church. In fact, it is not a Catholic school. It is a private for-profit school run by wealthy businessmen. Why the pretence? Because in India Catholic education "sells". Catholic schools have the best reputation. They are known to put their pupils first, to have the most dedicated teachers and to get the best results. 
Globally, Catholic education is flourishing
At a time when we here in Ireland may be in danger of losing confidence in the mission of Catholic education it is useful to remind ourselves that globally, Catholic education is flourishing. Since 1970, the number of Catholics worldwide has remained a constant 18% of the increasing world's population. Yet during this same period the number of pupils in Catholic primary schools has doubled and those in Catholic post-primary schools has trebled. The number of Catholic Higher Education institutions globally is also growing, especially in Africa, Asia and the Americas. 
In Ireland we have tended to think of Catholic schools and colleges as an extension of the family and the parish. We see their role as serving primarily the Catholic community.  In other countries, especially where Catholics are in the minority, Catholic education has also been understood as an important leaven in society generally. It serves evangelization by witnessing to the Christian understanding of the human person and by enabling constructive dialogue between the Gospel and the wider culture.
A trajectory of decline
In Ireland, however, the Catholic influence in education is in decline. Nowhere is this more evident than in the higher education sector. Back in 2011, in an effort at greater consolidation of resources, the Higher Education Authority (HEA) sought the merger or closure of smaller higher education institutions. Most of these were Catholic. 
In 2013, the Catholic Education Service (CES) listed fourteen Catholic Higher Education Institutions (CHEIs). The following were in the area of initial teacher education: 
Froebel College, run by Dominican Sisters
The Marino Institute of Education, founded by the Christian Brothers and linked to TCD
Mary Immaculate College, founded by the Mercy Order and whose Trustees include as Chair the Bishop of Limerick, linked with the University of Limerick
The Mater Dei Institute run by the Dublin diocese
St Patrick's College Drumcondra, founded by the Vincentians
St Angela's College, Sligo, founded by the Ursuline Sisters
St Mary's University College, Belfast
St Patrick's College Thurles, a former diocesan seminary that was training secondary teachers.  
The CES also identified the following as Catholic institutions dedicated to theology, pastoral care, humanities and social studies: All Hallows College, Carlow College, the then newly-founded Loyola Institute at Trinity College, The Milltown Institute, The Priory Institute (Tallaght) and St Patrick's College Maynooth. 
In the past six years the landscape has changed considerably: 
Froebel College of Education was incorporated into NUI Maynooth in 2013 
The Milltown Institute closed in 2015 
All Hallows College was closed and the campus sold to Dublin City University in 2016
St Patrick's College, Thurles, was incorporated into Mary Immaculate College in 2016
The Mater Dei Institute and St Patrick's, Drumcondra, were incorporated into Dublin City University in 2016
St Angela's College, Sligo, is edging towards incorporation into NUI Galway 
This leaves the Marino Institute of Education, Mary Immaculate College and St Mary's in Belfast still functioning in the teacher education sector, and Carlow College, St Patrick's College, Maynooth, and the Loyola Institute in TCD, serving ministry, theology and the human sciences, while the Dominican Priory Institute continues to run programmes online. The Marino Institute of Education is under the co-trusteeship of Trinity College. The Loyola Institute, though founded by the Jesuits, has had difficulties securing formal recognition as a Catholic entity. 
At first glance this might still seem like a healthy presence in higher education for a small country. The reality, however, is that colleges that are publicly-funded are prone to internal secularisation while those dependent upon the Church for resources, though freer to determine their ethos, struggle for survival financially. 
Unfortunately, there is no reasonable expectation that the trajectory of merger and closure outlined above is not set to continue. 
New initiatives 
In the past few weeks several Church-owned properties have been put on the market. Many were former educational facilities, including Clonliffe College, once the Dublin diocesan seminary, and the Milltown Institute. The monies raised have been ear-marked for several worthy causes: social justice projects such as the provision of affordable housing, contributions to the redress scheme for abuse survivors, care of elderly priests and religious, and investment in the legacy of religious congregations. 
Consider re-investing in higher education
Given, however, that many of the facilities being sold off were educational it would seem in keeping with the intention of donors to consider re-investing some of these monies in Catholic education. If so, the priority should be in higher education given that this is the sector that has been hit hardest in respect of a Catholic presence. 
Such investment is needed to ensure that we have teachers who are genuinely formed in the Catholic tradition to teach in our schools and so that high quality theological formation is available to people, lay and cleric, who will minister as chaplains and in our parishes. 
It is not just about the pragmatics of training personnel, however. Catholics see education as a life-enhancing gift essential to human dignity. This view of education is an indispensable counter-balance to the increasing tendency in public policy to measure educational outcomes in terms of their contribution to economic productivity and the market-place.  
What are the options? 
Attempts to found a new Catholic university in Ireland in recent years have barely got off the ground. In the present climate it could be very difficult to garner the necessary resources, which are considerable, receive formal state recognition and meet the ever-increasing demands for high quality research, teaching and learning required of a contemporary university. 
Co-operation but with eyes open
More feasible is enhanced co-operation in the delivery of Catholic education within higher education institutions whose futures seem secure, at least for now. For example, coinciding with the incorporation of St Patrick's College, Drumcondra, and the Mater Dei Institute into Dublin City University, a Centre for Catholic Religious Education was established and a number of posts in Catholic theology and religious education guaranteed. Along similar lines, the trustees of St Patrick's College, Thurles, surrendered their valuable campus to Mary Immaculate College along with a generous financial endowment on condition that an Irish Institute for Pastoral Studies would be established and resourced to serve not only the diocese of Cashel & Emly but the Church nationally. 
Such initiatives have been commonplace in other countries but are in their early stages here. They remain fragile.  Yet if successful they can imbue confidence in similar forms of partnership and co-operation into the future. If they fail, of course, that will convey a different message. 
Partnerships between Church and publicly-funded higher education institutions can be win-win. The internationalisation of Irish higher education campuses is a key strategic goal in higher education. A Catholic identity is immensely advantageous for networking given that the Catholic Church is the largest provider of education worldwide after state authorities. 
What's needed is for religious congregations and dioceses to work together to develop a shared vision and strategy for Catholic higher education in Ireland into the future. 
The increased availability of bursaries and scholarships for students and for research projects endowed by religious bodies is welcome.  Yet better co-ordination would allow for greater critical mass and longer-term impact. 
Religious authorities need to approach negotiations with secular universities and Catholic colleges that are publicly funded with their eyes wide open. It is essential to secure the necessary commitments that would allows for the Catholic vision of education to inform and underpin initiatives being supported by Church funds.  
What's needed most, however, is to recover confidence within the Irish Church in the mission of Catholic education, and invest accordingly. 
Father Eamonn Conway is Professor and Head of Theology & Religious Studies at Mary Immaculate College – University of Limerick -.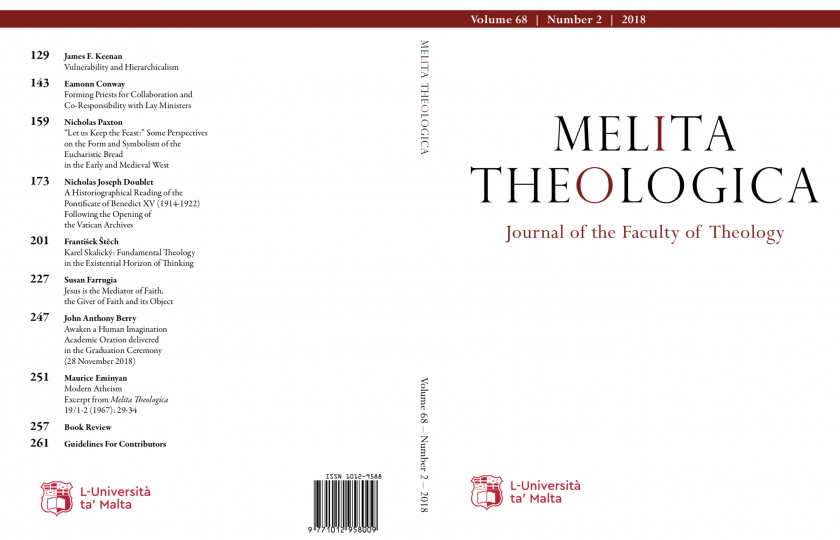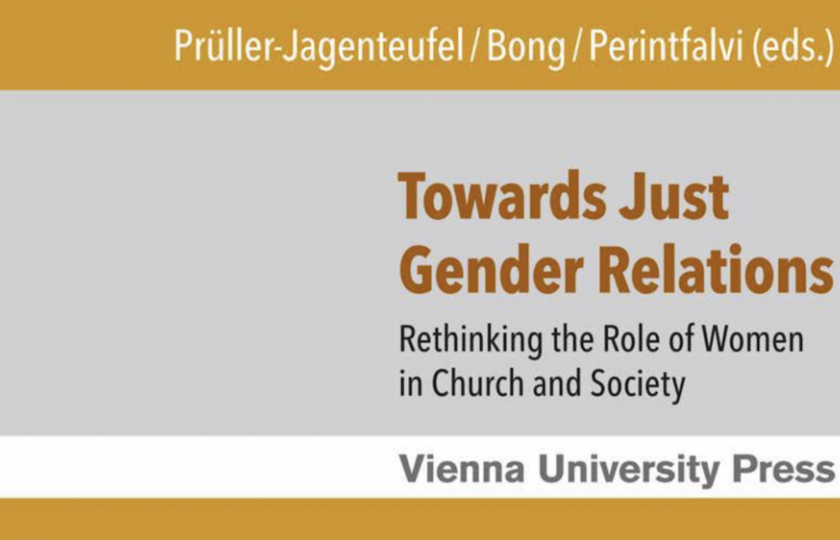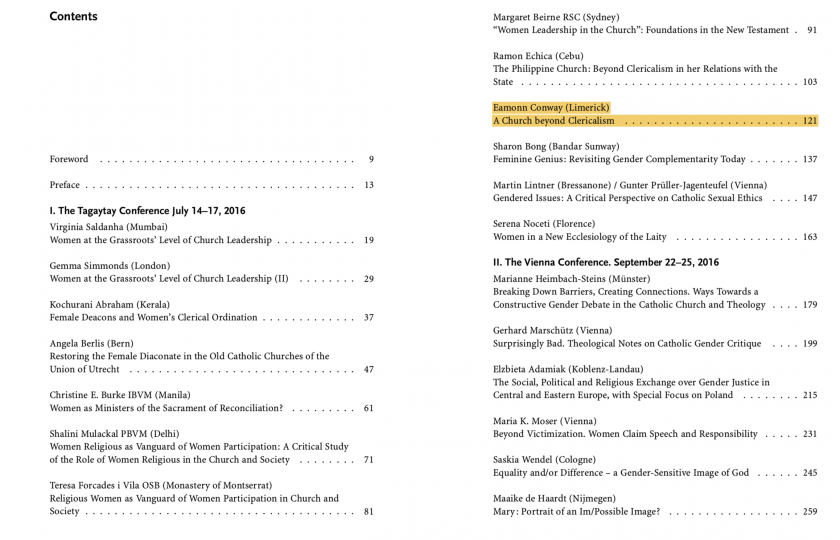 About

Subject Overview

Staff

Links

Testimonials

News & Events, Media & Musings