About
The Department offers undergraduate (joint honours) and graduate programmes in philosophy (research MA, research PhD).
We enjoy an excellent teaching record, and we have research strengths in Ancient Greek, Roman and Medieval Philosophy, Philosophy of Religion, Ethics, Phenomenology, and Philosophy of Emotions.  
The Department also contributes to the Foundation Certificate for Mature Learners and, in collaboration with the International Office, oversees the philosophy modules in short-term international programmes.
Undergraduate programme
Our undergraduate degree programme consists of a broad, accessible, and solid initiation to Philosophy. The following are our modules on the Bachelor of Arts programme, in descending order from First Year onwards:
You can also take some of these modules as BA and BEd electives or as an international Erasmus student.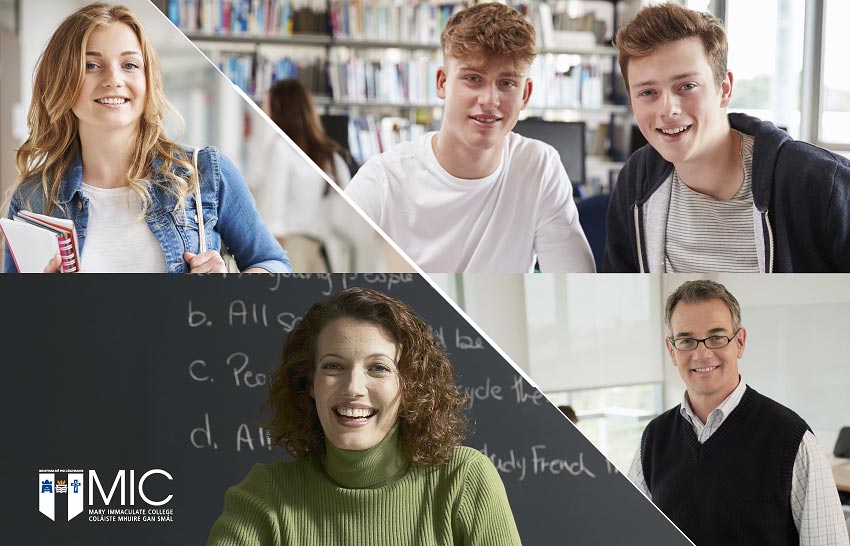 Postgraduate programmes
The Department invites applications from graduates who wish to pursue postgraduate research programmes in Philosophy to Masters, or Doctoral level. Students with interests in the following areas are particularly encouraged to apply:
Ancient Greek and Roman Philosophy 
Medieval Philosophy
Philosophy of Religion
Ethics 
Phenomenology
Philosophy of Emotions.  
You can find all the information on how to apply here. 
For available funding, scholarships, and fees information, visit here. 
If you studied for your undergraduate degree at MIC, you are also eligible for The President's Scholarship Awards.
The Research & Graduate School at MIC offers excellent support, training, research funding and facilities.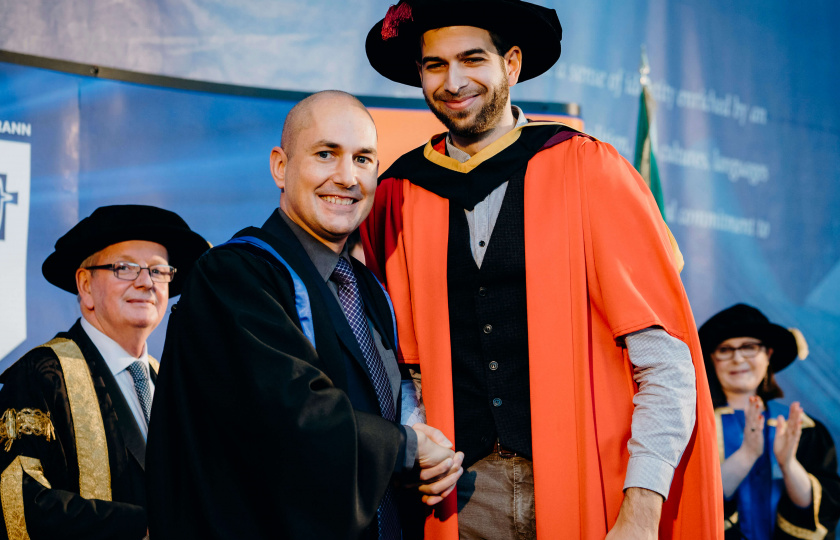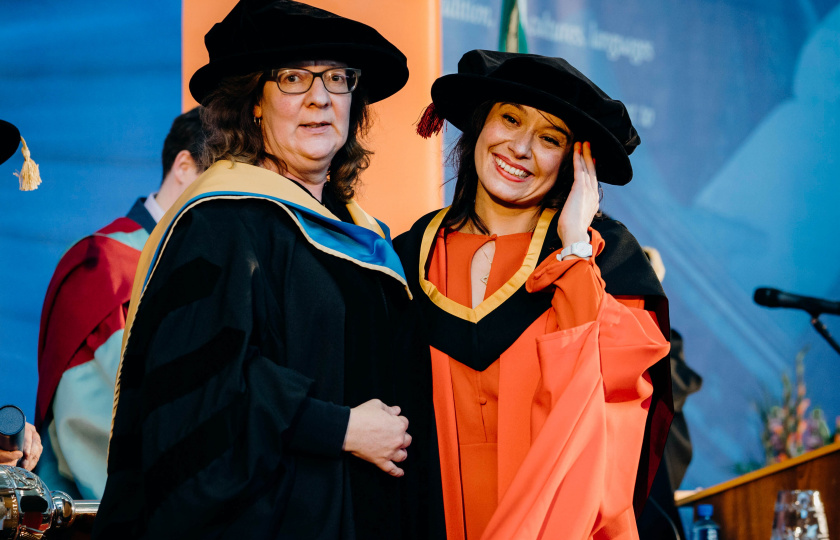 Short-term international programmes
In collaboration with the International Office, the Department of Philosophy oversees the academic delivery of two modules (Ethics and Metaphysics) for the Western European Semester programme developed with St John's University, New York. These are St John's University courses offered at MIC. 
 
The module lecturer is Dr. Steven Bond (Steven.Bond@mic.ul.ie)
Foundation Certificate for Mature Learners
Philosophy is one of the six core subjects in this Certificate. The programme, offered by the Academic Learning Centre (ALC), is designed for mature learners (anyone over the age of 22 by 1 January on the year of application) who wish to continue their education and potentially progress to full-time third-level study. The course takes place on Mondays and Wednesdays 7-9pm and runs from October to April.
For more information, go to Foundation Certificate for Mature Learners | Mary Immaculate College
Contact
Head of Department
Dr Daniel Vázquez
Subject Overview
Dare to study life's most fundamental, meaningful, and challenging questions. Become a creative problem-solver, a reflective thinker, and a conscientious leader. Studying philosophy will teach you to think logically and critically about the world we live in, analyse and construct arguments, and be open to new ways of thinking. 
Engage with the questions that the greatest minds in human history have grappled with, including perennial problems like:
What can we know, and how do we know what we know?
What does it mean to say we are free?
 Can we prove that God exists, or not? What are the consequences of our answer to that question? 
What is justice? Can we achieve it for all? 
What sorts of political institutions are best, and why are they needed? 
To what extent are moral values absolute, and to what extent produced by cultural factors?
What are our duties and responsibilities to ourselves and others? 
And new, pressing, and hotly debated topics, for example:
How can we achieve racial justice and gender equality?
What is consciousness? 
Should anger motivate political action?   
How do experiences like emotions or empathy come about? What do they involve, and what do they mean? 
What is the nature of religious experiences? 
What ethical challenges arise with science and technology?  
In our programme, you will study, analyse, and examine the most influential works of the ancient Greeks, Medieval and Modern philosophers. In addition, you will engage with the different approaches and traditions in contemporary philosophy.
Come and join our dynamic and intellectually stimulating Department. Our dedicated lecturers will make your time as a Philosophy student as enjoyable and educationally inspiring as possible. The Department provides a supportive and friendly environment with a distinctive range of modules, research, and extra-curricular activities. 
Staff
Emeritus staff
Emeritus Prof. John Hayes
MA; S.T.L. (Aquinas Institute, 1968); Ph.D (Duke University, 1973).
Lecturer (1975-77); Head, Department of Philosophy (1977-2008); Co-ordinating Head, Arts Departments (1991-2007); Dean, Faculty of Arts (2007-2008).
Email: john.hayes@mic.ul.ie
Events
Drury Archive
The Department of Philosophy at Mary Immaculate College, Limerick, was presented with an important and valuable archive when Paul and Luke Drury gifted their father's collection of papers to the College.
Maurice (or Con as he was more commonly referred to) Drury was born in 1907 in Exeter, of Irish parents. He read philosophy in the University of Cambridge where he studied with G. E. Moore, C. D. Broad and Ludwig Wittgenstein.
Drury studied medicine at Trinity College Dublin, graduating in 1939, and worked for most of his life in Saint Patrick's Hospital, Dublin. He maintained a close, lifelong friendship with Wittgenstein; the basis of their friendship appears to have been their common interest in medicine and Psychiatry subjects.
Drury is the author of The Danger of Words (1973) and the articles 'Some Notes on Conversations with Wittgenstein' and 'Conversations with Wittgenstein' (included in Ludwig Wittgenstein: Personal Recollections, edited by Rush Rhees). 
Following consultation with the former Dean of Arts at MIC, Prof. John Hayes, Drury's sons, Luke O'Connor Drury, Professor of Astrophysics at the Dublin Institute for Advanced Studies and Paul Drury, Managing Editor, Associated Newspapers, decided to donate their father's papers to the College.
The papers were archived by Jacqui Hayes, Limerick City Archivist, on behalf of the College. Emma O'Connor of MIC library completed the task of imaging the papers electronically, which means that interested researchers who wish to consult the papers in the library can do so without handling the original material.
Intellectual Property
The donated materials shall be made accessible to bona fide scholars, for purposes of private study and research only, in accordance with Mary Immaculate College policies. Such scholars will be entitled to publish limited extracts from the material (no more than about 10 percent of any one document) in line with standard 'fair usage' practice and provided there is due attribution of the source. For any more extensive publication, prior permission would have to be sought from the relevant copyright holders (Luke and Paul Drury for the Drury material, the Rush Rhees Archive for the Rhees material).
Full information on how to access the archive is here.
Funding
The Department of Philosophy invites applications from outstanding candidates who wish to pursue postgraduate research programmes in Philosophy.
Mary Immaculate College offers a range of MA and PhD funding opportunities, and we would like to highlight the following three funding schemes
MIC Doctoral Award
Consists of an annual stipend of €12,600 and a full fee waiver renewable for three years, with a fee waiver in the fourth year of normal registration (College-wide competition).
The closing date for applications is April 26, 2022. 
MIC Studentship Awards
Consist of an annual stipend of €6,900 and a full fee waiver renewable for three years, with a fee waiver in the fourth year of normal registration (College-wide competition).
The closing date for applications is April 26, 2022.
MIC Philosophy Departmental Assistantship
The Department of Philosophy at MIC is accepting applications for one Departmental Assistantship in Philosophy beginning in September 2022 (PhD or MA by research).   
The Departmental Assistantship provides an annual stipend of €6,900 per annum and a fee waiver. Awards are annually renewable for up to three years, with a fee waiver in the fourth year of normal registration. The successful candidate will provide up to 120 hours of tutoring, research assistance, or other departmental work across the academic year to the Department of Philosophy (an average of 5 hours per week per semester and may not exceed 10 hours in any given week). The scheme includes induction sessions, close monitoring and mentoring by the Head of the Department, and training opportunities available to all staff members at MIC.
The closing date for applications is May 30, 2022. ***The deadline has been extended until August 31, 2022***
More information here. 
About

Subject Overview

Staff

Events

Drury Archive

Funding