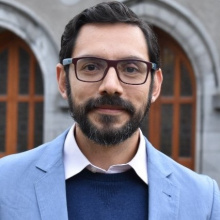 Research interests
Ancient Greek and Roman Philosophy (from Early Greek to Late Antiquity), including topics in Ethics, Moral Psychology, Epistemology, Metaphysics, Argumentation and Cosmology.
More information
Teaching 
PI4711: Basic Questions in Contemporary Philosophy
PI4732: Philosophy of Love and Desire (with Dr Catherine Kavanagh)
PI4712: Greek Philosophy (with Dr Catherine Kavanagh)
Publications 
Argumentación y Psicología Moral en la Filosofía Antigua (forthcoming in NUN, Mexico).
Aristotle on Efficient and Final Causes in Plato (forthcoming in Elenchos).
Time and Cosmology in Plato and the Platonic Tradition, coedited with Alberto Ross. Brill (2022).
Introduction: Time and the Cosmos in Plato and the Platonic Tradition. In Vázquez, D. & Ross, A. (eds.). Time and Cosmology in Plato and the Platonic Tradition. Brill (2022).
Before the Creation of Time in Plato's Timaeus. In Vázquez, D. & Ross, A. (eds.). Time and Cosmology in Plato and the Platonic Tradition. Brill (2022).
The Last Natural Philosophers in Plato's Phaedo: 99b2-c6. Mnemosyne (2022), 1-24.
Escepticismo Radical y el Alcance de los Cinco Tropos para la Suspensión del Juicio. In Ornelas, J. (ed.). Rústicos vs. Urbanos, UNAM (2021). 
Getting Younger. Rhizomata 9.1 (2021), 84-95. 
Teleology and Sophistry in the Euthydemus. Australasian Philosophical Review 3.2 (2021), 183-190. Co-authored with Saloni de Souza. 
The Stoics on the Education of Desire. In Bosch, M. (ed.). Desire and Human Flourishing, Springer (2020), 213-228.
Teleology, Causation and the Atlas Motif in Plato's Phaedo. Schole 14.1 (2020), 82-103.
Review of D. J. O'Meara, Cosmology and Politics in Plato's Later Works. Plato Journal 20 (2020), 231-234.
The Systematic Use of the Five Modes for the Suspension of Judgement. Manuscrito 42.3 (2019), 47-85. 
Argumentation and reflection in Plato's Gigantomachia Sophist 245e6-249d5. Archiv für Geschichte der Philosophie 100.3 (2018), 241-285.
Autoengaño, ambición y arrogancia en el Alcibíades de Platón. In Roqueñi, J.M. (ed.). Afectividad y confianza en el conocimiento personal, Panorama (2016), 13-30.
Stoic cosmology. Encyclopedia Entry for Ancient Philosophy Timeline, 2015.
Reflections on Tutoring Ancient Greek Philosophy: A Case Study of Teaching First-Year Undergraduates in the UK. Studying Teacher Education 10.2 (2014), 117-129.
La relación entre necesidad lógica y necesidad de re. Euphyía 5.8 (2011), 105-115. 
Scepticism, Action and Language. The Classical Review 61.2 (2011), 432–433.
Review of R. Salles (ed.), God and Cosmos in Stoicism (Oxford: OUP 2009). Dianoia LVI.66 (2011), 200-210.
Metáfora y analogía en Aristóteles. Su distinción y uso en la ciencia y la filosofía. Tópicos 38 (2010), 85–116.
Reason in Check: the Skepticism of Sextus Empiricus. Hermathena 186 (2009), 43–57.
Réplica a 'Sobre la ontología de los incorpóreos' de Andrea Lozano. In Actas II Coloquio Doctorandos, Programa de Maestría y Doctorado en Filosofía, UNAM (2008). 
Review of R. Salles, Los estoicos y el problema de la libertad (Mexico: UNAM 2006). Tópicos 32 (2007), 229-235.
Review of V. Aspe, Perennidad y apertura en Aristóteles (México: Cruz 2005). Tópicos 30 (2006), 241-246.
A brief interview on my appointment as Head of Department and some biographical information here.