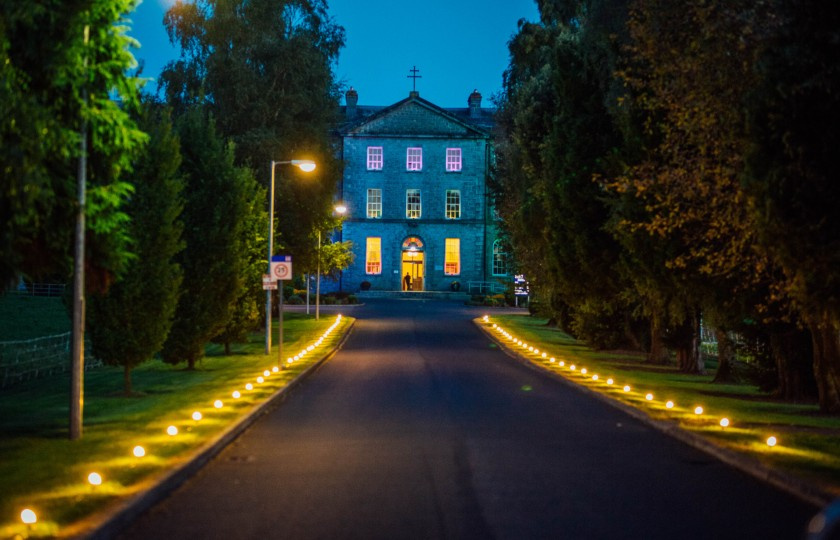 On Saturday 6 November, Mary Immaculate College Thurles (MIC Thurles) will open its doors to prospective students interested in pursuing careers in post-primary teaching. The MIC Thurles Open Day (10am-3.30pm) will provide second-level students, students who are currently in further education programmes and mature students with the opportunity to explore the programmes on offer and the facilities available at the Thurles campus.
According to Dr Finn Ó Murchú, Head of School of Education (Post-Primary) at MIC Thurles: 'We're looking forward to welcoming school students, parents and guidance counsellors back to our wonderful campus for our Open Day. We want people to really experience the unique offering we have here. MIC Thurles is expanding and developing and our prominent place within the town of Thurles is leading to exciting developments. The campus, which is situated right at the heart of Thurles town and its amenities, was this year central in the €3 million Thurles Market Quarter development plan and our own plans include designs for additional accommodation and parking spaces and playing fields on the MIC grounds.'
MIC Thurles, which has seen a near trebling of student numbers, to close to 500, since its incorporation by MIC in 2016, offers six concurrent teacher education programmes of four-year duration. Students can choose from a number of subject combinations in the areas of Gaeilge, Mathematics, Business Studies, Religious Studies, and Accounting. These concurrent teacher education programmes are structured so that the school placement and education components are included in each year of the programme. All programmes at the College are accredited and recognised by the Teaching Council and graduates are qualified to teach to honours Leaving Certificate level after completion of their degree. Dr Ó Murchú is delighted to say that the current academic year has seen full employment for all graduates across all of MIC Thurles' programmes.
He goes on to say that the MIC Thurles Open Day is the perfect opportunity to find out about the various subject combinations, the range of curricular and extra-curricular resources on offer, undergraduate entrance scholarships, alternative routes to college for mature and Further Education students. It also offers a chance to learn more about the MIC Elite Sports Scholarship Scheme and CAO Points Concession Scheme.
According to Beibhinn Byrne, fourth year BA in Education Business Studies and Religious Studies student: 'The best advice I can offer is to get to the MIC Thurles Open Day. As soon as you step on campus you'll feel the warm energy and buzz around the place. There's such a sense of community. Everyone at MIC Thurles, be it a lecturer, librarian or another member of the College community, is there to push you to be your best as a person and as a teacher.'
The College has enjoyed strong growth in student numbers in recent times and is finalising ambitious campus plans for development in the coming 20 years that will place MIC Thurles at the heart of life in Thurles and provide an enhanced and rounded student experience. MIC welcomed the recent announcement of objectives contained within the National Development Plan 2021-2030 in relation to Thurles town and the proposed relief road to the south of the town centre. This proposed route will cross over the College's grounds and the College plans to build modern structures and sports facilities to face and link to, this new road and contribute to an attractive vista in the area.
Registration for this event is essential. Register now at www.mic.ie/CAO!
COVID-19 Safety Protocols
Both the potential student and parent/guardian accompanying them must register separately to attend. Only the student plus one parent/guardian will be granted access to the event.
In the interest of public safety and government guidelines, a digital, or hardcopy, EU COVID-19 Vaccination Certificate for all those attending the MIC Thurles Open Day is required in order to gain admittance.
All attendees wishing to come on campus must also complete the MIC External Visitor Declaration form at least 48 hours in advance of attendance on the Thurles campus.
In the interest of safety there is a limited number of spaces available on the Open Day. The potential student applicant will be given priority.
Children will not be permitted.
Masks should be worn at all times.
Please make certain that you satisfy these requirements to ensure that you gain admittance to the MIC Thurles event. Noncompliance will mean entry cannot be permitted.
**Please note: PCR tests will not be accepted in lieu of a EU COVID-19 Vaccination Certificate. There may be adjustments made to the event schedule on the day based on health and safety considerations. The event will only proceed Government COVID-19 Safety Guidelines permitting.