Two elite scholarships, in memory of former MIC staff members Noreen Lynch and Leonard Enright, will be available for those who have excelled in their chosen sport(s). The value of each scholarship will be up to €4,000 and will be delivered through a fee waiver and additional benefits. These scholarships, which are being introduced for the academic year 2020-21, will be open to incoming applicants in addition to current undergraduate and postgraduate students across both Limerick and Thurles campuses.
How to Apply (for Academic Year 2021-22)
Applications Process now open.
The following minimum standards of participation will apply to both this scholarship scheme and the CAO Points Concession Sports Scheme:
Gaelic Games:  Minor County level and capable of competing at a higher age level
Hockey: Interprovincial/International representation
Athletics: Schools/Celtic Games or Junior international representation
Rugby: Schools/age grade international, provincial and/or international representation/provincial academy/Sub-Academy/Overseas or UK equivalent
Soccer: Schools/age grade international and/or provincial representation/emerging talent programme/Overseas or UK equivalent
Basketball: Super League Level and/or National Junior squad representation
Rowing: Junior national representation
Other Sports: As defined by the recognised sporting body and evidence of a strong competitive record at the highest level of their chosen sport.
To be considered eligible for the Elite scholarships applicants must clearly demonstrate that they have the potential to, or are already,  performing at Adult Inter County level with respect to Gaelic games; Adult International or achieved the highest level of participation within the sport category.
Incoming undergraduate applicants apply for their programme of choice as normal through the CAO.
Applicants will then also apply directly to MIC for the scheme(s) via an online application form.
Incoming postgraduate applicants and current MIC students apply directly to MIC via the online application form, quoting their application reference number/student number as applicable.
Deadline for receipt of applications will be 1 May (on year of entry).
Applicants may apply for both this scholarship scheme and the CAO Points Concession Sports Scheme (application form available here).
All Awardees are expected to act as ambassadors for MIC in terms of their participation in their chosen sport or other activities as requested by the College for the duration of the scholarship.
Canvassing will automatically disqualify applicants.
Click here to apply for the Elite Sports Scholarship Scheme.
Scholarship Names
Our sports scholarships are names in memory of MIC staff members, Noreen Lynch and Leonard Enright.
Noreen Lynch joined Mary Immaculate College as a lecturer in Physical Education in the early 70s and during her 35 year career with MIC she established and coordinated all of the sport and recreation programmes at the College. Noreen helped to establish the O'Connor Cup, the Ladies Football equivalent to the Fitzgibbon Cup, which was inaugurated in 1987. She was also involved in the establishment of national Third Level Ladies' football competitions in the mid-1980s; indeed the Lynch Cup, inaugurated in 1992, is named after her.
Leonard Enright was a member of the Maintenance & Buildings Services Team at MIC for over 22 years. Leonard played with the Limerick Senior Hurling team from the early 1970s to the late 1980s. Part of the Limerick panel in the 1973 All-Ireland final, Leonard won Munster titles in 1980 and 1981 and League titles in 1984 and 1985. He was the All-Star full-back in 1980, 1981 and 1983. Leonard was inducted into the GAA Hall of Fame in August 2018.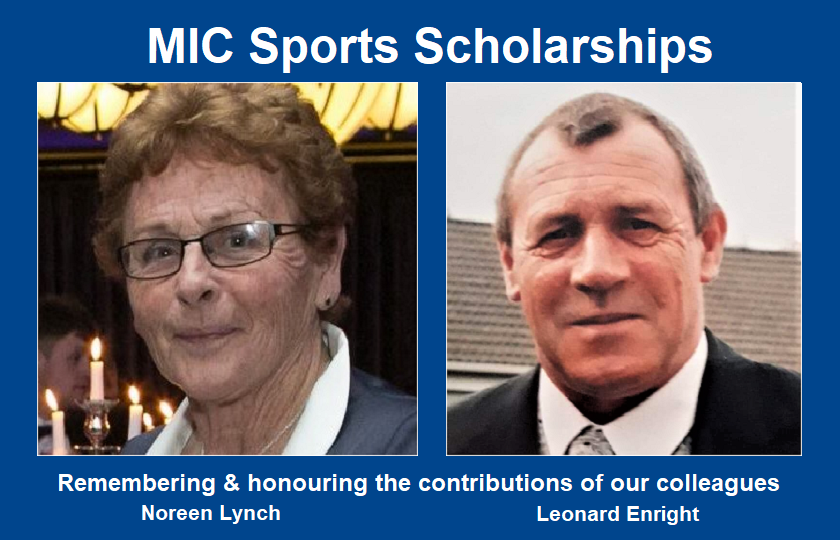 Contact
MIC Admissions Office
+353 61 204929 / 204348
Contact
MIC Sports Office
+353 61 204375