MIC offers an Elite Scholarship Scheme open to those who have excelled in their chosen sport(s). The scheme, which is offered in memory of Noreen Lynch and Leonard Enright, is delivered through a bursary and additional benefits and is offered at three different levels as follows:
One Gold Scholarship valued at €4,000 (applications invited from current and incoming students)
Two Silver Scholarships valued at €2,000 each (applications invited from current and incoming students)
Two Bronze Scholarships valued at €1,000 each (applications restricted to incoming CAO applicants only)
How to Apply
Applications for Elite Sports Scholarships are now closed.
Incoming undergraduate applicants apply for their programme of choice as normal through the CAO. Applicants will then also apply directly to MIC for the scheme(s) via the English application form, or Irish application form, depending on the applicants preference.
Incoming postgraduate applicants and current MIC students apply directly to MIC via the English application form, or Irish application form, depending on the applicants preference, quoting their application reference number/student number as applicable.
Deadline for receipt of applications is 1 May 2023 (on year of entry)
All awardees are expected to act as ambassadors for MIC in terms of their participation in their chosen sport or other activities as requested by the College for the duration of the scholarship.
Successful applicants may apply for successive years.
Canvassing will automatically disqualify applicants.
Applicants may apply for both this scholarship scheme and the CAO Points Concession Sports Scheme.
Please note: MIC is required to disclose to SUSI, all funding provided by the college to students that have applied for a SUSI grant. Depending on the type of funding granted to students by the college, SUSI may include it as reckonable income in their determination of SUSI grants.
Please refer to MIC Sports Schemes Terms & Conditions/ Scéimeanna Spóirt Téarmaí agus Coinníollacha before completing the application.
Contact
MIC Admissions Office
+353 61 204929 / 204348
Contact
MIC Sports Office
+353 61 204375
Criteria
The following minimum standards of participation will apply to this scholarship scheme.
Gaelic Games: Minor County level and capable of competing at a higher age level
Hockey: Interprovincial/International representation
Athletics: Schools/Celtic Games or Junior international representation
Rugby: Schools/age grade international, provincial and/or international representation/provincial academy/Sub-Academy/Overseas or UK equivalent
Soccer: Schools/age grade international and/or provincial representation/emerging talent programme/Overseas or UK equivalent
Basketball: Super League Level and/or National Junior squad representation
Rowing: Junior national representation
Other Sports: As defined by the recognised sporting body and evidence of a strong competitive record at the highest level of their chosen sport.
To be considered eligible for the Elite scholarships applicants must clearly demonstrate that they have the potential to, or are already, performing at Adult Inter County level with respect to Gaelic games; Adult International or achieved the highest level of participation within the sport category.
Scholarship Recipients 2022/2023
Irish Cross-Country athlete Thomas Devaney and Cork Camogie star Clíona Healy have been announced as the recipients of the 2022 MIC Elite Sports Scholarships.
MIC Primary Teaching student Thomas Devaney, who is from Islandeady in Co. Mayo, has won medals in athletics for his local club Castlebar AC, at third level with UL Wolves in Limerick, and at European level representing Ireland. Thomas was a key member of the gold medal winning six-man Irish team in the 8,000m team event at the European Cross-Country Championships in December 2021. At 19 this win was even more impressive as Thomas was the race's youngest qualifier. Also in 2021, Thomas placed second in the 5,000m race at the Irish U23 Athletics Championships before again taking silver at the event in 2022. In January of this year he was a member of the Irish U23 team that took gold at the Celtic Cross Country before going on to set two records at the Irish Universities Athletics Association Outdoor Championships in April as he took gold in both the 5,000m and 10,000m races.
Cork camogie star Clíona Healy is a final year Bachelor of Education (Primary Teaching) student. The Aghabullogue native most recently delivered a Player of the Match performance and scored the winning point in the Cork Intermediate Camogie Championship final, where she hit 1-11 in total to clinch the title and secured the side Senior status for next year's campaign. Nationally, she's known for her exploits on the 2022, 2021 and 2019 Munster Senior Camogie winning Cork team, and has also won medals at Intermediate All-Ireland and Munster level in 2018, in addition to a Minor All-Ireland title in the same year. Her roll of honour at club level includes two Minor B medals as well several Cork Féile na Gael wins in 2013 and 2014. Clíona also captained Coachford College Secondary School to a Munster Senior A League win in 2019, as well as playing an important role in the panel that won the title in 2016.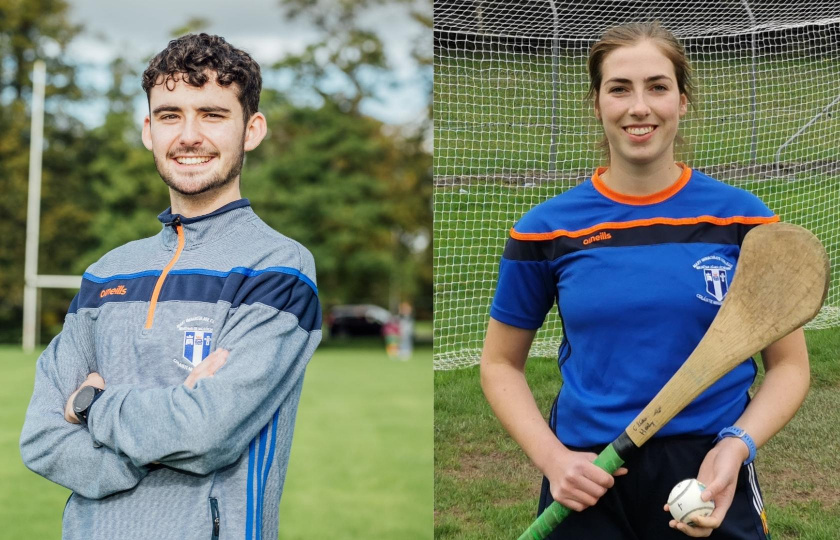 Scholarship Recipients 2021/2022
Successful applicants for 2021/22 were:
Róisín Howard (PME) from Cahir in Tipperary. This is the second year that Roisin has been selected as an MIC Elite Sports Scholar, in recognition of her dedication to and success in Gaelic Games with both club and county. Roisin, who is a second year Professional Master's of Education (PME) student at MIC, has won All-Ireland Championships in both Gaelic Football and Camogie for the Premier County.
Dessie Hutchinson (BA in Education, Business Studies and Religious Studies, MIC Thurles): Waterford hurling star Dessie Hutchinson is the second recipient of the MIC Elite Sports Scholarship in recognition of his influential role with both club and county. The Ballygunner clubman is this year celebrating a third consecutive County Hurling title, with a total personal scoring tally of 12-73 over the three campaigns. He was also chosen as Man of the Match in two of the three finals. A key member of the Waterford Senior Hurling side, Hutchinson made his debut on the panel in 2020 and guided them to a final appearance against eventual winners Limerick.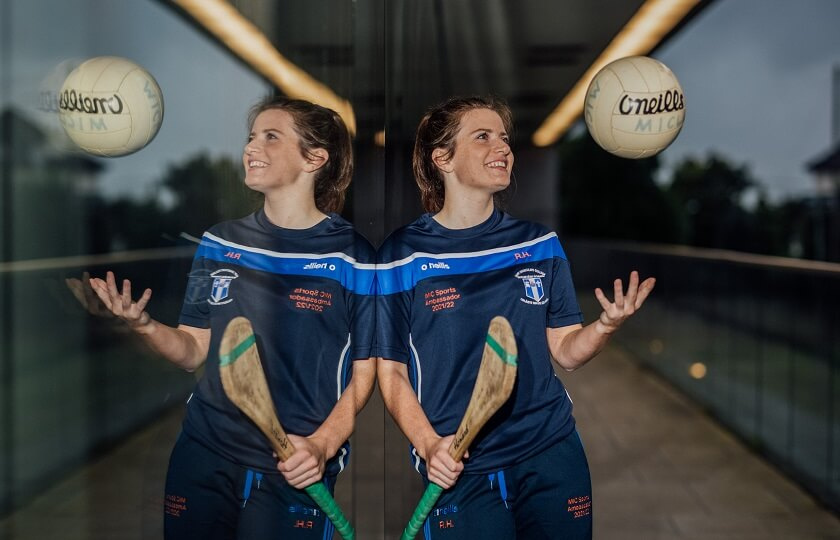 Scholarship Recipients 2020/2021
Successful applicants for 2020/21 were:
Roisin Howard, from Cahir, has won All-Ireland Championships in both Gaelic Football and Camogie with Tipperary. She has also guided her club to several County Football titles, including being named Player of the Match for the 2020 Tipperary Senior Ladies Football final. She has excelled in third level sport too and is the holder of four Ashbourne Cup Medals and two O'Connor Cup Medals. In 2019 she was a HEC Ladies Football All-Star and an All-Ireland and Munster Intermediate Football Champion with Tipperary. She continues as a dual player with her county and recently embarked upon the PME (Primary Teaching programme) at Mary Immaculate College. Roisin was awarded the Scholarship again in the 2021/22 academic year.
Clara Griffin, third year Bachelor of Education student at MIC, was recognised for her success in Camogie at club, intercounty and provincial levels. Now a Senior County Camogie player, Clara has been involved with Waterford's underage set-up since the age of 13 and is also a key member of her local Tramore Camogie Club. She holds three All-Ireland medals from her time playing underage for Waterford and most recently helped the County Minor Camogie team to victory over Cork in the 2018 Munster Championship Final in 2018; the first ever win for Waterford at that level. At club level, Clara guided Tramore to the Intermediate County title in 2019 which saw her awarded Tramore's Overall Club Player of the Year, beating rivals from all levels of male and female club activity in the Déise. She has also represented Munster in provincial Camogie.
Origin of Scholarships
Our sports scholarships are named in memory of MIC staff members, Noreen Lynch and Leonard Enright.
Noreen Lynch joined Mary Immaculate College as a lecturer in Physical Education in the early 70s and during her 35 year career with MIC she established and coordinated all of the sport and recreation programmes at the College. Noreen helped to establish the O'Connor Cup, the Ladies Football equivalent to the Fitzgibbon Cup, which was inaugurated in 1987. She was also involved in the establishment of national Third Level Ladies' football competitions in the mid-1980s; indeed the Lynch Cup, inaugurated in 1992, is named after her.
Leonard Enright was a member of the Maintenance & Buildings Services Team at MIC for over 22 years. Leonard played with the Limerick Senior Hurling team from the early 1970s to the late 1980s. Part of the Limerick panel in the 1973 All-Ireland final, Leonard won Munster titles in 1980 and 1981 and League titles in 1984 and 1985. He was the All-Star full-back in 1980, 1981 and 1983. Leonard was inducted into the GAA Hall of Fame in August 2018.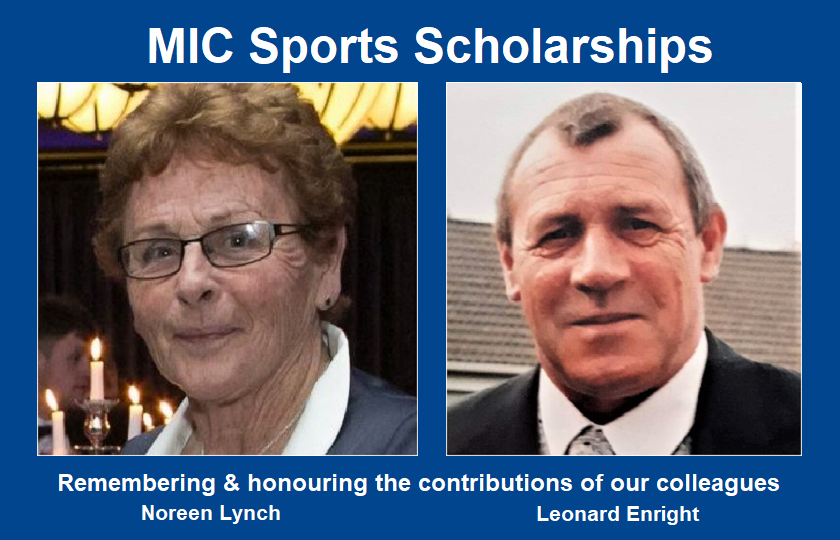 How to Apply

Criteria

Scholarship Recipients 2022/2023

Scholarship Recipients 2021/2022

Scholarship Recipients 2020/2021

Origin of Scholarships