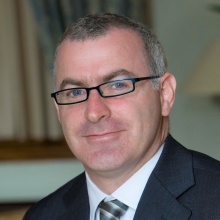 More information
Professor Gary O'Brien was appointed Associate Vice-President of Administration at Mary Immaculate College in September 2007.
This post involves responsibility for the operation of the College Boards including An Bord Rialaithe (the Governing Body), An Bord Acadúil (the Academic Council) and the Executive Team, as well as the Board of Trustees and the various standing committees of the College. The Associate Vice President Administration is a member of the Executive Team and An Bord Acadúil. Gary is responsible for strategic and operational planning, policy development, ICT operations, Corporate Communications, Quality Assurance, and external reporting.
Prior to his appointment, Gary O'Brien lectured in international history and politics at University College Cork and the University of Limerick. He was awarded an academic scholarship in American Studies by the University of Limerick in 1996 and in 2001 he was conferred with a PhD, by UL, for research into the history of American diplomatic relations with the Soviet Union during the Cold War.
He has also worked in the local development sector and was Research & Evaluation Officer at PAUL Partnership Limerick between 2002 and 2007 where his responsibilities included analysis of social exclusion issues, strategic planning, and policy development.