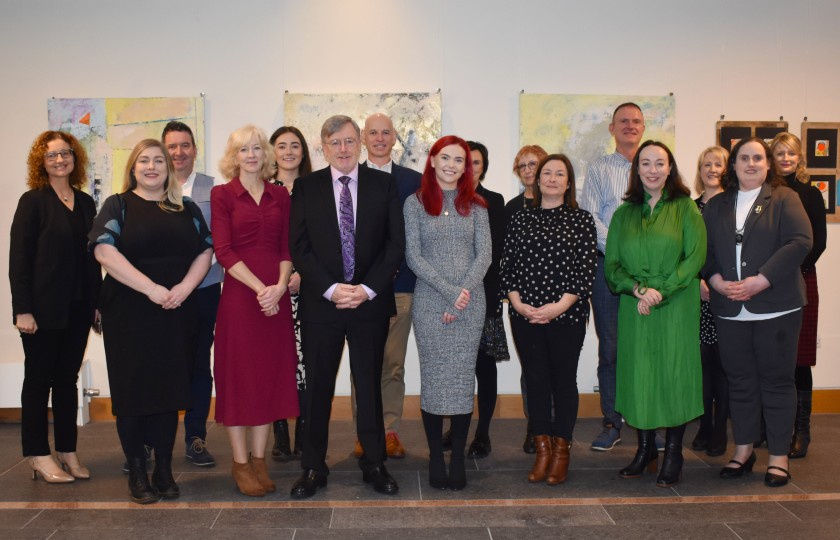 Pictured: Professional Doctorate in Educational and Childhood Psychology Stakeholder Advisory Committee members, made up of MIC, HSE and NEPS partners, including President of MIC, Professor Eugene Wall (centre, front) and Dr Therese Brophy, Programme Coordinator, Doctorate in Educational Psychology (left of Professor Wall).
Mary Immaculate College (MIC) has welcomed the significant funding made available to fourteen first year trainees on MIC's highly sought-after three-year full-time Professional Doctorate in Educational and Child Psychology (DECPsy). Arising from the workforce planning needs of both the National Educational Psychological Service (NEPS) and the Health Service Executive (HSE), the new funding arrangements were highlighted at the inaugural Professional Doctorate in Educational and Child Psychology Stakeholder Advisory Committee (SAC) meeting held at MIC on Monday (23 October).  The Committee is an advisory body to the DECPsy programme with membership including senior representatives from the programmes funding partners, NEPS and the HSE.  
Joint Programme Directors of the DECPsy, Dr Siobhán O'Sullivan and Dr Therese Brophy, warmly welcomed the funding development at the SAC meeting, which was attended by members of the DECPsy programme team, representatives from the HSE and NEPS, current DECPsy trainees and a graduate representative.
Dr O'Sullivan said that: "We are delighted to welcome our stakeholders to MIC today to mark this significant milestone for professional training in educational psychology. We extend our gratitude to our valued partners for their financial support of our trainees.  We've always been privileged to work with highly engaged and motivated students. This financial support will now enable them to focus wholeheartedly on their studies, professional placement experiences and their research."
Seven trainees are funded by NEPS and seven are funded by the HSE. The NEPS funded trainees will receive a bursary of €40,000 per annum and pursue employment with NEPS for three years post-graduation. The HSE funded trainees will be contracted to the HSE as Trainee Psychologists with a starting salary of €40,673 and 60% of their college fees covered. The HSE funded trainees will also pursue employment with the relevant Community Healthcare Organisation (CHO) area for three years post-graduation. Details on funding for trainees for the Academic Year 2024/25 will be provided in due course and will be based on the workforce planning needs of the funding partners.
Dr Therese Brophy reflected on the broad support from the education and psychology community in securing funding and commented: "We are grateful to our trainees, graduates, colleagues within MIC and across psychology services, to the Psychological Society of Ireland and public representatives who collectively highlighted the importance of equitable funding for psychologists in training, particularly in light of the need for high quality psychological support services in our communities. We are looking forward to working together with our funding partners to support the training and development of the next generation of educational and child psychologists in Ireland."
Speaking about the benefits of receiving funding a current trainee said: "It feels like recognition of the skills we have acquired in order to get onto such a competitive professional doctorate and allows us to immerse ourselves on the programme. It makes the profession more equitable for trainees from different backgrounds and circumstances."
The DECPsy programme is designed to equip graduates with the necessary competencies to work in a range of autonomous and collaborative professional roles that are performed by educational psychologists (EPs) in a variety of contexts and with a range of client groups. As such HSE Mid-West Community Healthcare and Cork Kerry Community Healthcare said they are delighted to partner with MIC in the delivery of trained Educational Psychologists.
A representative from the HSE added: "This initiative will help the HSE meet its workforce planning requirements for qualified psychologists to work in Child Psychology, Child and Adolescent Mental Health Services (CAMHS) and Children's Disability services. This partnership has come about following the recently announced national training initiative by the HSE which sees an increase of 45 training places in professional psychology training programmes per year over the next three years."
NEPS said of the funding initiative: "The Department of Education is pleased to fund a bursary programme to support Trainee Educational Psychologists so that NEPS can continue to recruit adequate numbers of suitably qualified staff and continue to respond to the educational psychological needs of children in recognised primary and post-primary schools across the country. We are delighted that seven first year Trainee Educational Psychologists will complete their studies in MIC with bursary support and will join the NEPS workforce upon graduation."
 
Applications for the DECPsy for the 2024/25 Academic Year open on 27 November and close at 5pm on the 26 January.