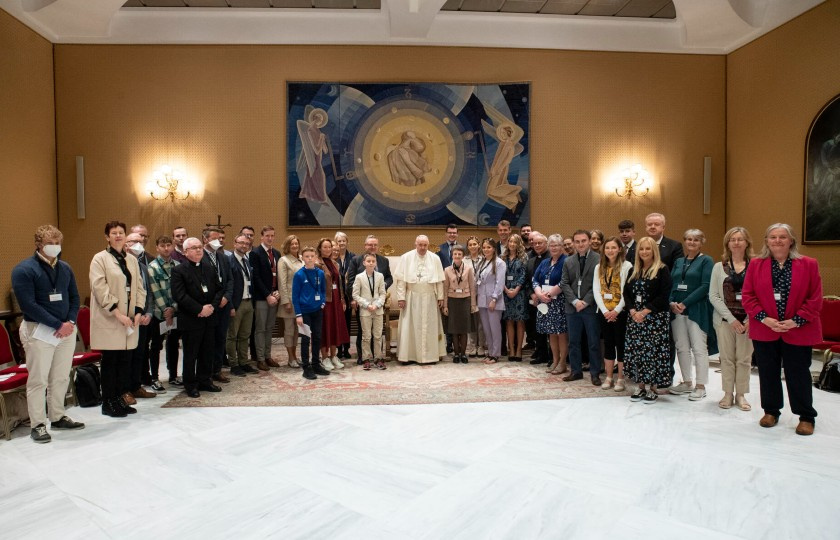 Catholic educators from Mary Immaculate College (MIC) enjoyed a private reception with Pope Francis in the Vatican during a research trip to Rome recently. The eight staff members, four students and eight recent graduates made up the majority of the 36 Catholic educators from the Global Researchers Advancing Catholic Education (GRACE) project who were in Rome to closer study Pope Francis' initiatives in Catholic education. His vision aims for greater solidarity and fraternity in a global educational context.
The GRACE project is an international research-based partnership between MIC, Boston College (USA), the University of Notre Dame (Australia), and St Mary's University (London, UK). GRACE also works in partnership with the International Office of Catholic Education (OIEC).  GRACE provides an original opportunity for practitioners and scholars of Catholic education and theology in our respective countries to affirm, study, collaborate, and respond meaningfully to challenges we face in the field. The GRACE academics, made up predominantly of primary and secondary teachers and researchers, spent four days in Rome discussing how to further the goals of the project in dialogue with leading Catholic educators on the world stage.
Speaking as he welcomed the GRACE academics to the Vatican, Pope Francis said: "Catholic education is evangelisation: bearing witness to the joy of the Gospel and its power to renew our communities and provide hope and strength in facing wisely the challenges of the present time. I trust that this study will inspire each of you to rededicate himself or herself with generous zeal to your vocation as educators, to your efforts to solidify the foundations of a more humane and solidary society, and thus the advancement of Christ's kingdom of truth, holiness, justice and peace. What you do is a beautiful thing. We must break that idea of education which holds that educating means filling one's head with ideas. That's the way we educate automatons, cerebral minds, not people. Educating is taking a risk in the tension between the mind, the heart and the hands: in harmony, to the point of thinking what I feel and do; feeling what I think and do; of doing what I feel and think. It's a balance."
According to Dr Daniel O'Connell, lecturer in Religious Education at MIC and Project Leader with the GRACE Project: "'I was very taken with how much this trip meant to everyone. Meeting with Pope Francis and other speakers was such a gift, a source of encouragement and inspiration for us all. While the experiences we shared engaged us on many levels, I think they spoke most of all to our hearts. We were left with a renewed confidence in Catholic education and a sense of belonging to a wider community."
The MIC group comprised of eight staff members (Dr Patrick Connolly, Dr Daniel O'Connell, Dr Patricia Kieran, Dr Catherine McCormack, Sr Ursula Lawler, Professor Eamonn Conway, Dr Donna O'Doherty and Dr Eugene Duffy), four students (Jayne Guiney, Cian O'Brien, Eamonn Morrissey and Linda Rainsberry), and eight graduates (Dr Máire Campbell, Darragh O'Sullivan, Dr Tom Carroll, Jason Cotter, Rob Grealish, Conor Reidy, Charlotte Keane and Michael Nutley).
Professor Eamonn Conway, Head of the Department of Theology & Religious Studies at MIC, also presented Pope Francis with a copy of his new publication, The Synodal Pathway: When Rhetoric meets Reality. The collection of fifteen essays from leading scholars in Europe, America and Australia analyses the ongoing self-reflection of the Irish Church and the opportunities and stakes of finding a place in the modern world. Speaking of the opportunity for the GRACE researchers to meet Pope Francis, Prof. Conway said: "It was an extraordinary gift that Pope Francis gave us a private audience and, setting aside his text, spoke to us heart to heart for over a half an hour about his passion for education. While we met many inspirational leaders in Catholic education operating on the global stage, not least Pope Francis, what was most impressive was the calibre of our own young people, especially their passion for justice, truth and love and their commitment to their teaching vocation"
You can find out more about the GRACE project by clicking here.