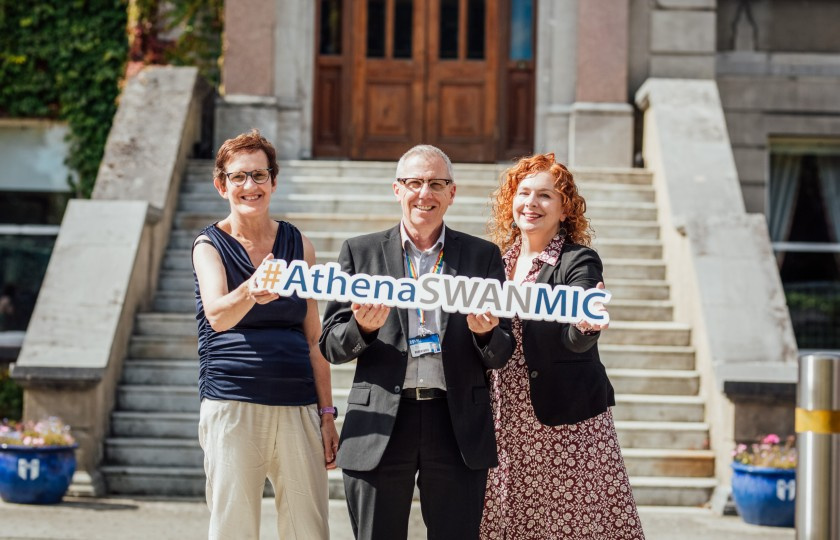 The Faculty of Arts at Mary Immaculate College (MIC) has been awarded the Bronze Athena Swan award in recognition of its ongoing work to ensure gender equality among staff and students of the faculty. Awarded by Advance Higher Education, the Athena Swan Charter reaffirms the work in higher education to achieve gender equality objectives, assists in meeting equality legislation requirements and supports the promotion of inclusive working practices. The Bronze award for the Faculty of Arts follows on from the Bronze award that MIC achieved in 2020 for its College-wide efforts.
As part of the application process for the award, the Faculty of Arts established a Self-Assessment Team (SAT), comprising of representatives from across the faculty and drawn from both academic and professional services staff. The team was chaired by the Dean of Arts, Professor William Leahy and Vice-Chair, Dr Joan O'Sullivan. The SAT conducted a comprehensive review of gender equality involving a faculty-wide survey and multiple focus groups with staff and students, the results of which were compared with results from similar academic departments and institutions. A final self-assessment report was issued to the Athena Swan judging panel earlier this year.
As part of the actions identified by the SAT, the Faculty pledges to ensure continuity and stability of employment for all faculty staff; to support and empower women for career progression; to improve the diversity of the student cohort; to enhance communication between management and staff; and to deliver a suite of equality, diversity, inclusion and interculturalism (EDII) training, including unconscious bias and interview training for those involved in recruitment and selection panels.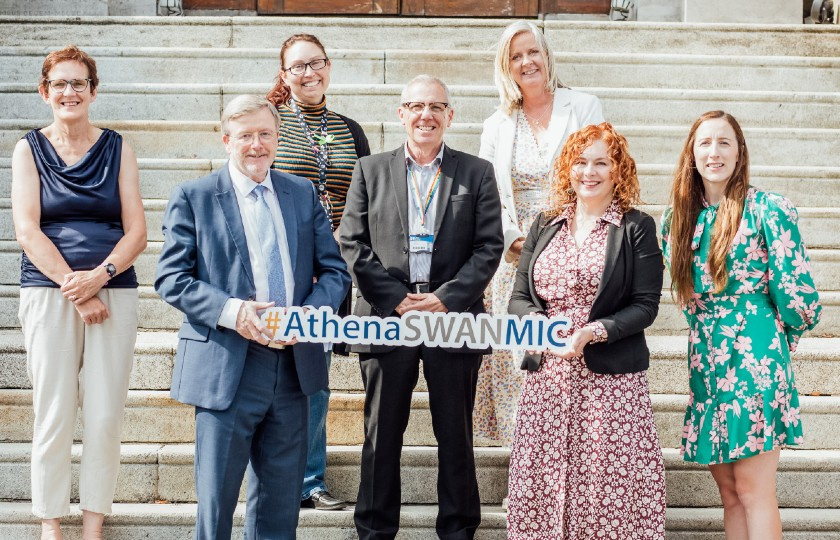 Pictured: (L-R): Dr Joan O'Sullivan, Vice-Chair of SAT; Professor Eugene Wall, President of MIC; Christine Ratzlaff, Vice-President of the Mary Immaculate Students' Union; Professor William Leahy, Dean of Arts; Professor Lorraine McIlrath, Director of EDII; Dr Deirdre Flynn, SAT member; Edel Foster, EDII Manager.
According to Professor William Leahy, Dean of Arts at MIC and Chair of the Self-Assessment Team (SAT): "Receiving the news that the Faculty has been awarded the Athena Swan Bronze Award is such a great way to start the new academic year. It is also something more profound of course. I have been at MIC for exactly one year today, on 1 September, having come from a UK university where I was involved in numerous Athena Swan submissions. I can honestly say that the submission from the MIC Faculty of Arts, which included the work of so many colleagues and which was crafted by Edel Foster, Dr Joan O'Sullivan and Dr Deirdre Flynn is perhaps the strongest I have ever seen. It contains an aspirational action plan which I look forward to working with colleagues to deliver. The award is just the start of something and not the end goal. But, it is the start of something special, something positive, something the Faculty of Arts believes in."
Congratulating the Faculty of Arts was Professor Lorraine McIlrath, Director of Equality, Diversity, Inclusion and Interculturalism at MIC, who said: "I would like to congratulate my colleagues in the Faculty of Arts of their achievement in attaining the Athena Swan Bronze award following a year-long intensive review process addressing issues of equality and opportunity for gender. In particular, I would like to congratulate Professor William Leahy for his leadership, Edel Foster for facilitating the process and members of the SAT for developing the submission for the award.  The achievement of this Bronze award is indicative of our positive efforts to ensure that MIC is benchmarked against international best practice for equality and inclusion. As a team, we at MIC look forward to embedding our set of actions to deepen our commitment to equality, diversity and inclusion."
Work is also currently underway on the renewal process for the institution Bronze Athena Swan award which is due to be submitted to Athena Swan Ireland in at the end of 2023. You can find out more about Athena Swan by clicking here.