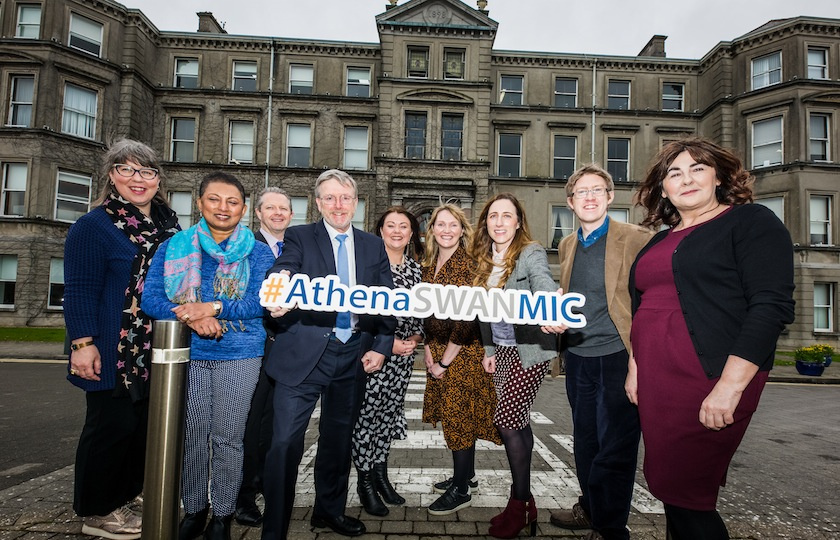 Following 18 months of data-gathering, gap analysis and self-assessment, leading to the development of a strong and ambitious Action Plan, Mary Immaculate College (MIC) was delighted to learn that it is to be awarded the Athena SWAN Institution Bronze Award.
In a major national initiative supported by the Higher Education Authority, the Athena SWAN Charter was launched in Ireland in early 2015. Figures published by the Higher Education Authority highlight gender inequality as an issue for the sector. Across Irish universities, only 24% of professors are women. In institutes of technology, women make up 44% of academic staff but just 29% of senior academic staff.
The Charter's initial remit was to encourage and recognise commitment to advancing the careers of women in science, technology, engineering, maths and medicine (STEMM) employment in higher education and research. In May 2015 the charter was expanded to recognise work undertaken in arts, humanities, social sciences, business and law (AHSSBL), and in professional and support roles, and for trans staff and students. The charter now recognises work undertaken to address gender equality more broadly, and not just barriers to progression that affect women.
Speaking on the hard-earned award Professor Eugene Wall, President of Mary Immaculate College, said, "Here at MIC we are deeply committed to progressing and embedding gender equality in management, academic, professional and support services and to that end we are delighted at this public recognition of our concerted efforts to address gender equality since becoming a member of the Athena SWAN Charter in 2018".
Outlining some of MIC's achievements since becoming a member of the Athena SWAN Charter Prof. Wall stated that "We have addressed the gender imbalance on our governance and management committees, all of which now have a minimum of 40% female representation. Our Executive Team was restructured and female representation has increased from 13% to 50%. Two dedicated posts were created to lead the Athena SWAN process in the College and we look forward to appointing a Director of Equality, Diversity, Inclusion and Inter-Culturalism very shortly".
Concluding he said, "I welcome the opportunity that Athena SWAN provides to examine our policies, practices and staff experiences in terms of gender equality and opportunity for all at the College. I look forward to our continued work in ensuring that MIC is a diverse, welcoming and inclusive college for all. I would also, on behalf of the College, like to express my gratitude to the Athena SWAN team within MIC, led by Dr Elaine Murtagh and Edel Foster, assisted by MIC's Self-Assessment Team".
Other actions currently being undertaken include training being rolled out to staff in Equality, Diversity and Inclusion (EDI), the development of a Gender Identity and Expression policy and the allocation of gender-neutral toilet facilities on campus. In recognition of these steps to embed EDI into wider organisational systems MIC received the bronze level 'Investors in Diversity' award from the Irish Centre for Diversity in September of last year.
Speaking on the announcement was Dr Elaine Murtagh, Director of the Athena Swan project at the time of application, who commented: "Attaining the Athena SWAN Bronze institution award at first application is a superb achievement. It reflects the serious commitment made by the College to advance gender equality and opportunity for all and I would like to thank all staff who engaged in the process especially our hard-working Self-Assessment Team.
We acknowledge the support from Athena SWAN professionals in other HEIs, who generously share their experiences through the Athena SWAN Ireland Practitioner Network. This forum has enabled the HEI community to work collaboratively to progress gender equality across the sector".
According to Edel Foster, Athena SWAN Project Manager, "The development of our successful Athena SWAN application is the result of a truly collective effort with input from staff right across the College. It was the first time such a cross-institutional reflective process and consultation has taken place on key issues including organisational culture, work life balance and support for transgender staff and students. However, this is just the beginning of the process. Our staff survey revealed key areas of concern and our four year action plan shows our commitment to address these issues".
According to Ms Foster the current SAT team will be replaced by a new Gender Equality Steering Group who will be charged with overseeing the implementation of the MIC Athena Swan Action Plan 2019-2023. Highlights of the plan include the appointment of academic merit based promotional posts; the development and implementation of a flexible working policy; the introduction of a workload model; the delivery of EDI, unconscious bias and interview training and the forthcoming appointment of a Director of Equality, Diversity, Inclusion and Inter-Culturalism.
Main photo: Members of Mary Immaculate College's Athena Swan SAT (self-assessment team) team pictured at MIC Limerick celebrating the announcement of the Athena SWAN Institution Bronze Award (L-R): Katie Brosnan, Student Academic Administration; Santhi Corcoran, lecturer and PhD researcher; Frank White, Director of Human Resources; Professor Eugene Wall, President of MIC; Ciara Ní Shúilleabháin, Director of Strategic Communications & Marketing; Dr Julianne Stack, Research Postgraduate Quality Manager; Edel Foster, Athena SWAN Project Manager; Dr Marc Scully, lecturer in the Department of Psychology; and Dr Susan Liddy, lecturer in the Department of Media and Communication Studies.