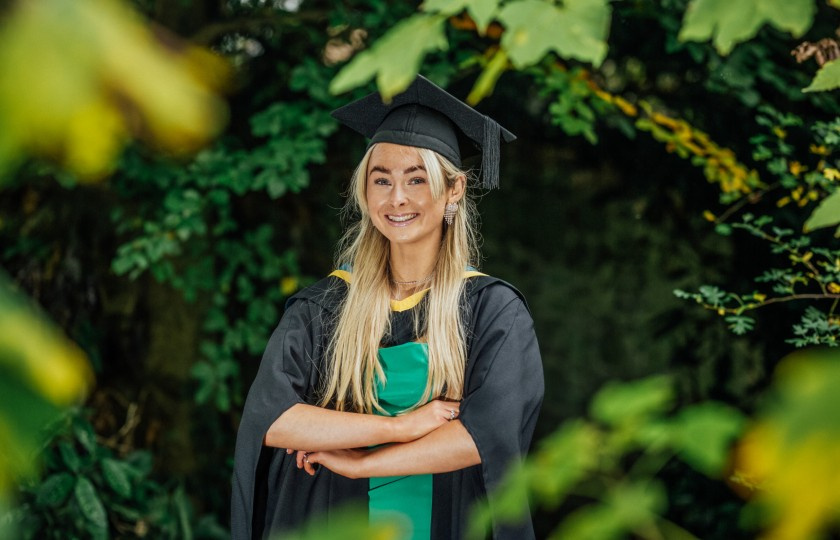 An MIC student has been awarded a Global Undergraduate Award in recognition of the academic strength of her final-year thesis on cultural diversity and representation in children's animated films.
Wicklow native, Lola Parsons, who graduated from MIC's BA in Early Childhood Care & Education (BA ECCE) last October, was Highly Commended by the Awards before further being announced as the Island of Ireland winner in the Education category.
Lola's thesis, 'Diversifying Disney', focuses on the emerging conversation surrounding culture and diversity in Irish early years policy and framework and applied this discourse to children's animation films.
Explaining how she chose her topic, Lola said: "I have a passion for children's literature and so when brainstorming ideas in my third year, I knew this would be the right choice. I really wanted to do a dissertation that I would look forward to writing! In the thesis, I took the three films which featured a child at the forefront and which each feature a different culture; 'Mulan' from a Chinese culture, 'Moana' from a Polynesian culture, and 'Coco' from a Latino culture. I critically analysed each film and sought to find out how they portrayed each culture, to what results, and ultimately what effect this would all have on a child audience."
Lola continues: "I couldn't believe it when I saw the email from the Global Undergraduate Awards! I am over the moon; it's amazing to be recognised at this level for something I love and have worked really hard on. I also want to say a big thank you to my supervisor, Dr Jade Dillon. I couldn't have done my dissertation without her amazing guidance and support."
This is not the first time Lola's academic work has been celebrated. She was awarded the Gold Medal on the ECCE programme at her graduation last October and was also awarded the Certificate for Excellence in Professional Placement.
Congratulating Lola on the Global Undergraduate Award was Dr Mary Moloney, Programme Coordinator of the BA ECCE, who said: "Congratulations to Lola on this fantastic recognition. This is another accolade to add to her Gold Medal on the ECCE programme at her graduation last year. Lola's thesis, which examined cultural diversity and representation in children's animated films is an outstanding piece of academic work. It is representative of her thorough dedication to her studies. I wish to congratulate the team of lecturers on the Early Childhood Degree here in MIC who nurtured and mentored Lola throughout her four years of study. A special word of thanks to Dr Jade Dillon for her expert guidance and support of Lola. I wish Lola the very best as she continues her studies with us here at MIC at postgraduate level."
Lola is currently undertaking MIC's Professional Master of Education (Primary Teaching). Find out more about the Global Undergraduate Awards.