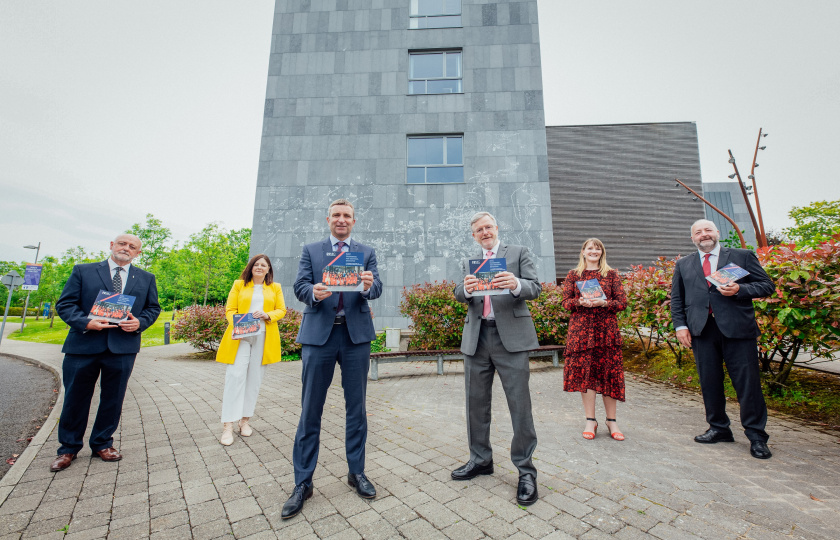 Mary Immaculate College (MIC) today (31 May) launched its inaugural Framework for Doctoral Education, which aims to facilitate consistent excellence in the quality of postgraduate education, research and training at MIC. The framework, which was developed in relation to national and European-level policy benchmarking, was launched today at MIC's Limerick campus by Niall Collins TD, Minister of State at the Department of Further and Higher Education, Research, Innovation and Science.
Speaking at today's launch, Minister Collins said, "Successful societies and economies will be those that invest in and embrace talent, scientific research, creativity and knowledge creation and learn how to successfully use these to improve societal wellbeing and support a sustainable economy. Mary Immaculate College's commitment to research excellence and to developing and nurturing the next generation of researchers is demonstrated through the launch of its inaugural Doctoral Framework, A Framework of Good Practice for Research Degree Programmes. This Framework will support improvements in the postgraduate learning experience, as well as ensuring that these students are fully equipped to enter employment upon graduation. The Framework comes at a time when researchers, and the role research plays in dealing with the crises we all face, are under a spotlight. The contribution research and researchers make to improving our lives and wider society, locally and globally, has been demonstrated repeatedly over the past year."
According to Professor Niamh Hourigan, Vice-President of Academic Affairs at MIC, "The shared ultimate aim of MIC's Framework for Doctoral Education is to enable our graduates to engage in a life of progressive and responsive engagement with the key debates, controversies and issues in a world of increasing social, cultural and economic diversity, nationally and internationally."
She added, "The framework is intended not only as a response to changes in the purposes of research degree programmes but also as a call for continuing dialogues with the University of Limerick, the Technological University of the Shannon: Midlands Midwest, other HEIs and external bodies in a spirit of strengthening mutually held priorities about the advancement of national priorities, policy imperatives and good practices across the higher education sector."
In addition to ensuring excellence in the quality of postgraduate education, research and training at MIC, the framework aims to maximise the employability of doctoral graduates across a broad range of employment sectors by ensuring that the acquisition of discipline-specific knowledge is complemented by the development of research and transferrable skills.
Under the framework, faculties, departments and institutional units throughout MIC will be enabled and encouraged to work more closely in the delivery of an improved learner-experience and outcome. The framework also underpins the value and relevance of the doctoral award in the context of MIC's institutional strategic priorities, as outlined in MIC's Strategic Plan – A Flourishing Learning Community, national research policy agendas and global realities in higher education.
Professor Michael Healy, Vice President for Research in MIC, sets out the context for the Doctoral Framework as follows, "It is widely accepted nationally and internationally that several essential components are required to underpin the success of doctoral research. Critical among these are a high-quality and vibrant research and learning environment, high-level expertise in academic supervision, comprehensive Graduate School support, a wide-ranging programme of transferable research skills, access to research resources and professional development opportunities, peer-to-peer interaction, and demanding but fair academic standards. All of these and more are carefully and thoroughly elucidated in the MIC Framework for Doctoral Education."
He goes on to explain that "At MIC, academic aspects of doctoral education are provided by expert individual supervisors and supervisory teams within academic Departments, Schools and Faculties. In parallel, the Research & Graduate School provides an extensive range of academic and non-academic services, facilities and supports to postgraduate students. Working together, these provide the essential underpinning for the success of doctoral research in the College. Testifying to this success, MIC will confer in excess of forty research degrees at doctoral and master's levels in 2020 and 2021 alone."
In welcoming the publication of MIC's Framework for Doctoral Education, Selina McCoy, Associate Research Professor in Social Research and Joint Education Research Coordinator at the ESRI, and Adjunct Professor at Trinity College Dublin, said, "I am enthused about the opportunity to reflect on the Framework for Doctoral Education at Mary Immaculate College. In providing rigorous and broad-ranging doctoral training programmes, with opportunities to engage with peers nationally and internationally, MIC is exceptionally well-placed to prepare high calibre entrants to a range of professional careers in Ireland and beyond."
She added, "The College's tightly knit, cohesive community is particularly noteworthy and provides a rich and engaging environment to support the academic, personal and professional development of a wonderfully diverse student population. I am regularly impressed by the high-quality output of MIC researchers and it is encouraging to see this expertise available to early career researchers. I thoroughly look forward to supporting MIC on this exciting development."
View MIC's Framework for Doctoral Education here.
Further information about postgraduate study at MIC is available here.