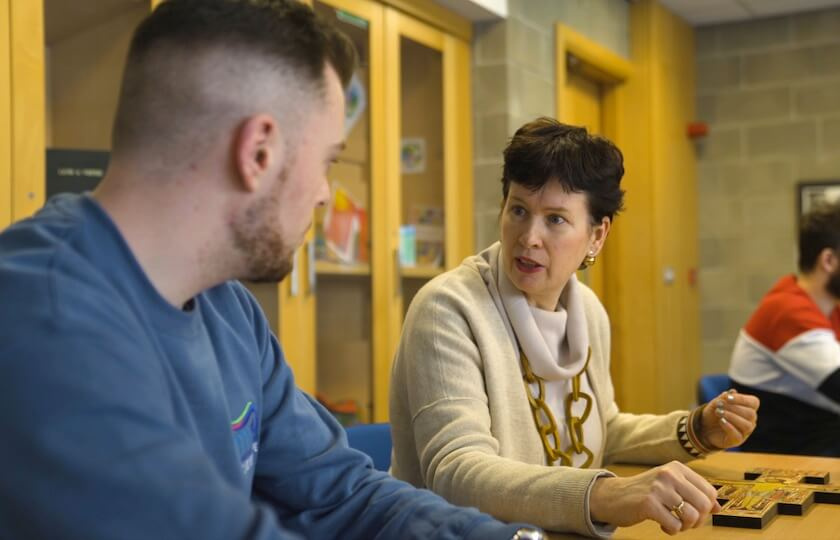 Religious education is, now more than ever, an area of intense public debate and a key issue in contemporary educational agendas. Mary Immaculate College (MIC), recognising the gap in religious education provision in Ireland, is delighted to announce that applications are now being accepted for its two-year, part-time M Ed in Religious Education.  This Level 9 postgraduate degree offered by the Department of Learning, Society, and Religious Education at MIC, draws on the specialist expertise at the College in the area of Religious Education and the complementary discipline of Theology and Religious Studies.
According to Dr Fiona Dineen, Programme Coordinator and lecturer in Religious Education: "MIC is delighted to introduce the M Ed in Religious Education at a time when we are witnessing the development of a new discourse on primary religious education in the public sphere. While the nature and purpose of religious education continues to be a much-debated area, there is also growing academic interest and emerging research in this field. Despite these developments, however, there remains a lacuna in respect of the lack of available postgraduate programmes that seek to enhance and develop religious education as an academic discipline in Ireland. Recent global discourse on this matter highlights the urgent need to develop the religious literacy of educators at both primary and post-primary level. The M Ed in Religious Education at MIC responds to this need and context, offering an opportunity for research and reflection on the challenges and opportunities for religious education in the contemporary climate, where it is subject to a myriad of competing imperatives."
Dr Dineen adds that as Ireland becomes an increasingly pluralistic and diverse society, the M Ed in Religious Education programme creates a space to explore the nature, purpose and value of religious education at this time. The programme will contribute to the professional and personal development of those involved in religious education, as well as examining how pupils can be empowered to take ownership of their own religious identity through a holistic approach across the curriculum, both formal and informal.
"Religious Education is about uncovering sources that help people flourish and thrive, in an attempt to live a life characterised by freedom, purpose, meaning and value. Teachers and educators, who participate on the M Ed in Religious Education, will augment their understanding of religious education in the contemporary classroom and become religious education leaders in their schools. Furthermore, they will contribute to the ongoing conversation about the provision of religious education in an evolving landscape."
Participants on this programme will also develop a critical awareness of the diverse perspectives in approaches, policy and contexts in the field of religious education. They will develop creative and reflective teaching strategies that support learning in, from and about religion. The programme also allows for participants to formulate a framework for reflection on their own personal, spiritual, theological, moral and professional development as religious educators in faith-based and other educational environments.
The M Ed in Religious Education is a two-year part-time programme and will be delivered in a face to face format.  The taught components of the programme will take place mainly in Year 1. The modules will facilitate critical analysis of the nature, purpose and place of Religious Education from a national and international perspective, explore areas for research, as well as reflecting on the importance of leadership within the curricular area. Core modules include Religious Education: Approaches, Policy and Contexts; Religious Education and Inter-Belief Dialogue; Religious Education and the Search for God; Scripture and the Sacraments and New Testament Christology.
More information and application procedures available here; see promotional video for the programme below.