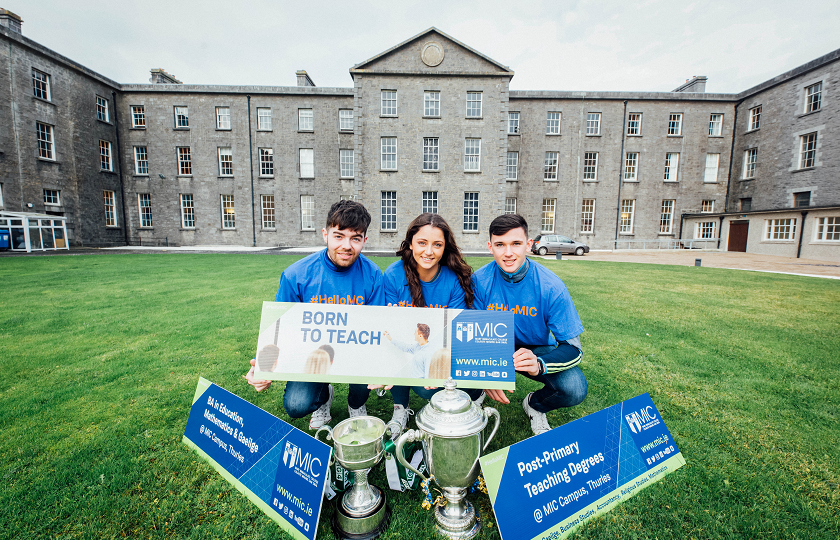 Demand for post-primary teaching degrees at MIC, St Patrick's Campus, Thurles continues to grow with an impressive 59% increase in 1st preferences and a 22% increase in CAO applications this year; almost double the increase experienced nationwide to post-primary teacher preparation programmes.
MIC Thurles now boasts five undergraduate degrees with an education and school placement component and the growing popularity of these programmes has resulted in the following increases in CAO points:
•        MI009          BA in Education, Business and Accounting: 392 points
•        MI010          BA in Education, Business and Religious Studies: 326 points
•        MI011          BA in Education, Gaeilge and Religious Studies: 377 points
•        MI012          BA in Education, Gaeilge and Business Studies: 398 points
•        MI013          BA in Education, Mathematics and Gaeilge: 433 points
MIC Thurles is the result of the incorporation of St Patrick's College in 2016 and over the past three years has gone from strength to strength, witnessing a remarkable 56% increase in CAO applications and a further 100% increase in 1st preferences during that period. According to Dr Ó Murchú, Head of School, MIC Thurles, the growing popularity of these concurrent teacher education programmes is a result of a number of factors including the commitment of all staff and students to a quality programme focused on teaching, learning and assessment, small class sizes, amiable relationships between faculty and students, high quality facilities, and a range of access routes and scholarships.
The support of schools and the local community in Thurles also adds to the quality of the learning experience, with both location and reasonable accommodation costs often highlighted by students. A key advantage of the programme is that the education component is included in each year with the graduate qualified to teach to honours Leaving Certificate level after completion of their degree. This not only means graduates learn to become a teacher from the very first day on campus, but also that they qualify to teach after four years, as opposed to six. This combined with high standard of teaching and learning, and personal attention given to each student, ensure that MIC Thurles continues to grow in popularity and demand.
Meanwhile MIC Limerick continues to attract the highest calibre of students to its programmes with points for the unique B Ed in Education and Psychology programme increasing to 554, making it the teacher education programme with the highest points in the country.  Demand for MIC's B Ed (primary teaching M1005/06) programme remains high with CAO points at 473*/ 442.
CAO Points for other MIC programmes are as follows:
MI001 BA in Contemporary and Applied Theatre Studies: 345 points
MI002 BA in Liberal Arts: 300 points
MI007 BA in Early Childhood Care and Education: 366 points
Orientation for incoming students will take place the week of September 2nd.   Further information for incoming students to both MIC Limerick and Thurles available on here.