About
You can make an application for 2023/24 using the Laptop Lending Scheme application link below.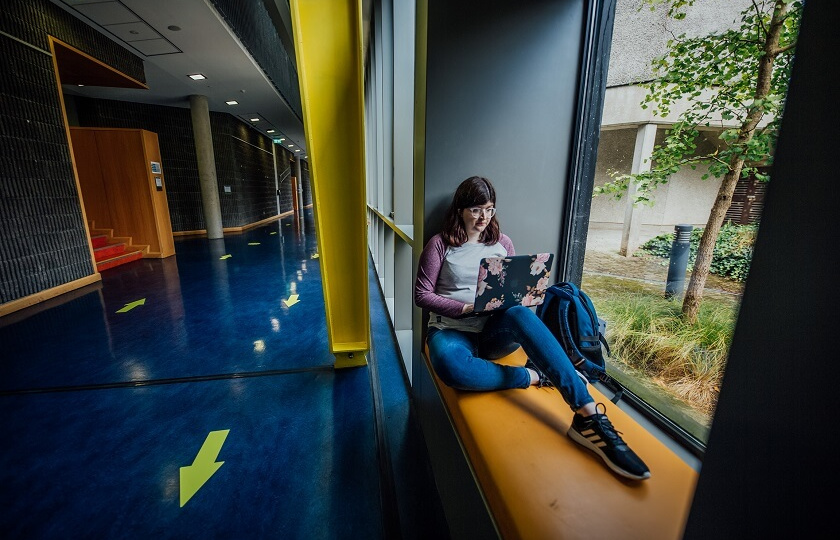 As part of a package of supports, the Department of Further and Higher Education, Research, Innovation and Science has allocated funding to support disadvantaged students in the higher education sector in accessing ICT devices.
For the academic year 2023/24 MIC will have a limited number of laptops available to loan to eligible students. This is a long-term loan scheme and the laptop remains the property of MIC.
Please make an application using the Laptop Lending Scheme online application form here and email: LaptopScheme@mic.ul.ie to let us know if you have submitted an application.
Please Note: The devices will remain the property of MIC and will be distributed to eligible students by means of an appropriate lending/rental scheme. A loan agreement including terms and conditions will apply. Should a student defer/withdraw from MIC, they are required to return the laptop.
How To Apply
Who can apply?
This scheme is being provided to support disadvantaged students in higher education institutions in accessing ICT devices. Full-time and part-time students (both undergraduate and postgraduate) are eligible to apply under this scheme. The Grant covers both incoming first year students and returning students. 
International, non-EU fee-paying students would not be considered eligible for support under this scheme.
Who is eligible to apply?
Students must be in receipt of a SUSI grant or a means-tested social welfare payment.  
Eligibility will be on a needs basis and MIC must be satisfied that a student who receives a device under this grant has demonstrated the need for the device to access their programme of study e.g. they or their family do not have the means to purchase such a device themselves. Applicants may be asked to provide documentation including proof of their own or their parent's income, as appropriate, and receipts for costs such as rent, bills or childcare. 
Applicants must belong to one of these categories to be eligible to apply for this Laptop Scheme) *Proof of same may be requested.
I am registered with MIC's Access Office (HEAR / DARE Scheme)
I qualify for the SUSI grant
I am self-declaring that I am currently in financial need and not eligible for SUSI or DSP payment (***Please complete Question 5***)
Please Note:
- If applying for the scheme under the HEAR/DARE option - we will confirm your registration with the Access Office.
- If applying for the scheme as a SUSI applicant, we will request a copy of the SUSI letter/email.
- If applying for the scheme as a self-declaring applicant, we will request applicants provide a confirmation of gross household income via P21 or Notice of Assessment for self (and spouse/partner or parent(s) or guardian(s), if applicable) for 2022 and/or Statement of total household DEASP benefits received in 2022. You will also need to complete a Personal Statement – which should include any information that you feel should be taken into account when your application is considered. There is a maximum of 250 words in this section. You should consider the following:
Your personal and/or family circumstances.
How the Scheme will help you achieve your goals and ambitions?
What barriers have you faced in achieving your goals and ambitions?
Have you/your family experienced severe financial hardship/change in circumstances?
Following your application submission, the Laptop Lending Scheme team will be in contact with you on your MIC Student email.
How will applications be assessed?
Eligibility will be on a need basis, prioritised as appropriate by MIC. Students will need to demonstrate a need for such a device e.g. they or their family do not have the means to purchase such a device themselves. Devices will not be allocated to persons who are not registered students of MIC
Further Information
Please contact LaptopScheme@mic.ul.ie with any further queries on the laptop loan scheme.
All applicants for this laptop scheme are advised to also apply for the Student Assistance Fund (SAF) when it opens at the beginning of semester one. Eligible applicants to the SAF will receive financial assistance contributing to the cost of expenses associated with college which may be put towards the purchase of a laptop.
For queries relating to SAF please contact AccessOffice@mic.ul.ie
Device technical aspects
Latitude 5410, 14"
Intel i5-10210U processor
 8GB RAM
 256 GB SSD
1366 x 768 screen resolution
 5 Years Next Business Day Support
 Windows 10 Home
About

How To Apply

Further Information