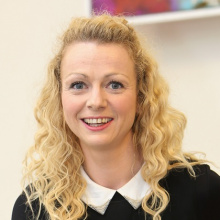 More information
Dr Maeve Liston is the Director of Enterprise & Community Engagement at Mary Immaculate College. In this position Dr Liston is responsible for widening access to our estate and increase the range of campus facilities available for social, cultural and municipal engagement by our community and organising events in MIC that are of local, regional and national importance in collaboration with external stakeholders in the region. She provides leadership, within our core competency domains, in collaborative initiatives, establishing new learning relationships with our neighbouring communities that helps transfer our knowledge capital to local and community development settings instead of within the campus boundaries.
In her role she manages, designs and delivers a wide variety of different programmes on creativity, innovations and problem solving in the areas of entrepreneurial education, 21st century skills needs and careers, STEM (Science, Technology, Engineering and Maths) and STEAM (Science, Technology, Engineering, Art and Maths) with a wide variety of key stakeholders in enterprise and industry . For example Entrepreneurship Summer Programmes, STEM Fairs, Festivals and a wide variety of outreach activities, Robotics, Coding and STEAM (Science, Technology, Engineering, Arts and Maths) Programmes.
Maeve studied BSc (Ed) in Biological Sciences with chemistry at the University of Limerick (UL) receiving a first class honours degree. She was awarded the title of 'Advanced Scholar' by UL for her academic achievements and successfully obtained the highly prestigious IRCSET Post Graduate Scholarship completing her Doctor of Philosophy in Science in the Department of Life Sciences, also at UL.
Dr Liston is also Senior Lecturer in Science Education at MIC. She has extensive experience in teaching science and science education at all levels in education (primary, second and third level). She lectures at undergraduate and postgraduate level (Graduate Diploma Master's, PhD.). She has been directly involved with the training of primary level and second level science teachers for many years in Mary Immaculate College and at the University of Limerick (UL).