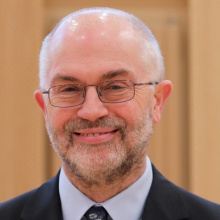 Research interests
The poetry, prose and thought  of Seamus Heaney; the work of W. B. Yeats and James Joyce; Irish culture and writing; literary and cultural theory
Click here for CV
Click here for full text of research articles on MIRR (Mary Immaculate College Research Repository)
Editor of the Literary and Critical Theory module in Oxford University Press's Oxford Bibliographies Online Series
Click here for an overview of the module
More information
Dr Eugene O'Brien is a senior lecturer, and Head of the Department of English Language and Literature in Mary Immaculate College and Director of the College's Institute for Irish Studies. He is also the editor for the Oxford University Press Online Bibliography project in literary theory.
He has directed 33 PhD theses on the areas of Irish Studies and Literary and Critical Theory. 
His most recent book is Recalling the Celtic Tiger, edited with Brian Lucy, TCD and Eamon Maher, TUD. 
He is currently working on two monographs: a book about the cultural significance of Paul Howard's Ross O'Carroll-Kelly series and a study of the presentist influence of the work and thought of William Butler Yeats on Irish political ideas.
He is also co-editing the 100th book in the Reimagining Ireland Series with Eamon Maher.  It is provisionally entitled: Reimagining Irish Studies for the Twenty-First Century.
Books as Single Author
The Poetry of Micheal O'Siadhail, London and New York: Routledge (forthcoming 2023)
Reading Paul Howard: The Art of Ross O'Carroll Kelly, London and New York: Routledge (forthcoming, 2022)
Seamus Heaney as Aesthetic Thinker: A Study of the Prose, New York: Syracuse University Press, 2016
'Kicking Bishop Brennan Up the Arse': Interlacing Texts and Contexts, New York: Peter Lang, 2009
Seamus Heaney: Creating Irelands of the Mind (Second enlarged and revised edition, first published 2002), Dublin: Liffey Press, 2007
Seamus Heaney: Searches for Answers, London: Pluto Press, 2004
Seamus Heaney and the Place of Writing, Gainesville: University Press of Florida, 2003
Examining Irish Nationalism in the Context of Literature, Culture and Religion: A Study of the Epistemological Structure of Nationalism, New York: Edwin Mellen Press, 2002
Seamus Heaney: Creating Irelands of the Mind, Dublin: Liffey Press, 2002
The Question of Irish Identity in the Writings of W. B. Yeats and James Joyce, New York: Edwin Mellen Press, 1998
Books as Editor
Contemporary Irish Poetry and the Climate Crisis, edited by Andrew J. Auge and Eugene O'Brien, London and New York: Routledge, 2021
Reimagining Irish Studies for the Twenty-First Century, edited by Eamon Maher and Eugene O'Brien Oxford: Peter Lang, 2021
Recalling the Celtic Tiger, edited by Brian Lucy, Eamon Maher and Eugene O'Brien, Oxford: Peter Lang, 2019
Patrimoine/Cultural Heritage in France and Ireland, edited by Eamon Maher and Eugene O'Brien, Oxford: Peter Lang, 2019
Representations of Loss in Irish Literature, edited by Deirdre Flynn and Eugene O'Brien, London: Palgrave Macmillan, 2018
Tracing the Cultural Legacy of Irish Catholicism: From Galway to Cloyne, and Beyond (paperback 2nd edition), edited by Eamon Maher and Eugene O'Brien, Manchester: Manchester University Press, 2018
The Soul Exceeds its Circumstances: The Later Poetry of Seamus Heaney, edited by Eugene O'Brien, Notre Dame, Indiana: University of Notre Dame Press, 2016
From Prosperity to Austerity: A Socio-Cultural Critique of the Celtic Tiger and its Aftermath, edited by Eamon Maher and Eugene O'Brien, Manchester: Manchester University Press, 2014
Breaking the Mould: Literary Representations of Irish Catholicism and Ireland, edited by Eamon Maher and Eugene O'Brien, Oxford: Peter Lang, 2011
War of the Words: Literary Rebellion in France and Ireland, edited by Eamon Maher and Eugene O'Brien, Tir: Publication du CRBC Rennes 2, Université Européenne de Bretagne, 2010
Issues of Globalisation and Secularisation in France and Ireland, edited by Yann Bévant, Grace Neville, Eamon Maher and Eugene O'Brien, Frankfurt: Peter Lang, 2009
Modernity and Postmodernity in a Franco-Irish Context, edited by Grace Neville, Eamon Maher and Eugene O'Brien, Frankfurt: Peter Lang, 2008
Reinventing Ireland through a French Prism, edited by Grace Neville, Eamon Maher and Eugene O'Brien, Frankfurt: Peter Lang, 2007
La France et la Mondialisation: France and the Struggle against Globalization, edited by Eamon Maher and Eugene O'Brien, New York: Edwin Mellen Press, 2007