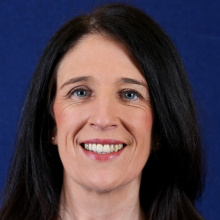 More information
Elaine was appointed Director of Information Governance and Compliance Manager in October 2022. This wide-ranging position means Elaine has responsibility for many dimensions of College governance and includes the role of Data Protection Officer (DPO) and Freedom of Information Officer (FOI). Elaine retains overall management responsibility for the Information Compliance & Records Management Office.
Elaine held the post of Information Compliance Manager at Mary Immaculate College from November 2017 - October 2022.
Elaine holds a B.A. (Hons), Postgraduate Diploma, M.A. in Public Management and the Practitioner Certificate in Data Protection (PC.d.p). Elaine has worked in the area of Freedom of Information and Data Protection for a number of years and contributes significantly to the creation of a culture of best practice information compliance at the College. Elaine provides advice and support on the implementation of internal information compliance audits and review and risk assessments while making recommendations to senior management on all Information Compliance matters. Elaine is also responsible for the development and delivery of staff training programmes in the area of Data Protection law.