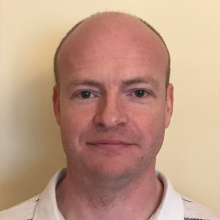 Research interests
Dr. Steven Bond has lectured in a broad range of disciplines including philosophy, theology and literature. Research interests include Ethics, Philosophy and Literature (with an emphasis on Irish literature such as Joyce and Beckett) and the philosophy of Wittgenstein, which was the topic of his PhD thesis. Dr. Bond also works as a specialist grant writer, helping corporates contribute to the European Green Deal transition to a clean circular economy which will combat climate change and promote biodiversity. This work is consistent with his academic interests in Environmental Ethics.
More information
Qualifications:
2015 Higher Diploma in Software Development (First Class Hons.), University of Limerick.
2005 Ph.D. in Philosophy, Mary Immaculate College, University of Limerick.
2001 B.A. in English & Philosophy (First Class Hons.), Mary Immaculate College, University of Limerick.
His Ph.D. thesis, Tractarian Holism: Transcendental Solipsism in the Context of the Kantian Tradition, explored the influences of German idealist thought on the early logical work of Ludwig Wittgenstein.
2015 Recipient of two University of Limerick presidential Letters of Excellence for exam performances in Software Development.
2001-04 Awarded the MIC Studentship, of which two are awarded annually to full time post-graduate research students across all disciplines in Mary Immaculate College, Limerick.
2001 Awarded the College Silver Medal for graduating first place in the B.A. degree (200+ students), Mary Immaculate College, University of Limerick.
2000-2001 Recipient of two University of Limerick presidential Letters of Excellence for undergraduate exam performance.
Publications:
2019. Checkerworks. Limerick, Ireland: Revival Press. (poetry collection)
'V.I.T.R.I.O.L. Joyce's Hermetic Acronym' Hypermedia Joyce Studies, Volume 15, 20th Anniversary Edition, 2016.
(Steven Bond and Ronan Crowley) "SD was on the Cards: P. R. S. Foli's Fortune-Telling by Cards (1904) in 'Penelope'," Genetic Joyce Studies, Issue 15, 2015.
'Logical and Moral Necessity in Wittgenstein's Tractatus', Philosophical Writings 40.1, 2013.
'The Occlusion of René Descartes in Ulysses and Finnegans Wake', Journal of Modern Literature 35.4, 2012.
'How to Pull a Good Whoroscope' Nordic Irish Studies Journal, Volume 11, 2012.
Angraecum Sesquapedale: Darwin's Great Gamble,' 2012. Martin Brinkworth and Friedel Weinert (Eds.) Evolution 2.0 Implications of Darwinism in Philosophy and the Social and Natural Sciences. Heidelberg: Springer.
'Rosicrucianism and Cartesianism in Joyce and Beckett, 'Miranda, Special Beckett Issue, 2011. 
'Alterity and Transcendence: From Dedalus the Dub to Hamlet the Dane,' Otherness A Multilateral Perspective. Maria Beville; Susan yi Sencindiver; Marie Lauritzen (eds.). Frankfurt: Peter Lang, 2011. 
'Environmental Ethics,' 2010. Ethics: A University Reader. Richard Corrigan & Mary Farrell (eds.). Gloucester: Progressive Frontiers Press, 2010, 157-184. 
'Joyce, Beckett & the Homelette in the Poele,' Otherness: Essays and Criticism, 1.1, 2010.
'A Critical Appraisal of Amini's 'Consciousness and the Alleged Failure of Analytic Philosophy' Philosophical Frontiers, 3.1, 2008.
'Beyond Good and Evil (15): Nietzsche's Critique of Schopenhauer's Vicious Circle, Minerva, 10, pp.197-214, 2006. 
'Frege and Wittgenstein on Realism,' Cogito, IV (1), pp.55-61, 2006.