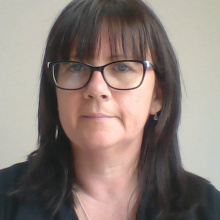 Research interests
Mathematics Anxiety among Mature Students.
Impact of mathematics anxiety on mathematics education at primary and second level.
Turning points in a student's engagement with mathematics.
Life story research as a method of understanding mathematics anxiety.
Mixed methods research as an approach to studying mathematics anxiety.
Mathematics Anxiety among Secondary Teachers of Mathematics
Mature Students' Transition to Higher Education.
Assessment Strategies for Service Mathematics. 
Enquiries about research supervision in any of the above or related areas are welcome. Please email me at MariaD.Ryan@mic.ul.ie
More information
Online Events
2022
11 Feb. - Presentation 'Fostering a Positive Disposition towards Learning Service Mathematics – The Role of Mathematics Support for Mature Students.' Paper presented at MIC Research Week Online 11/02/2022 - 18/02/2022
2021
21 Oct. - Webinar 'Helping Adult Learners overcome Mathematics Anxiety: The Role of The Tutor,' hosted by National Adult Literacy Agency (NALA) for MathsWeek 2021 
22 Apr. - Webinar 'How don't you understand this?' Exploring Mathematics Anxiety in the Primary School Context,' hosted by Education Centre Tralee (Abstract)
4 Mar. - Webinar 'Turning the Negatives in to Positives - Tackling Mathematics Anxiety in the Post-Primary Class', hosted by Education Centre Tralee (Abstract)
20 Feb. - Co-Contributor to Rethink Math Teacher Blog '7 Ways to Inspire Students to Love Math'
2020
20 Oct. - Interview (Audio) How to Help your Kids with Math Anxiety on Allison Loves Math Blog
29 Jun. - How to Help Your Kids with Math Anxiety Interview with Prof. Allison Dillard, Irvine Valley College, CA
Peer-Reviewed Publications
Ryan, M., Fitzmaurice, O. & Johnson, P. (2019) Divorce, Evil, and the Regime of Terror – Personal Characterisations of Mathematics in the Lives of Mature Students, Adults Learning Mathematics: An International Journal, 14(1), 34-40. (Overview).
Ryan, M., & Fitzmaurice, O. (2017) Behind the numbers. The preliminary findings of a mixed methods study investigating the existence of mathematics anxiety among mature students. Adults Learning Mathematics: An International Journal, 12(1), 49-58. [Article]
Ryan, M. (2015) Using a Joint Assessment to make Mathematics Real and Relevant. In D. Green (ed.) Proceedings of the CETL-MSOR 'Sustaining Excellence' Conference, University of Greenwich, London, September 8th-9th 2015, pps. 97-102. [Abstract]
Conference Presentations
2022
Ryan, M. (2022) Helping the post-primary mathematics learner overcome mathematics anxiety. Paper presented at Irish Learning Support Association (ILSA) Conference, Rochestown Park Hotel, Cork, 25 Mar. 2022 
2021
Ryan, M., Fitzmaurice, O. & Johnson, P. (2021) 'Helpless around mathematics' - An examination of the impact of high levels of mathematics anxiety on adult learners, Paper presented at the Adults Learning Mathematics 28th Annual Conference (ALM-28), 06 Jul. 2021, Online
Ryan, M., Fitzmaurice, O. & Johnson, P. (2021) 'Trying not to fail anything!' An examination of the impact of failure in mathematics on the levels of mathematics anxiety among mature students, Paper presented at the Educational Studies Association of Ireland (ESAI) 44th Annual Conference, 26 Mar. 2021, Online
2020
Ryan, M., Fitzmaurice, O. & Johnson, P. (2020) 04 Sep. You're better off dropping to ordinary maths! Using life story method to elicit student experiences of doing mathematics at second level, Paper presented at the Educational Studies Association of Ireland (ESAI) 43rd Annual Conference, Online
Ryan, M., Fitzmaurice, O. & Johnson, P. (2020) The Impact of Mathematics Anxiety on the Adult Learner, Plenary Presentation at National Adult Literacy Agency (NALA) Annual Conference, Trinity College Dublin, 05 Mar. 2020
Ryan, M., Fitzmaurice, O. & Johnson, P. (2020) Helping Adult Learners overcome Mathematics Anxiety: The Role of The Tutor, workshop facilitated at National Adult Literacy Agency (NALA) Annual Conference, Trinity College Dublin, 05 Mar. 2020
2019
Ryan, M. (2019) Student Voice in the Post-Primary Classroom - Lessons for the Teaching of Mathematics. Paper presented at Revolutionising Education through Play and Voice Conference, Mary Immaculate College, Limerick, 05 Oct. 2019
2018
Ryan, M., Fitzmaurice, O. & Johnson, P. (2018) Like a Red Rag to a Bull! Investigating the Existence of Mathematics Anxiety among Mature Students. Paper presented at British Society for Research into Learning Mathematics (BSRLM) Day Conference, King's College London, 10 Nov. 2018
Ryan, M., Fitzmaurice, O. & Johnson, P. (2018) Divorce, Evil, and the Regime of Terror – Personal Characterisations of Mathematics in the Lives of Mature Students. Paper presented at Adults Learning Mathematics 25th Annual Conference (ALM-25), UCL Institute of Education London, 9-12 Jul. 2018
Ryan, M., Fitzmaurice, O. & Johnson, P. (2018) Coming back to haunt me! An Investigation into the Existence of Mathematics Anxiety among Mature Students studying Service Mathematics in Ireland. Paper presented at the Educational Studies Association of Ireland (ESAI) 41st Annual Conference, University College Dublin, 6th-7th Apr. 2018
2017
Ryan, M. (2017) Assessing Business Mathematics and Management Principles using Group Project Work, Presentation at Conversations in the Consortium, Mary Immaculate College, Limerick, 29 Nov. 2017
Ryan, M., Fitzmaurice, O. & Johnson, P. (2017) Investigating Mathematics Anxiety among Mature Students using Mixed Methods: presentation to Interdisciplinary Research Group Meeting, Mary Immaculate College, St. Patrick's Campus, Thurles, 04 Apr. 2017
Ryan, M., Fitzmaurice, O. & Johnson, P. (2017) An Investigation into Mathematics Anxiety among Mature Students Studying Service Mathematics, Poster presentation at International Winter School, University of Limerick, 27-28 Jan. 2017
2016
Ryan, M. & Fitzmaurice, O. (2016) Behind the numbers: Preliminary findings of a mixed methods study into the existence of mathematics anxiety among mature students, 23rd International Adults Learning Mathematics Conference (ALM-23), Maynooth University, Co. Kildare, Ireland, July 3rd-6th 2016
2015
Ryan, M. (2015) Making Mathematics Real and Relevant, Presentation at CETL-MSOR 'Sustaining Excellence' Conference, University of Greenwich, London, UK, 08-09 Sep. 2015
Ryan, M. & Fitzmaurice, O. (2015) The Prevalence of Mathematics Anxiety among Mature Students studying Service Mathematics in Ireland. Presentation at Institute of Mathematics and its Applications (IMA) First International Conference on Barriers and Enablers to Learning Mathematics: Enhancing Learning and Teaching for all Learners, University of Glasgow, UK, 10-12 Jun. 2015
2014
Ryan, M. & Fitzmaurice, O. (2014) Service Mathematics and the Maths Anxious Mature Student, Limerick Postgraduate Research Conference (LPRC), Limerick Institute of Technology, 29 May 2014
Ryan, M. & Fitzmaurice, O. (2014) Mathematics Anxiety and the Mature Student, Women in Maths Day in Ireland (WIMDI) Conference, National University of Ireland, Galway, 01 May 2014
Ryan, M. & Fitzmaurice, O. (2014) The Prevalence of Mathematics Anxiety among Mature Students studying Service Mathematics. Poster Presentation of Ph.D. Research Idea, International Winter School, University of Limerick, 24-26 Jan. 2014