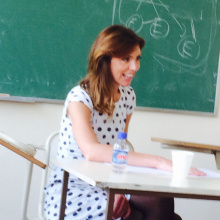 Research interests
Oral History; Memory; Migration
More information
Background: 
Sarah O'Brien received a PhD in History from MIC (2009), and a B.Ed. in Education (2004). Her doctoral research was funded by the Irish Research Council and investigated Irish associationalism in post-World War II Birmingham. Her subsequent research on the Irish in Argentina won an outstanding research award from Riocht na Midhe and was published as a monograph in 2017 by Palgrave Macmillan.  
Sarah has published her work in Irish Studies Review, Dublin Review of Books, New Hibernia Review, Midland History and the Irish Times. Prior to her appointment in MIC she was Lecturer in Trinity College Dublin's School of Linguistics, Speech and Communications Sciences (2015-2019). From 2012 to 2015, she was Director of Bilingual Education in Northern New Mexico University. She has been an invited Visiting Professor in the School of Sociology, University of Buenos Aires (2017) and was Visiting Professor in Department of Applied Linguistics, Universidade Federal Fluminense, Brazil in 2019. 
Sarah also co-directs MIC's Oral History Centre, home to over 3000 audio recordings.  
Modules taught:  Research Methods; Inclusive Education Policies and Practices; Creating a Positive Classroom Environment; Oral History Methodologies 
Essays:
"Art, Oral History and Ireland's Mother and Baby Homes." (April 2021) The Oral History Review: http://oralhistoryreview.org/ 
"The Autonomy of the Past". Dublin Review of Books. (March, 2021): https://www.drb.ie/essays/the…  
"The Past Revisited". Dublin Review of Books. (June, 2020).  https://www.drb.ie/essays/the-past-revisited 
"Memory, Landscape and Loss in Irish Emigrant Women's Memoirs". Irish Women's Writing Network. (November 2020)  https://irishwomenswritingnetwork.com/memory-landscape-loss-memoirs/ 
"Prologue to Forgetting". Dublin Review of Books. (June, 2019) https://www.drb.ie/essays/prologue-to-forgetting 
Media:
Britain was no paradise for Irish Emigrant Women. Irish Times. https://www.irishtimes.com/life-and-style/abroad/britain-was-no-paradise-for-irish-emigrant-women-1.3810039
The Irish in Argentina: Not always a successful diaspora. Irish Times. https://www.irishtimes.com/life-and-style/abroad/irish-in-argentina-not-always-a-successful-diaspora-story-1.3378036
Irish Migrant Psyche captured in cinema. Irish Times. https://www.irishtimes.com/life-and-style/abroad/irish-migrant-psyche-captured-in-cinema-1.3327180?mode=sample&auth-failed=1&pw-origin=https%3A%2F%2Fwww.irishtimes.com%2Flife-and-style%2Fabroad%2Firish-migrant-psyche-captured-in-cinema-1.3327180
Journal Articles:
Remembering Nora: Interpreting the Oral Testimony of a Magdalene Laundry Survivor through the lens of Collective Memory. Oral History Journal. (Autumn 2022)
Tom Brick of South Dakota, Irish Emigrant Life Writing and the Dynamics of Storytelling. New Hibernia Review. (2019) 
https://muse.jhu.edu/article/722156
Windle and O'Brien. Language, Education and Transnationalism: An Introduction. Trabajos em Linguística Aplicada (April, 2019)
http://www.scielo.br/scielo.p…
Spanish Language Ideologies in New Mexico and their impact on Spanish Language Learners. Journal of Belonging, Identity, Language and Diversity (2018)
http://bild-lida.ca/journal/volume_2_1_2018/obrien/
Negotiations of Identity in the Wake of Terrorism: The Irish in Birmingham. Irish Studies Review. (2018) 
https://www.tandfonline.com/doi/abs/10.1080/09670882.2017.1327483
Irish Women's Involvement in Birmingham's Union of Catholic Mothers, 1948-78. Midland History. (38,2, 2013)
 https://www.tandfonline.com/d… 
Books: 
Of Memory and the Misplaced: Irish Immigrant Life Writing in the United States. Indiana University Press, (Fall 2023) 
The Irish in Argentina: Linguistic Diaspora, Narrative and Performance. Palgrave MacMillan. (2018) 
https://blackwells.co.uk/bookshop/product/9783319514208?gC=8ad8757ba&gclid=Cj0KCQjwh8jrBRDQARIsAH7BsXcc7tRnKnAVXXwWx_s4-o1V2sn9BcOSNKg_XLzkHgoLhvfzQy6VtW0aAkS0EALw_wcB
Book Chapters: 
Sarah O'Brien "Collective Memory and Social Forgetting: An Oral History of the Irish in Argentina", in eds. Estelle Epinoux and Frank Healy, The Irish in Central and South America: Images and Perceptions (Cambridge Scholars Press, forthcoming, 2021)
Sarah O'Brien, Politics, Community and Nationhood in Irish – Argentine Oral Narrative in, Micheal O' Aodha and Mairtin O' Cathain, The Silent People? New Perspectives on the Irish Abroad, (Lexington, Rowman and Littlefield, 2013)
Sarah O'Brien, Narrative encounters with the Irish in Birmingham in, editor(s) Nessa Cronin, Seán Crosson, Louis de Paor and John Eastlake, Anáil an Bhéil Bheo: Orality and Modern Irish Culture, (Cambridge Scholars Press, 2009)
Sarah O' Brien 'The Stranger within my gate'; Irish emigrant narratives of tradition, modernity and exile in, editor(s)Marta Kurkowska-Budzan, Krzysztof Zamorski, Oral History: The Challenges of Dialogue, (John Benjamins, 2009)
Special Edition Journals:
Sarah O'Brien and Máire Mhic Mathúna (eds.) Multilingualism in the Early Childhood Years, (Teanga, Spring 2019)
Sarah O'Brien and Joel Windle (Eds.) Language, Education and Transnationalism: A Special Edition of the Jornadas en Linguisticas Aplicadas (Spring Summer 2019)