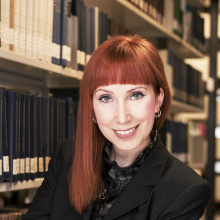 Research interests
Fantastic Literature, Theories about the Fantastic, H. P. Lovecraft, Game Studies, 21st Century Horror, Monster Theory (Zombies, Vampires, Werewolfs), Paranormal Romance, Popular Culture, Fanfiction Studies, Psychoanalysis, Gender Studies, Romanticism, Austrian Literature (Georg Trakl, Hugo von Hofmannsthal, Arthur Schnitzler), Fin de Siècle literature
More information
Publications
Monography
Monströse Romanzen und romantische Monster. Zum Zeitgeist der Millennial-Generation in deutschsprachigen Mash-up-Romanen. Würzburg: Köngishausen&Neumann, 2019.
Articles
Reflecting millennial identity: Romantic Zombies in the German Mash-Up Novel Die Leichen des jungen Werther. In: Aeternum: The Journal of Contemporary Gothic Studies 7.2 (2020), p. 34-44. Available online here. 
Der Wald als liminaler Raum in Wolf G. Heimraths Werther, der Werwolf (2010). In: Germanistik in Ireland 13 (2018), p. 143-154.
with Sabine Egger, forthcoming. Mashing up Werther: Zu (trans-)nationalen Goethe-Adaptionen in der zeitgenössischen Onlinekultur. In: S. Matuschek, S. Picard, P. Wojcik & M. Wolting (Eds). Intermedialität und Transkulturalität von Klassik. Berlin: de Gruyter.
with Sabine Egger: (Trans-)nationale zeitgenössische Goethe-Adaptionen in der Onlinekultur. [PDF] Berlin: Konrad-Adenauer-Stiftung, 2017. Available at: http://www.kas.de/upload/them… [Accessed 3 May 2018].
Mascha Kalékos Gedicht "Kaddisch". Wandel im Zeitgeist und Selbstverständnis der Dichterin. In: F. Lartillot, F. Teinturier (Eds). Autobiographie et textualité de l'événement au XXe siècle dans les pays de langue allemande. Peter Lang: Bern, 2016, p. 329-349.
Ein Österreicher im Morgenlande. Erwin H. Rainalters 'Die Geschichte meines Großvaters'. In: R. G. Bogner, P. Béhar (Eds). Österreich und die Türkei. Kontakte und Wechselbeziehungen. Georg Olms: Hildesheim, Zürich, New York 2013, p. 131-147.
Le Carreau Forbach. In: N. Colin, C. Defrance, U. Pfeil, J. Umlauf (Eds). Lexikon zu den deutsch-französischen Kulturbeziehungen nach 1945. Narr Francke Attempto: Tübingen, 2013, p. 144f.
"Die kluge Frau im Walde, oder: der stumme Ritter" und "Die Zurückkunft des Vaters". In: J. Birgfeld, J. Bohnengel, A. Košenina(Eds). Kotzebues Dramen. Ein Lexikon. Wehrhahn: Hannover, 2011, p. 129f. and 252f.
Conference Papers
Reflecting millennial identity – Romantic Zombies in the German Mash-up Novel Die Leichen des jungen Werther. Theorizing Zombiism, University College Dublin, 25-27 July 2019
How to Fail Not One Existence, But Two... The Werewolf as Torn Anti-Hero in the German Mash-Up Novel 'Werther, der Werwolf'. Villainous Victims. Redefining the Anti-Hero from a Postmodern Perspective, Mary Immaculate College Limerick, 25 April 2018
Der Wald als Schwellenraum für liminale Wesen in zeitgenössischen Mash-up Novels. From Sarmatia to Mare Nostrum. Borderland Spaces in German-Language Literature and other Media, Institute of Modern Languages Research, University of London, 27-28 April 2017
Zu (trans-)nationalen Goethe-Adaptionen in der zeitgenössischen Internet-Kultur. Conference paper with Sabine Egger. "As you like it"? Kanon-Bildung und europäische Kultur im 21. Jahrhundert, Europa-Konferenz, Konrad-Adenauer-Stiftung, Berlin, 8-10 September 2016
Das Monster Mash-up in der zeitgenössischen Phantastik – eine abjekte Literaturform. Annual Conference of the German Studies Association of Ireland (GSAI), NUIG Galway, 13-14 November 2015
Ein Österreicher im Morgenlande. Erwin Herbert Rainalters 'Die Geschichte meines Großvaters'. "Österreich und die Türkei" - Internationales Kolloquium, Saarland University, Saarbrücken, 21-22 June 2012