Report on Human Trafficking and Exploitation Project on the Island of Ireland
About
The report arising from the research project 'Human Trafficking and Exploitation Project on the Island of Ireland (HTEPII)' is the culmination of a unique mixed-methods cooperative project involving senior academics at Mary Immaculate College with senior personnel from the sponsoring organisations of An Garda Sióchána, the Police Service of Northern Ireland, the Irish Department of Justice & Equality, and the Department of Justice Northern Ireland.
The purpose of the HTEPII was to review and re-assess the scale and scope of human trafficking in Ireland as a whole using both quantitative and qualitative methods. Much of the new data presented in this report was provided by NGOs and victim support organisations in both jurisdictions.
The HTEPII project was led by MIC researchers Professor Michael Breen, Professor Michael Healy and Dr Amy Healy. It was supported by a Project Executive Board, chaired by Kevin Hyland OBE with input from senior personnel in from the sponsoring organisations as well as several experts in the field.
The HTEPII report shows that the number of adults and children trafficked onto the island of Ireland between 2014 and 2019 is at least 38% higher in the Republic of Ireland and 20% higher in Northern Ireland than has been officially recorded for this time period.
Conceptually, the project is located within the Santa Marta North Atlantic Maritime Project, an inclusive partnership of the police, clergy, state and civil society in Ireland, England, Scotland, Spain and Portugal.  In particular, this report is concerned with ways of reaching an informed consensus on human trafficking data, especially the 'dark figure' of unregistered victims of human trafficking that is not formally known to the Police / Justice systems north or south on the island of Ireland.
The report was officially launched on Thursday 29 April by Cardinal Vincent Nichols, Cardinal Archbishop of Westminster and President of the Santa Marta Group. 
Read the full 'Human Trafficking and Exploitation Project on the Island of Ireland' report here.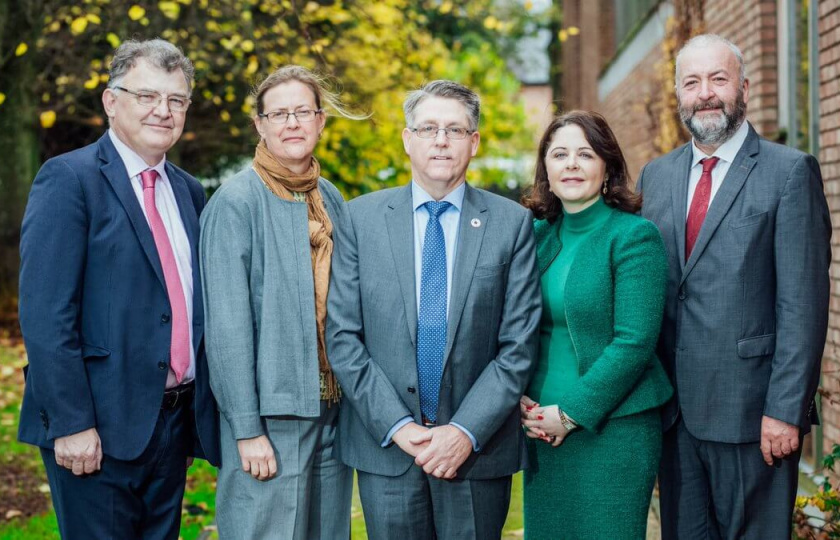 (L-R) Professor Michael Breen, Dr Amy Healy, Professor Niamh Hourigan and Professor Michael Healy pictured with Kevin Hyland (centre), chair of the Human Trafficking and Exploitation Project in Ireland, advisor to the Global Santa Marta Group and former UK Antislavery Commissioner, pictured in 2019.
Contact
Project Principal Investigator
Prof. Michael Breen