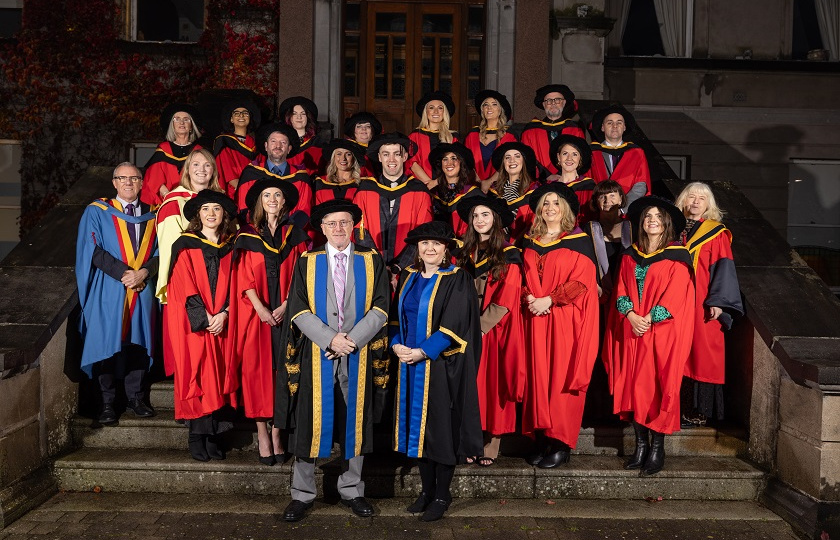 There were jubilant scenes at Mary Immaculate College (MIC) as almost 2,000 graduates were conferred with academic awards across the College's 50+ undergraduate and postgraduate programmes in Education and the Liberal Arts.
Speaking at the event and presiding over his last MIC conferring ceremonies ahead of his scheduled retirement at the end of this academic year, Professor Eugene Wall, President of MIC, commended graduands on overcoming trying times including the "uncertainties and anxieties" of the global pandemic to achieve their goals but emphasised that the swift rise of Artificial Intelligence posed new challenges for HEIs and education as a whole.
Graduates from around Ireland and the world were recognised in the three days of on-campus conferring ceremonies and amongst those honoured was Nasratullah Taban from Afghanistan, who was this year's recipient of the Outstanding Achievement Award. Taban, who graduated from the MA in Media Studies, received the award in recognition of his work in the field of human rights. A former recipient of a Government of Ireland Scholarship, he came to Ireland via a refugee camp in Poland when fleeing from the Taliban in the autumn of 2022. An internationally recognised journalist, he has used his time in Ireland to campaign for the rights of others, specifically for the right of women in Afghanistan to have an education. Earlier this year, he helped to organise an international conference—funded by MIC's EDII Office—entitled Women in Education: Afghanistan and Ireland, which proved extremely valuable in raising awareness within the College community and consequently led to action in several areas including future support for teaching girls in refugee camps in Pakistan. Taban hopes to work further on the plight of refugees with the UN.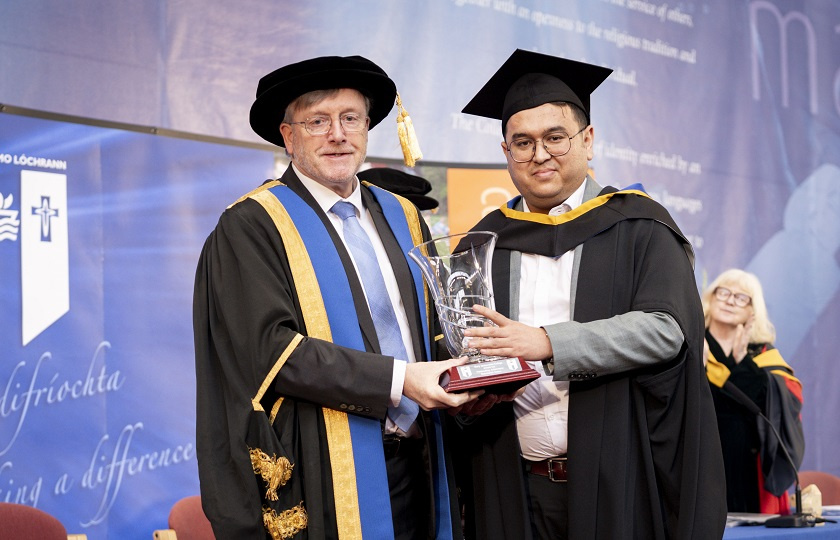 A number of award winners were recognised for their remarkable achievements over the course of the five ceremonies including Róisín Byrne from Enniscorthy, Co. Wexford, who was awarded the College Gold Medal for achieving first place on the BA in Education (Post-Primary Teaching) programmes offered on the MIC Thurles campus. Róisín, who qualified as an Irish and Maths teacher, was also the proud recipient of the TUI Medal, awarded in recognition of academic excellence in the education portfolio, on their post-primary teaching programme.
Also picking up double honours was Caitríona Rafter from Abbeyleix, Co. Laois, who was awarded the Carlisle & Blake Prize, presented by the Department of Education and Skills, to the graduate who was awarded first place in Education, Theory and Practice in their B Ed in Education (Primary Teaching) & Psychology programme. Caitríona was also the recipient of the Bonn Vere Foster Award, presented by the INTO for obtaining first place in Teaching Practice on the same programme.
Limerick natives showed their excellence in Bachelor of Arts programmes as Mary Kate Flanagan from Corbally was awarded the College Gold Medal for achieving first place in the BA in Liberal Arts and Nora Burke from Caherdavin was awarded the College Gold Medal for achieving first place in the BA in Contemporary and Applied Theatre Studies.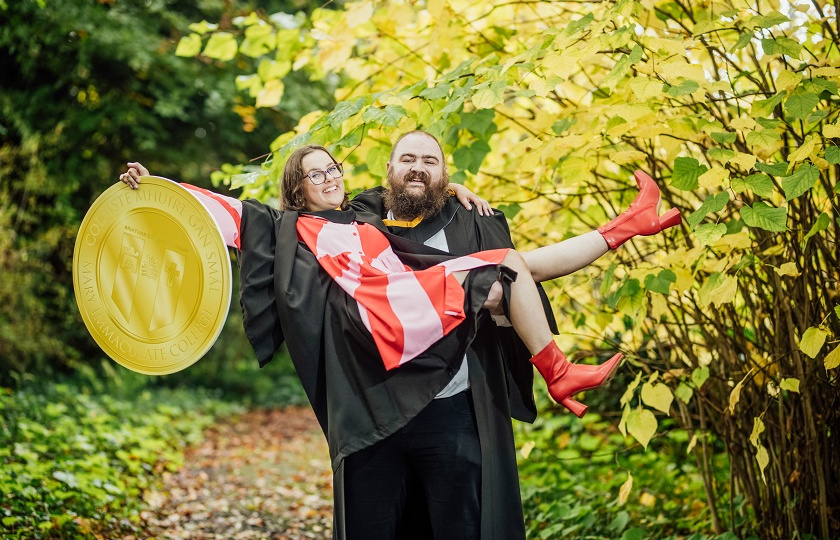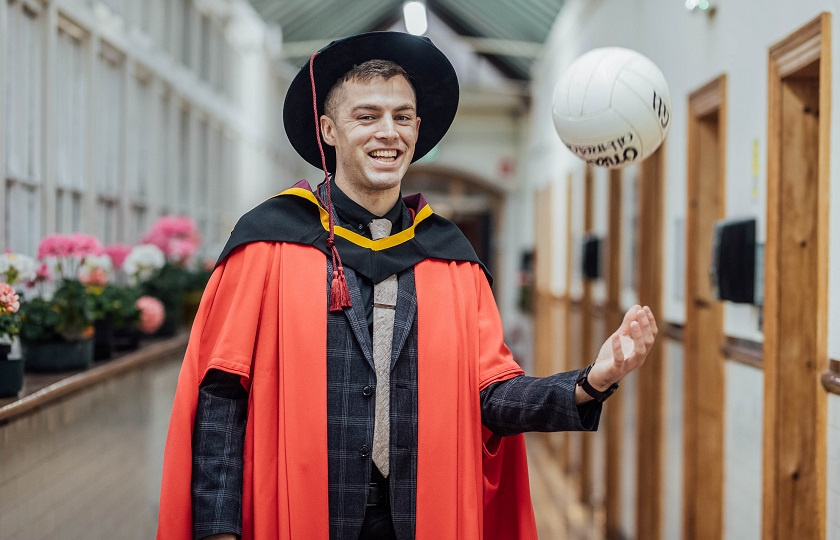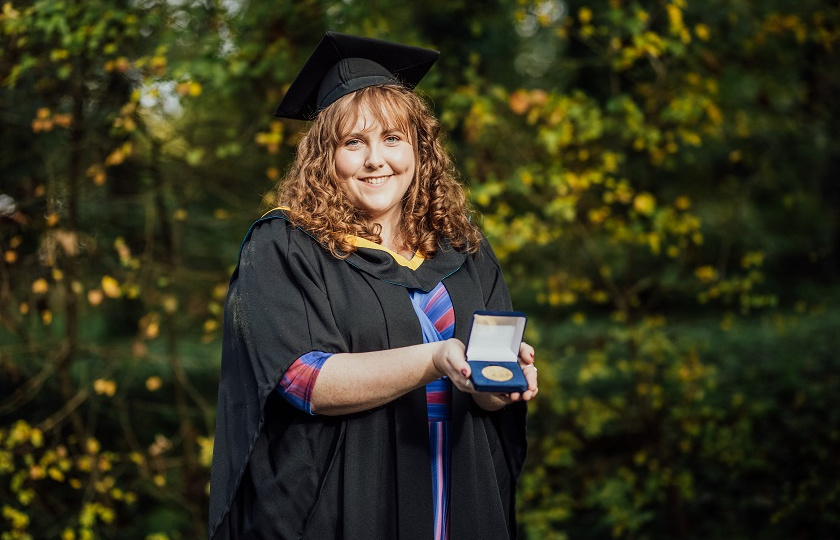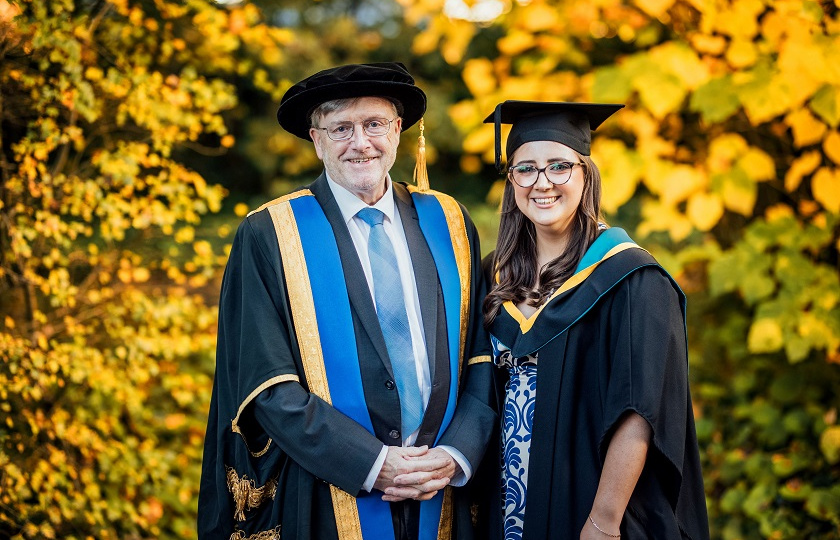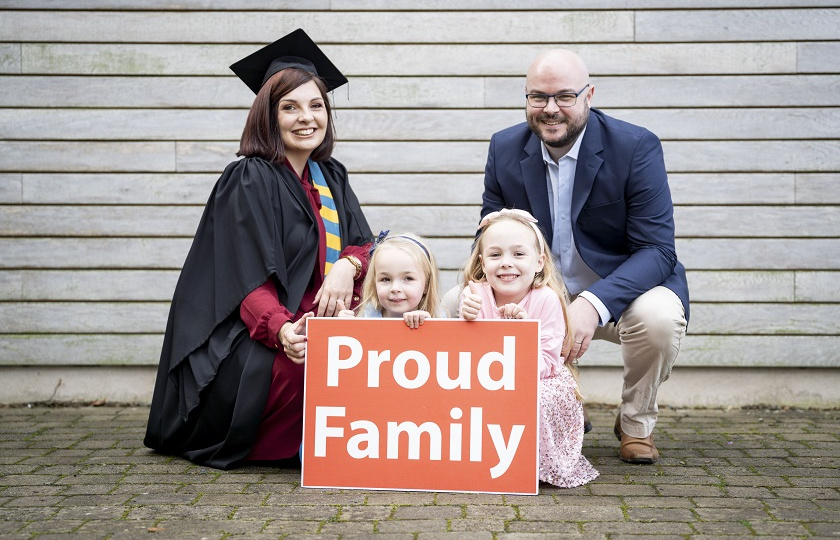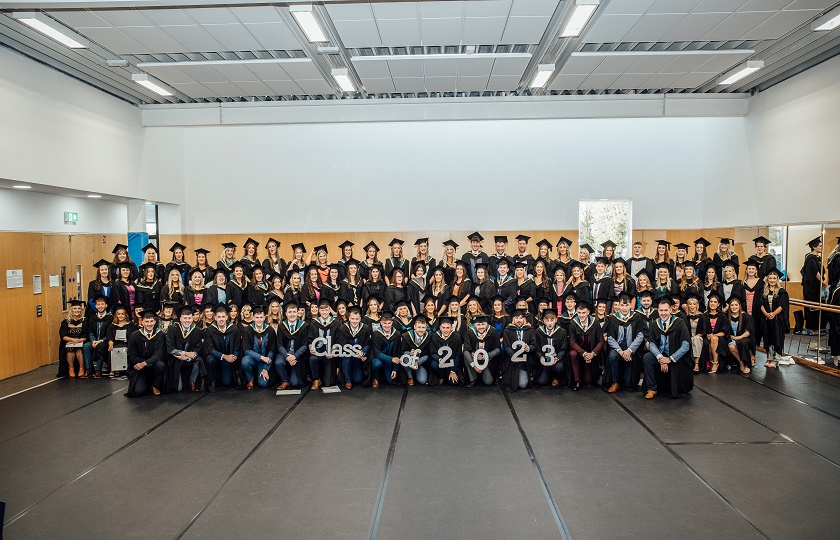 Reaching the highest academic level possible were 26 Doctoral candidates—12 in Liberal Arts disciplines and 14 in Education, including 12 graduands from the Professional Doctorate in Educational and Child Psychology (DECPsy), a three-year, full-time professional training course for those pursuing a career as an educational psychologist. See a video about some of MIC's 2023 PhD graduates here.
A sporting theme was evident in the Education graduates. Dr Cillian Brennan, from Ballynacally, Co. Clare was awarded a doctorate degree for his research in the development of PE specialism graduates as teachers and leaders of PE, and is a member of the Clare senior football team. Clíona Healy from Aghabullogue, Co. Cork, was awarded the Peadar Cremin Fellowship for achieving first place in Educational Research and the Dissertation on the Bachelor of Education (Primary Teaching) programme. Clíona is a member of the Cork All Ireland winning camogie team and was also a recipient MIC's Elite Sports Scholarship in 2022/23.
It was a particularly proud moment for Tyrone McGuane from St Mary's Park, Limerick, when he was awarded the College Gold Medal for achieving first place on the Bachelor of Education (Primary Teaching). Speaking on receipt of the award, Tyrone said "I am the first in my family to go onto third-level education and was not expecting to be awarded with the College Gold Medal. After four tough, but enjoyable, years in MIC, I guess the hard work paid off in the end!" Tyrone is teaching in Moyross, Limerick City and hopes to return to MIC to pursue an M Ed in Literacy Education in the near future.
Other notable award winners included Victoria McNamara from Cratloe, Co. Clare, who was awarded the College Gold Medal for achieving first place on the Professional Master of Education (Primary Teaching); Amy Mulrooney, from Bagenalstown, Co. Carlow, who was awarded the College Gold Medal for achieving first place on the B Ed in Education & Psychology programme, and Clare O'Shea from Beara, Co. Cork, who was awarded the College Gold Medal for achieving first place in the Bachelor of Arts in Early Childhood Care and Education.
Professor Eugene Wall, President of MIC, said: "Let me extend sincere and well-deserved congratulations to the Class of 2023 for their superb accomplishments. Most of you enrolled in the College in the months preceding the onset of the Covid pandemic and your studies were disrupted to a greater extent than any other group.  Notwithstanding the formidable challenges, you prevailed.  You trod a lonelier and more isolated path in very difficult circumstances."  
"In saluting your commendable achievements, I would like also to pay tribute to those amongst your family and friends who supported and encouraged you, especially during the arduous first year of the pandemic with all its uncertainties and anxieties. Those people are rightly entitled to bask in the reflected glory of your success," he added.
See the MIC Graduation 2023 video below: