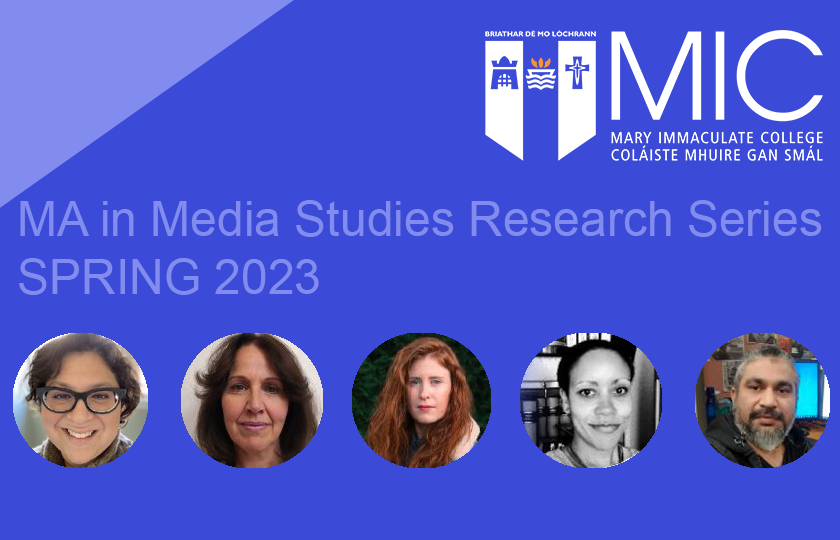 MIC's Department of Media & Communications Studies announces line-up for Spring 2023 Talks
The MA in Media Studies Research Series is back for Spring 2023 and this year's line-up has just been announced. These free events will be in-person, online or blended and will cover a broad range of issues. From exploring how race is portrayed on Irish television, to confronting far-right online activism, to understanding how ISIS uses media as a recruitment tool, these talks will cover various media topics and deliver new discourse around them.
Dr Marcus Free of Mary Immaculate College's Department of Media & Communication Studies thinks that there is something for everyone with this programme of events: "The Media & Communication Studies Department is delighted to welcome an exciting range of guest speakers to the College this semester as part of its MA Media Studies degree programme. Media representations, industries, technologies and uses have never been more central to social and cultural relations, and to shared and contested understandings of a rapidly changing world, impacting widely on the political sphere and on lived experience. International in scope, diverse and original in subject matter, the guest lectures will address a variety of topics that will be of interest both to media scholars and to audiences from many academic disciplines and beyond."
Dr Lindsey Green-Simms of American University Washington DC will kick off the series with her talk; 'The Possibilities and Intimacies of Queer African Screen Cultures'. Dr Green-Simms is a Professor of Literature whose teaching and research focus on film, literature, gender, and sexuality from the Global South, with a particular emphasis on African cultural production. Green-Simms' most recent book, Queer African Cinemas (Duke University Press, 2022), discusses LGBTQ African art films and popular melodramas. Her first book, Postcolonial Automobility: Cars Cultural in West Africa (University of Minnesota Press, 2017), examined how the contradictions of globalization, modernity, and consumer culture are embedded in the commodity of the automobile. It won the African Literature Association First Book Prize. This talk takes place on Monday 13 March at 3pm via MS Teams.
The second talk in the series will be delivered Dr Josephine Coleman, Lecturer in Media and Public Relations at Brunel University, and author of Digital Innovations and the Production of Local Content in Community Radio: Changing Practices in the UK (2021). Dr Coleman's research was undertaken during the Covid-19 pandemic and reflects on the enduring value and need for local media. She will reflect on the changes that the digital revolution have brought to community radio stations and to the sector in general while giving an account of the challenges of working with human subjects remotely in that time. This talk will be given via MS Teams on Monday 20 March at 2pm.
At 12pm on Tuesday 28 March Dr Piaras MacÉinrí (UCC) and Dr Aoife Gallagher (Institute for Strategic Dialogue, UL) will give a joint talk titled; 'Researching & Confronting Far-Right Social Media Activism in Ireland'. Dr Piaras MacÉinrÍ is a Lecturer in Migration Studies and Geography at the Department of Geography, School of the Human Environment, in University College Cork. He is currently working on migrant-centred approaches to integration (combined with an active role in Cork Sanctuary Movement), looking at borders in the context of the Common Travel Area, EU borders and associated systems of control and containment, including Direct Provision. Dr MacÉinrí will be joined by Dr Aoife Gallagher, a research analyst at the Institute for Strategic Dialogue, a non-profit think tank working to push back against the rising tide of disinformation, extremism and polarisation worldwide. Dr Gallagher is the author of the book Web of Lies: The Lure and Danger of Conspiracy Theories and previously worked as a journalist at the online news agency Storyful. This event will take place G08 and will also be accessible via MS Teams.
The penultimate talk will be given by Dr Zélie Asava of the Irish Film Classification Office. In her talk Dr Asava will examine how race is depicted in Irish television drama by drawing on her work authoring her the books; The Black Irish Onscreen: Representing Black and Mixed-Race Identities in Irish Film and Television (2013), the first major study of black and mixed-race themes in Irish Screen Studies; and Mixed-Race Cinemas: Multiracial Dynamics in America and France (2017), which charts race relations onscreen from the birth of cinema to the present day on both sides of the Atlantic. This event will take place on Wednesday 12 April via MS Teams.
The final talk of the series will be delivered by Muhammad Irfan of the University of Limerick who will draw on his experience in research, analysis, and reporting in the fields of politics, society, and religion for his talk; 'Media Recruitment Strategies of ISIS'. Muhammad Irfan has published 12 academic research papers and over 400 articles in newspapers and multimedia as a war correspondent and counter-narrative editor. He holds three master's degrees in applied linguistics, literature, media, journalism, and communication. He is currently completing his PhD research at the University of Limerick. This talk will take place on Monday 17 April in Room 309 (the Media Lab) and on MS Teams.
For queries regarding this free series, please email: Gregory.VanBuskirk@mic.ul.ie