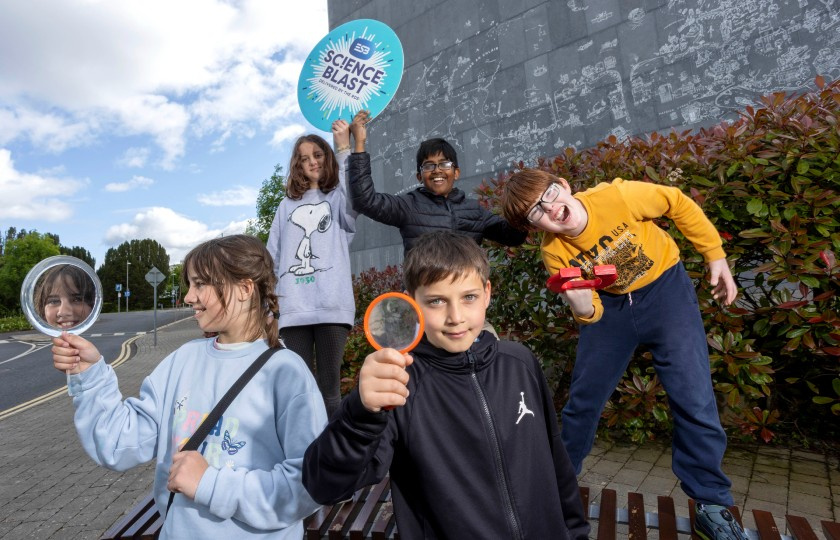 Thousands of primary school children will head to Mary Immaculate College in Limerick for ESB Science Blast which takes place from 23 - 25 May.
ESB Science Blast, delivered by the RDS, is a STEM-focused education programme involving whole classes investigating the science behind a simple question, such as " What would happen if all the trees in the world were cut down?".
Applications for the Limerick event closed with over 100 schools from across the country applying for the STEM-focused education programme for primary school children, which encourages critical thinking and collaboration. Classes showcase their work at one of three national events. Each class will be paired with a STEM expert who will guide the class in their investigation and share positive feedback.
Now in its fifth year, over 45,000 children have participated in ESB Science Blast to-date, making it the largest primary school programme on the island of Ireland.
Investigations being carried out by primary school students include:
Scoil Ghobnatan, Mallow, Co. Cork: Are fingerprints or shoeprints more effective in solving a crime?
Scoil Phádraig, Wesport, Co. Mayo: Why is there no gravity on the moon?
Limerick School Project, Limerick City: What is the most effective way to learn?
Speaking ahead of the Limerick event, Geraldine Ruane, Chief Executive of the RDS, said: "After a hugely successful event in Dublin in March and Belfast in April, we're delighted to be bringing ESB Science Blast to Limerick. The high number of entries shows that there is a strong interest in STEM subjects from both teachers and primary school students across Ireland. ESB Science Blast, a core programme with the RDS Foundation, is a brilliant avenue to introduce children, at an early stage in their education, to the fun and excitement that learning through STEM can bring.
"While we are building the ESB Science Blast Programme on the success of the last four years, we are really building upon a much deeper engagement in science education by the RDS, one that goes back nearly 300 years. Our investment in this education programme is a long-term investment in the future of Irish society. There was a great atmosphere at the RDS in Dublin and in the ICC in Belfast with lots of fun and learning happening and we're looking forward to bringing that same experience to Limerick."
Speaking in advance of Science Blast was MIC's STEM Project Outreach Officer, Dr Eleanor Walsh: "The entire community at Mary Immaculate College extend a very warm welcome to all the children and teachers participating in ESB Science Blast who are attending our Limerick campus. We are delighted to be hosting this, thus enabling hundreds of pupils from the Midwest region an opportunity to participate in this experience. Given MIC's strong contribution to  STEM education in primary schools, it's fitting for us to be facilitating the knowledge sharing and interesting conversations that no doubt will develop as the children showcase their findings to experts, on a question of their choosing, that they are curious and wonder about.  I'm sure we will all learn something new!
ESB Science Blast is one way in which children can develop their critical-thinking, communication, creativity, and collaboration skills.  It also provides a positive, hands-on learning experience, as do our workshops in the recently opened CRAFT Maker Space in MIC.  These are fundamental and critical skills for all learners and complement the work of the teachers who are providing high-quality Science and STEM educational experiences in their classrooms.  
We look forward to welcoming back many of our past graduates and hope that they and their pupils will be inspired and benefit from their day in ESB Science Blast Limerick 2023."
Paddy Hayes, Chief Executive of ESB, added: "ESB Science Blast is unique in that it engages children in STEM learning in a way that is fun and engaging. The future of our planet and society depends on our collective ability to question the world around us and find new solutions to the challenges we face. Through this programme, children of all backgrounds and abilities are developing critical life skills that will help them to become not only innovative and creative problem solvers, but also active, informed and fully engaged citizens."
The ESB Science Blast showcase in Limerick will be the final event in the series which included two previous events in Dublin and Belfast.