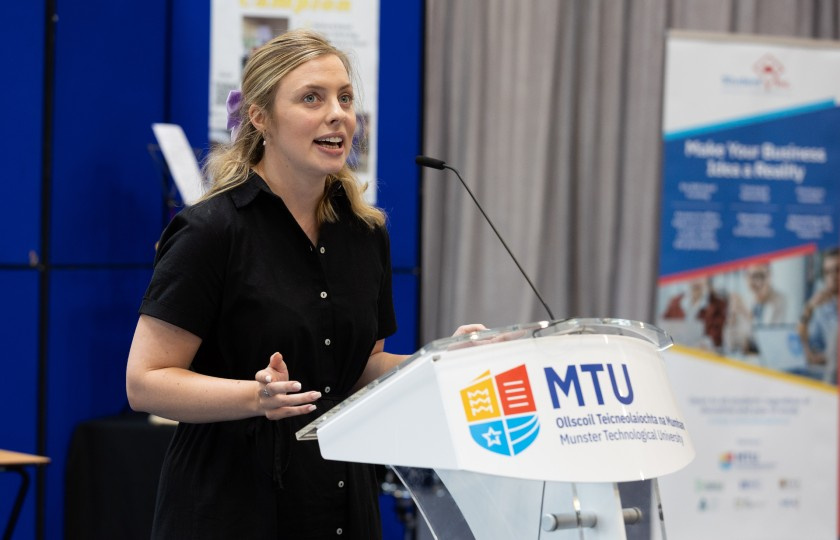 Aisling Walsh pictured speaking at a recent student entrepreneur showcase event at MTU
A Mary Immaculate College (MIC) graduate is aiming to help tackle the teacher supply crisis by improving the connection between schools and substitute teachers via an innovative app.
Aisling Walsh, who recently graduated with a Masters of Education in Digital Leadership in Education, is currently working on a concept for an application to enhance communication between schools and substitute teachers through the use of technology.
Aisling, who also graduated from MIC with a Bachelor of Education degree and spent a number of years working as a primary teacher, is engaged in the New Frontiers Phase 2 programme—hosted by the Technological University of the Shannon (TUS).  New Frontiers is a prestigious national entrepreneurial development programme aimed at supporting ambitious early-stage entrepreneurs with innovative business ideas that hold the potential to scale and generate employment opportunities. Places on the full-time, six-month intensive engagement is offered to participants after a competitive selection process and focuses on refining and validating the participants' business proposals.
Aisling's business idea, SubConnect, is an app designed to help schools find substitute teachers quickly and easily. The idea is based on Aisling's own experiences starting out as a primary teacher and the difficulties she observed while substituting. She explains: "I joined substitute WhatsApp groups and was inundated with notifications almost immediately. It became quite frustrating to have to constantly check my phone for subbing positions, respond rapidly, and often miss out on opportunities due to the swift nature. This experience highlighted the inefficiencies and challenges of the current substitute teacher recruitment system."
As I continued to work in various schools, I noticed that school principals also grappled with difficulties in securing substitute teachers. Many times, principals would ask me if I knew of any available substitutes for specific dates."
This realisation led to the concept of SubConnect, an app designed to revolutionise the process of finding and hiring substitute teachers for primary schools in Ireland. SubConnect is focused on providing an intuitive, streamlined, and tailored solution to meet the specific needs of schools. The platform's primary objectives are to simplify the job posting process, enhance communication between schools and substitutes, and improve the substitute teacher management experience overall—benefitting both schools and substitute teachers alike.
As part of the New Frontiers Phase 2 programme, Aisling is currently refining the SubConnect concept and creating a robust business plan, including extensive market research with substitute teachers and school administrators and principals.
Aisling's participation in New Frontiers comes on the back of her earlier involvement with Student Inc, Ireland's longest running student accelerator programme aimed at developing students' innovative ideas into viable businesses. Aisling's involvement with Student Inc marks the first year of MIC's partnership with the programme. According to Dr Eleanor Walsh, Acting Director of Enterprise & Community Engagement at MIC: "Supporting the creative and entrepreneurial skills development of all our students and graduates, in particular with regards to innovation in education, is very important to us.  Aisling's business idea may shortly be used by every school in the country to make the job of finding substitute teachers easier. We're very excited for her and delighted to be part of her business development story."
Aisling recently graduated with an M Ed in Digital Leadership in Education. According to Director of Postgraduate Studies at MIC, Dr Emma O'Brien: "This is the first year MIC have offered an M Ed in Digital Leadership in Education, Aislings success has been a true testament to her hard work and expertise. She has truly demonstrated digital leadership within the broader education sector and we are truly proud of Aislings achievements. We wish her every success in her endeavours."
Click here to find out more about the M Ed in Digital Leadership in Education.