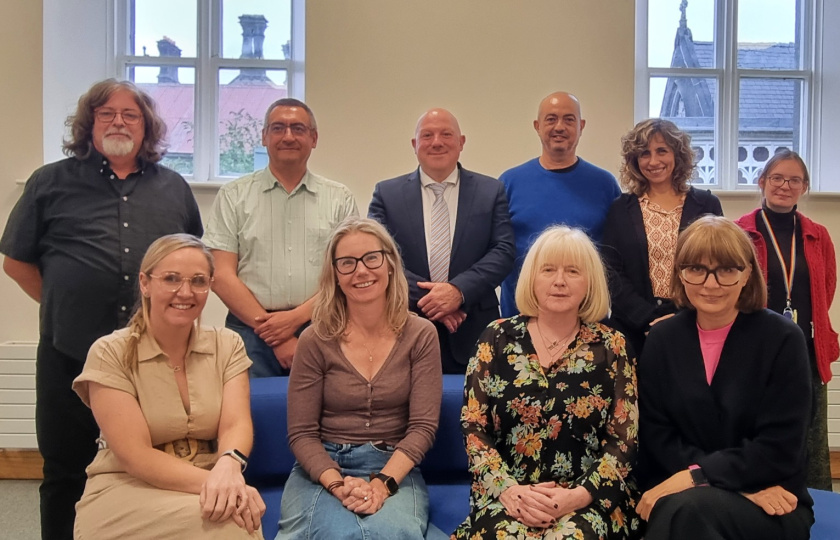 Mary Immaculate College (MIC) has been awarded €1.5 million in Erasmus Funding in order to develop a European Teaching Academy in Digital Leadership in Education. The programme, known as IDEAL Futures (Integrated Digital Educational Leaderships for the Future) is one of sixteen teacher academy projects to be selected for funding this year.
Led by MIC's Faculty of Education, the IDEAL Futures Teacher Academy will provide opportunities for undergraduate and postgraduate students to collaborate with teachers in France, Latvia and Spain in the exploration of the current and future challenges facing educators in a digital age and to develop several micro-credentials to support teachers in addressing such challenges in practice right across Europe. Additionally, the Academy will see the development of a digital hub to enable teachers and educational leaders to share practices and build communities.
A key part of the project will be study visits to partner countries to participate in hackathons that will enable teachers and educational leaders to collaboratively work on common problems in the area of digital learning and leadership. The project complements the suite of Digital Leadership programmes Mary Immaculate college currently offers which has attracted a wide range of educators not only from Ireland, UAE, South Africa and Canada.
Professor Emer Ring, Dean of the Faculty of Education at MIC welcomed European partners to the College recently and noted that the project "has the potential to be transformative across the multiple domains associated with initial teacher education and professional learning, and ultimately to transform the lives of educators, children and young people. The project aligns with the vision and ambition of the College to work collaboratively with partners in the local community and internationally and to continue to share knowledge, expertise and experience in a spirit of collegiality and partnership."
The IDEAL Futures Teacher Academy involves a partnership between MIC, Limerick and Clare Education and Training Board, the University of Latvia, SIGLO, the University of Autonoma Madrid and the University of Rennes.
Limerick and Clare Education and Training Board is patron to 25 schools that collectively account for over 50% of the students in the region. According to Director of Schools with Limerick and Clare Education and Training Board, Donncha Ó Treasaigh: "We are thrilled to be part of this important and timely partnership to critically assess the essential role educators play in enriching learning, teaching and assessment utilising the technological tools that are used in schools and by learners and educators especially as we emerge from lockdowns during the pandemic. This includes looking at learning spaces and how they can be transformed and designed to maximise participation and engagement in high quality learning outcomes."
This year marked the second call for the Erasmus+ Teacher Academies initiative which was launches in 2021 with the aim of creating networks of communities in practice, innovative models of professional development and training programmes for in-service and pre-service teachers across Europe.
Dr Emma O Brien, Director of Postgraduate Programmes and Principle Investigator of the IDEAL Futures Teacher Academy on the project says that: "IDEAL Futures will provide opportunities for educators and educational leaders to work with their students, parents, other teachers, the wider school community and the digital sector to critically consider what they want the future of education to look like. They will reflect on the role of digital technologies in supporting such and develop solutions for educators to realise such a vision. The project provides a holistic and integrated approach to considering the role of digital technologies in education by encouraging educators and educational leaders to explore the broader socio technical context as well as the interaction between the various elements within our educational system such as policy, curricula, digital literacies, digital pedagogy, digital equality diversity and inclusion."
The project commenced in September 2023 and partners from Ireland and across Europe were welcomed to MIC to formally kick-off the research. More information on the project can be accessed here.