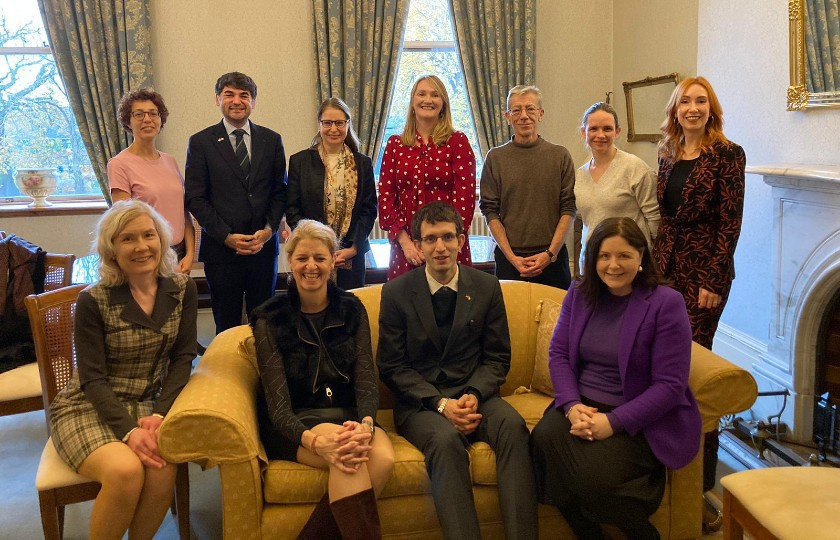 Professor Eva Eckkrammer, the Vice-President - and incoming President - of the Franco-German University visited Mary Immaculate College (MIC) today, Thursday 16 November. 
The Franco-German University (FGU) is a network of 208 French and German higher education institutions who have formed a partnership to jointly deliver 196 academic programmes, including programmes in Initial Teacher Education. The FGU is open to partnerships with institutions from other countries than France and Germany and is actively supporting students and staff from a broad range of disciplines wishing to study or engage in research activities.
Prof. Eckrammer, who is in Ireland at the invitation of the French and German embassies to participate in an event at TU Dublin on joint Franco-Irish PhDs, chose to visit MIC as it is the only Irish higher education institution with a Franco-German House (a study space entirely dedicated to undergraduate and postgraduate students of French and German).
Prof. Eckkrammer was welcomed by Vice-President for Academic Affairs Prof. Niamh Hourigan, Dean of Arts Prof. William Leahy, Assistant Dean of Education Dr Angela Canny and by the Heads of the French Studies and German Studies departments, Dr Loïc Guyon (also representing the French Embassy) and Dr Christiane Schönfeld. She was accompanied by Mr Robert Henneberg, Cultural Attaché of the German Embassy in Ireland. Prof. Eckkrammer and Mr Henneberg met with staff and postgraduate students from both academic departments and with Dr Sandra Wagner from the International Office.
Many opportunities for cooperation were identified between the FGU and MIC and it is hoped that Prof. Eckkrammer's visit will lead to research partnerships and exhanges at both postgraduate and staff level.