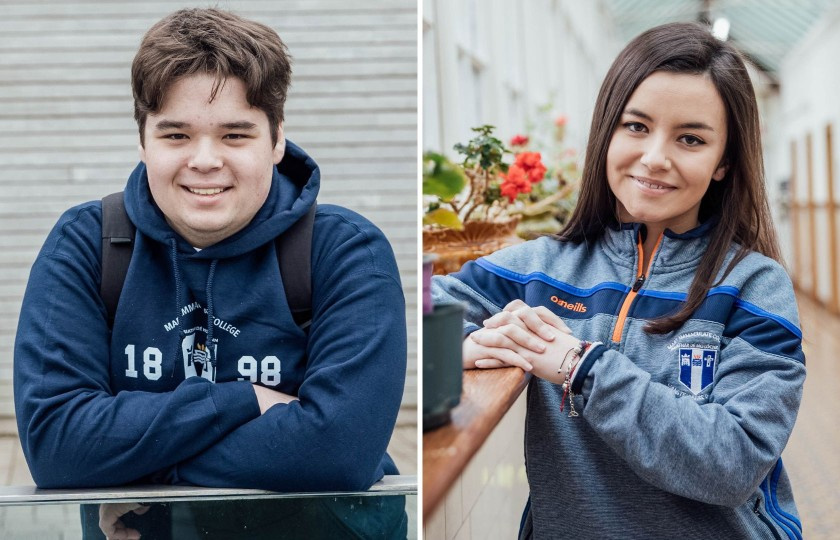 There are just a few days left until orientation and we're really excited to meet our incoming first year undergraduate students.
While it is an exciting experience, starting your third level journey can appear daunting. To help you along with your journey, we've asked two of our undergraduate students - Christopher, a 2nd year Bachelor of Arts student and Ava, a 3rd year Bachelor of Education student - to share their top tips with you ahead of orientation.
For Christopher, his overriding memory of starting college was "the feeling of relief and of being refreshed. The Leaving Cert had been so long and arduous that finally getting my results and a college offer was like getting out of a great shower refreshed and ready to go".
Despite his excitement at beginning his new journey, Christopher says he was still slightly anxious about beginning third level: "The best way I can describe starting college is like going into a haunted house. All the fear is inside your head! When you finally get inside you realise how much fun and excitement awaits you."
Ava says she remembers the excitement of starting college and says the leap to third level was an easier one than she imagined: "Orientation was brilliant! As always, MIC provided a really concise and tangible introduction which was appropriate for the transition. I'm still thankful that MIC didn't overwhelm us with lots of third level terminology from the get-go, but rather delivered everything in a way that our 'fresh from secondary' selves could understand."
Both Ava and Christopher acknowledge that it might be nerve-wracking to meet new people, but have some new advice for making friends. According to Ava: "My main advice for incoming first years – and you wont hear many people say this – is that you should really try to make a special effort to know the people in your course and in your base class, if you have one, during orientation and the initial few days and weeks. It might be tempting to stick to people from the same city or area as you are from, or that you might know already, but your classmates are the ones you will be spending a lot of time with and will be going through the same assignment struggles or exam cycles as you, and so are a really important support."
Christopher says that while it's important to make friends, the process isn't always automatic and so not to be too worried about this: "You might meet your friend for life at orientation or you might not. I didn't meet any of my friends at orientation but I found that just saying hello to the first person you meet makes it easier the second or third time you do it. Talking to people at orientation is a great foundation to making friends and getting settled. Even though you might think its awkward, make sure to sit beside someone in your first lecture and just chat way."
Orientation is the week of 11 September, with lectures beginning the following week on Monday 18 September. What are Ava and Christopher's top tips for lectures?
According to Ava: "For me, it's to always try to be waiting outside your lecture hall five minutes before the lecture starts. You don't want to be walking into an audience of 70 watching you coming in late!!"
Christopher also has an important pre-lecture habit: "I'd recommend that you take a trip to the shop or canteen and grab a coffee and a cookie before your lecture! It's a great way to get revved up for the day. Also, there is no such thing as bad notes. Make sure to have a pen and paper with you in the lectures because those notes will come in really handy when exams and assignments roll around."
Above all, and most importantly, says Christopher: "Enjoy yourself and try to embrace everything you can! College is one big adventure. Dive into it."
For more information on orientation click here.