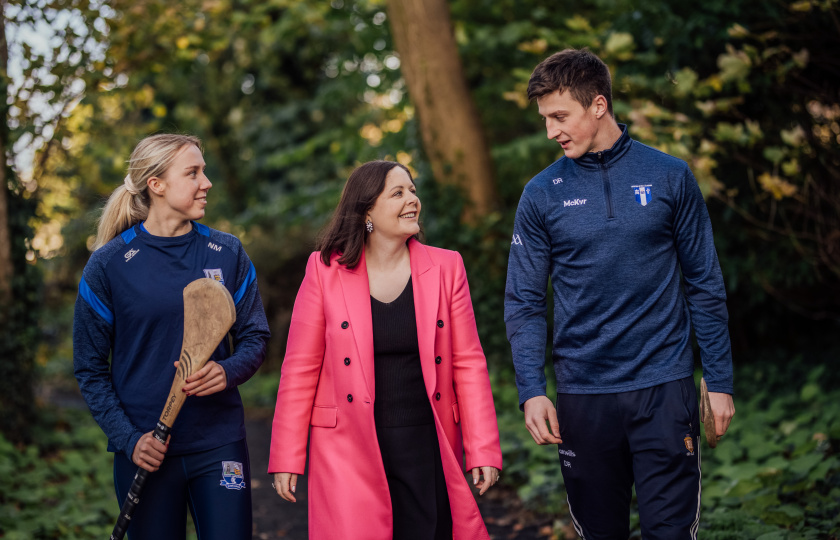 Professor Niamh Hourigan pictured with Niamh Murphy and Diarmuid Ryan
Clare Senior Hurler Diarmuid Ryan and Waterford Camogie Player Niamh Murphy have been announced as the recipients of this year's MIC GPA Sports Scholarships. This is the third year of the scholarship which is open to GPA members who have applied for and are successful in securing a place on MIC's postgraduate programmes in education and the liberal arts.
It's the second year that Diarmuid has been awarded the scholarship. He is a second year Professional Master of Education (Primary Teaching) student having earlier graduated from MIC with a Bachelor of Arts degree. The Cratloe clubman has represented Clare's hurlers since 2017 and has been nominated for two All-Star awards in the past two years for his contribution to a Clare side that reached the All Ireland semi-finals in 2022 and 2023. He scored the match winning point against Cork earlier this year to secure Clare's place in the Munster final in a performance which saw him voted GAA/GPA Player of the Month for May. Diarmuid is a key player for Cratloe's hurling and football teams. He was on the scoresheet as Cratloe won the Clare Senior Football Championship in October. Diarmuid also represents MIC's hurlers and is Captain of the College's Fitzgibbon team. He attended Limerick's Ardscoil Rís Secondary School and was Vice-Captain of the Harty Cup winning team in 2018.
Speaking as he was announced as MIC GPA Sports Scholar for a second year, Diarmuid said: "I am honoured to receive this scholarship for the second year in a row as it gives me the opportunity and support to achieve my goals both as a student and an intercounty hurler. It has helped me find the perfect balance between my studies in becoming a primary school teacher as well as keeping up with the demands of an intercounty player and I look forward to representing both Mary Immaculate College and the Gaelic Players association for the academic year."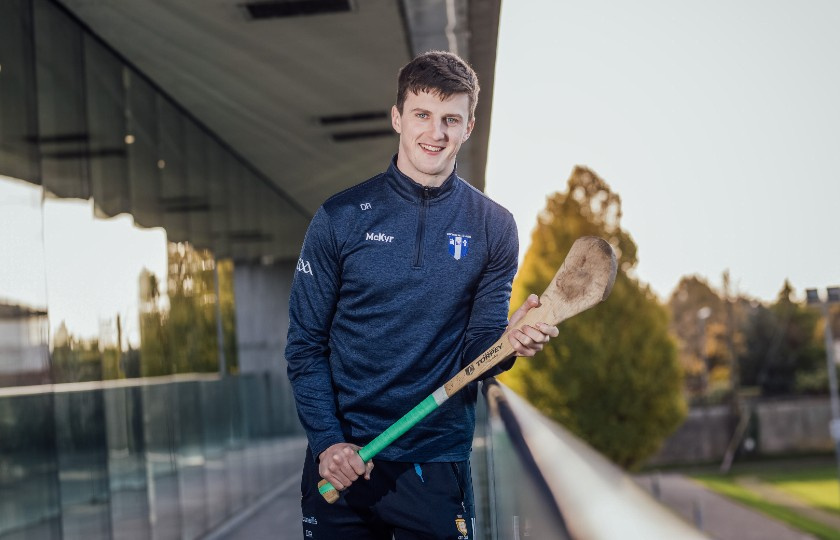 Niamh graduated from University College Dublin with a Bachelor of Science in Biochemistry before deciding to follow her dream of becoming a Primary School teacher and enrolling on the Professional Masters of Education at MIC. Niamh is a Waterford Senior Camogie player and won a Division 1B National Camogie League medal and reached the final of the All-Ireland Camogie Championship with the Déise this year. Niamh has represented her county on the pitch since she was 12 and holds three All Ireland Championship medals with Waterford at U14 and U16 level and a Munster and All Ireland medal with St Angela's School in 2018. Niamh is a member of the De La Salle club in Waterford and holds Junior and Intermediate County Medals in 2015, 2016, 2022 and 2023. Niamh will line out for De La Salle against Drom & Inch this weekend in a repeat of last year's Munster Club Senior Camogie Championship Semi-Final. Niamh is also a Purcell Cup winner with UCD and hopes to continue her third level success with MIC's camogie team. Outside her playing career, Niamh has coached underage teams for both club and county and is a national referee.
According to Niamh: "I am delighted to receive the MIC GPA scholarship. It is great the college is acknowledging camogie players and helping them financially as they understand the cost related to playing the sport. It allows me to keep playing camogie whilst doing my masters. I would advise anyone interested to apply for this as it helps take the pressure off and allow you to focus on your studies and continue playing camogie."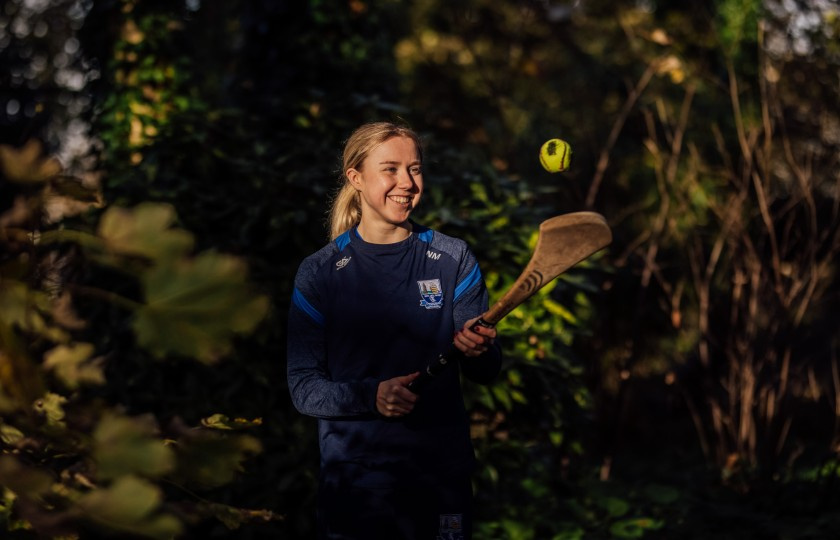 Under the scholarship, MIC contributes 50% of the successful applicants programme fees and the GPA contributes the remaining 50%. Diarmuid and Niamh will also become 'MIC GPA Scholars' and will act as ambassadors within MIC's sporting community and will play a key role in supporting Gaelic Games at MIC.
Congratulating Diarmuid and Niamh on being awarded the scholarship was Professor Niamh Hourigan, Vice-President of Academic Affairs, who said: "We are so pleased to partner once again with the Gaelic Players Association in providing these post-graduate scholarships which offer GPA athletes the opportunity to further their academic journey here at MIC whilst continuing to pursue their sporting career. We have devoted considerable attention in recent years to developing our sports scholarship scheme and the MIC GPA Scholarships play an important part in our continuing efforts to provide awards and supports to high performing athletes here at MIC."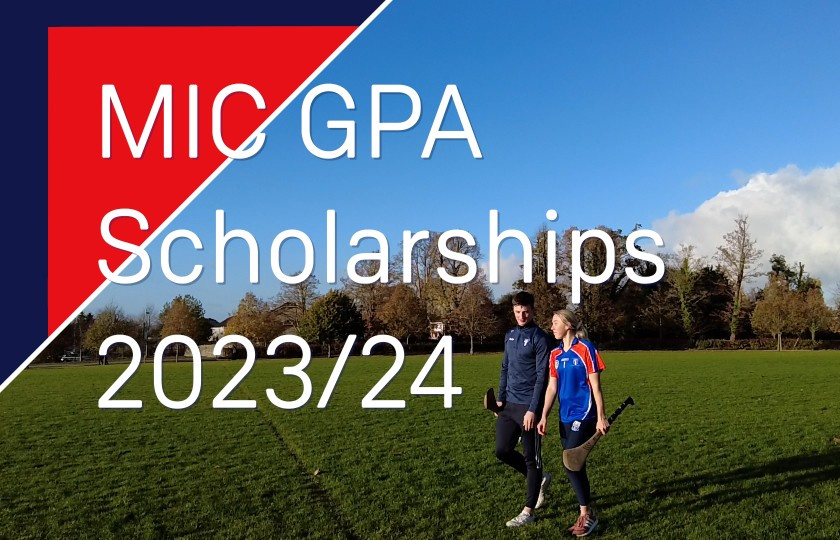 Also congratulating the recipients was Tom Parsons, CEO of the Gaelic Players Association, who said: "Our mission is to enable players to balance the huge demands placed on players with the opportunities, support and investment required for them to be at their best, on and off the pitch.  We could not do that without the support of our education partners.  They are a vital component of the work we do and on behalf of players I want to thank MIC for their ongoing support of our members. Congratulations to Diarmuid and Niamh on being awarded this year's MIC/GPA Sports Scholarship.  We hope this support will enable you to achieve your full potential away from the rigours of inter-county action."
For further information on the MIC GPA Scholarship scheme and other MIC scholarships please see www.mic.ie/scholarships.