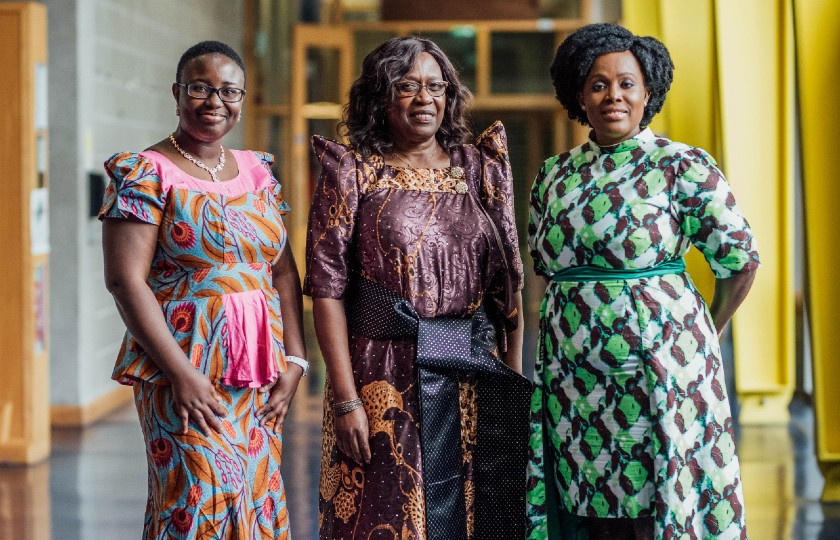 PHOTO: Florence Ajala, Linda Kirwisa and Lylian Fotabong pictured at Africa Day 2022
The educational links between Africa and Mary Immaculate College (MIC) will be celebrated at a special event held at MIC on Thursday 1 June to coincide with Africa Day 2023. Organised around the theme of 'Nurturing Africa and MIC's Collaborative Relationship in Education', the free public event will hear from African scholars studying at MIC who will share their African culture and diversity as well as discussing their contributions to Irish life, especially in education.
Held at MIC for the first time in 2022, the College's Africa Day event ties in to the wider international annual celebrations to recognise and honour the people, cultures and potential of Africa.
The exciting line-up of talks, entertainment and African cuisine will include remarks by the Mayor of Limerick, Cllr Francis Foley; a keynote address by Dr David Nyaluke (UCD Business Lecturer); an exploration into the collaborative academic links between MIC and Africa by MIC Associate Professor, Dr Patricia Kieran; and a fascinating insight into the portrayal of Africa and Africans in the Irish media by MIC PhD candidate, Lylian Fotabong.
Lylian is one of the organisers of the Africa Day celebrations at MIC and says she hopes to build on the outcomes of the inaugural College event last year: "In 2022 we focused on how some Africans were fleeing their home countries, but this year is different. We are focusing on Africa and MIC's collaborative relationship in education – an intersection of learning, where learners and educators share resources and knowledge for the greater good of all parties involved. Particularly, we are using this platform to highlight contributions to education and Irish life by Africans in Ireland. We are hoping that on a day like this, many people can witness the positive impacts that Africans bring to Ireland."
According to Linda Kirwisa, Board Member of DORAS in Limerick and an organiser of the MIC Africa Day event: "Through cooperation, MIC students of African ancestry continue to demonstrate that they have the capacity to academically compete with indigenous Irish students. Not only has this collaboration led to the ripple effect of transferable academic standards for some African countries, but has also created visible diversity within MIC."
MIC Africa Day 2023 is free and open to everyone. You can see the full line-up of events and register your place at the event by clicking here.
MIC Africa Day 2023 is supported in collaboration with the EDII Office and the International Office. This event is the latest in a series of MIC supported events aimed at highlighting international educational settings, including the recently held Women in Education: Afghanistan and Ireland conference which highlighted the plight of women in Afghanistan since the takeover of the Taliban, particularly regarding their access to education. Further information on MIC's EDII work can be found here.