The importance of family involvement in a child's education is the focus of a new book from Mary Immaculate College (MIC) academics. Written by Dr Sandra Ryan and Carol Lannin, Parents in Partnership: Mapping the Way for Family, School and Community Engagement explores the links between homes and schools, the role a parent can play in the school community and how partnership between schools and families gives students the support they need to reach their full potential.
Parents in Partnership, which was launched by Ombudsman for Children, Dr Niall Muldoon at MIC on Tuesday, aims to provide practical guidance for Home School Community Liaison (HSCL) coordinators, principals and teachers to help them take the initiative and to promote positive attitudes, behaviours and practices to build family, school and community engagement.  Decades of research indicate that when parents are involved in supporting their child's learning, children do better in school, they like school better, stay in school longer and have better life outcomes.  This publication provides research evidence and examples of good practice from Irish schools covering areas such as communication and building relationships with parents; involving parents in learning in a variety of curricular areas, school policy and decision making, and teacher professional development for family engagement.
Speaking at the launch of Parents in Partnership at MIC was Ombudsman for Children Dr Niall Muldoon, who said: "This book highlights the value of having a wide variety of partnerships in the school community that can help maximise the educational uptake of students. The authors make it clear that the most successful schools, with the most content children, have strong relationships between teachers and parents/care givers as well as between the school and the students. These links enhance the learning potential of the students, increase the sense of worth of the parents and offer supports, in both directions, between home and school. I commend the authors for their very clear and easy to read work, which lays out a range of practical options for schools and educational institutions to draw on, so that the wider community can be recruited to help enhance the school experience for all students."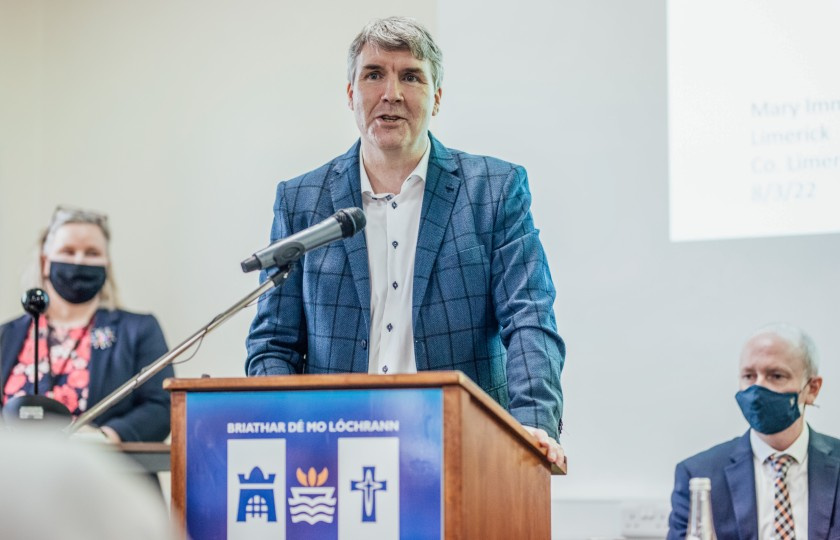 According to Dr Sandra Ryan: "Parents and families make a difference in their children's lives and our job as educators is to tap into the strengths and influence of parents to support and empower them to engage with their child's learning within and beyond the school walls.  This book documents good practice from schools around Ireland and is a practical, hands-on guide for schools to support them in building positive relationships with parents to achieve better outcomes for children."
Welcoming the publication was Dean of Education at MIC, Professor Emer Ring, who said: "Presently across the Irish Higher Education Landscape, we are all working on revising our programmes to reflect the priorities for teacher education identified by the Teaching Council. It is no surprise that the Teaching Council has identified 'working with parents' among the core elements of initial teacher education programmes. Sandra's and Carol's publication, 'Parents in Partnership' is especially timely in this regard. Here at MIC, we are committed to Article 42.1 of the 1937 Constitution and ongoing research on the exceptional benefits of working in partnership with parents. We have continued to embed the critical importance of supporting our students to develop the competencies that enable them to foster meaningful and constructive relationships with parents and to harness the endless possibilities for children that stem from positive parental engagement."
Published by the Curriculum Development Unit at MIC, Parents in Partnership: Mapping the Way for Family, School and Community Engagement can be ordered at www.curriculumdevelopmentunit.com or by contacting CDU@mic.ul.ie.