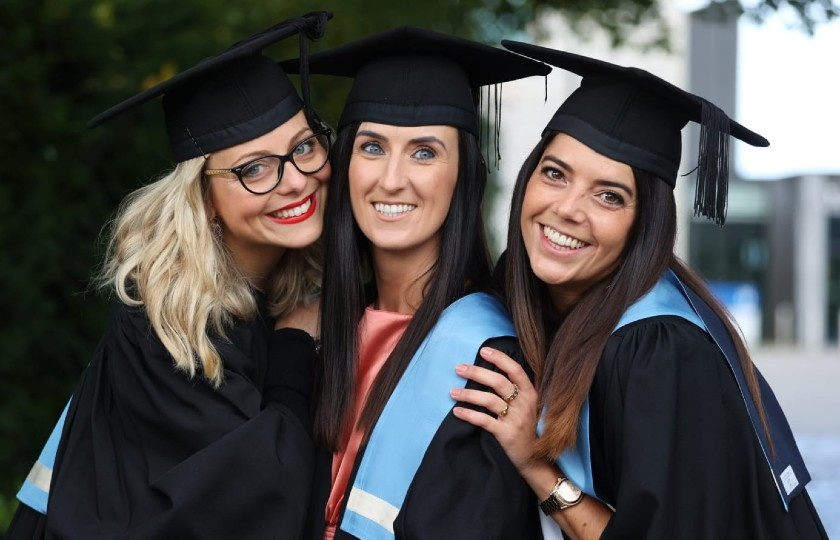 The Minister for Children, Equality, Disability, Integration and Youth, Roderic O'Gorman TD, has congratulated graduates of the Leadership for Inclusion in the Early Years (LINC) programme and welcomed the positive impact they will play in transforming how inclusion is approached within the early childcare sector. Minister O'Gorman was speaking as 557 Inclusion Coordinators from twenty-seven counties graduated from the LINC programme at a special ceremony at Mary Immaculate College (MIC) in Limerick on Saturday 15 October.
Commending graduates on their achievement, Minister O'Gorman said: "I offer my congratulations to all 557 graduates from the LINC programme. The programme has been key in promoting the inclusion of children with disabilities in the ECCE programme. The work and commitment of the LINC Consortium team to leading inclusive practises in preschool settings has been significant in the success of the Access and Inclusion Model (AIM). As LINC graduates, they will be fully qualified to play the role of Inclusion Coordinators within early learning and care settings. As Inclusion Coordinators, they will play a leadership role in changing how disability and inclusion are viewed in the settings within which they work and – through their leadership influence on colleagues, parents and children – they will have a wider impact in our society as a whole. I warmly welcome the graduates' commitment to professional development and I wish them well with their future endeavours."
Established in 2016, LINC is a higher education programme designed to enhance the inclusion of children in early learning and care settings through the development of the role of Inclusion Coordinators. The programme, offered by a consortium led by MIC and including Early Childhood Ireland and Maynooth University's Froebel Department of Primary and Early Childhood Education, is part of a Government commitment to the provision of high-quality education and was introduced as part of the Access and Inclusion Model (AIM) in 2016.
Speaking at the Graduation Ceremony, which was held in the Lime Tree Theatre on MIC's Limerick campus, Professor Eugene Wall, President of MIC, said "The LINC graduation symbolises the significant contribution of all early years' educators to the creation of enriched inclusive early years' experiences for all children," Prof. Wall continued by recognising the graduates' commitment to inclusion in the early years, which will "continue to contribute to the creation of a more inclusive society for all of us".
Professor Emer Ring, Dean of Early Childhood and Teacher Education at MIC, congratulated the LINC graduates on their wonderful achievement, noting that "research continues to remind us that all children thrive and achieve their potential when they are supported by educators who are committed to creating and nurturing inclusive learning environments. The achievement of our LINC graduates here today confirms and underscores their exceptional commitment to cultivating inclusive culture, practice and pedagogy across their settings. In these uncertain times, never has providing inclusive experiences for our children been so critical.  We are confident that our graduates in their work as Inclusion Coordinators will continue to build high-quality inclusive early childhood experiences where families are supported and all children are enabled to thrive and achieve their potential."
A number of graduates were recognised for their remarkable achievements over the course of the ceremony including Breda Martina Byrne from Co. Tipperary, who was awarded a College Gold Medal for achieving first place on the programme. Also receiving an award was Barbara Alessandrini, Co. Kildare who won the Early Childhood Ireland Overall Best LINC Portfolio Award. Aileen Kennedy (Co. Wexford), Sinéad Hanlon (Co. Donegal), Lisa Mannion (Co. Galway), Aisling McKenna (Co. Dublin), Reeta Rawat (Co. Cork) and Siobhan Swann (Co. Cork) also received an award for having the best portfolio in their respective groups.
Teresa Heeney, CEO of Early Childhood Ireland said: "This is a hugely important day for both the students who are graduating from the LINC programme and their loved ones, who are no doubt feeling very proud. On behalf of everyone at Early Childhood Ireland, I'd like to offer my warmest congratulations to each graduate on this significant achievement and wish you every success for the future. It is great to see live graduations again which make the graduation event all the more memorable. We believe that every young child should be thriving and learning in the highest quality Early Years settings – the hard work of today's graduates will ensure that children with additional needs are fully included through their early years' journey and supported into the future, as they should be. The importance of this work cannot be emphasised enough, as it impacts so positively on both children and their families."
The sentiment was echoed by Associate Professor Niamh Fortune, Head of the Froebel Department of Primary and Early Childhood Education, Maynooth University who commented: "The LINC programme offers an invaluable opportunity for early childhood educators to engage in high quality professional development which has the potential to transform their practice in the area of inclusive education and develop capacity for leadership within early childhood settings for the future."
Also offering congratulations was Shirley Heaney, National Coordinator of the LINC Programme who added: "I would like to commend each graduate for your dedication and perseverance in completing the LINC Programme in these challenging and unprecedented times. As Inclusion Coordinators, you will play a vital role in supporting and advocating for the inclusion of all children within the Early Learning and Care sector. Through leading an inclusive culture, practice and pedagogy in your settings you will enrich the lives of children and their families. On behalf of myself and the entire LINC team congratulations on your achievement!"
The LINC programme is free of charge to participants and employers, and is funded by the Department of Children, Equality, Disability, Integration and Youth (DCEDIY). Early Learning and Care settings with an ECCE contract can nominate an employee for LINC and the nominee must have a full Level 5 Award or higher in a relevant discipline. Further information on the LINC Programme can be found at www.lincprogramme.ie/
Click here to view the full gallery of photos from Saturday's LINC graduation.