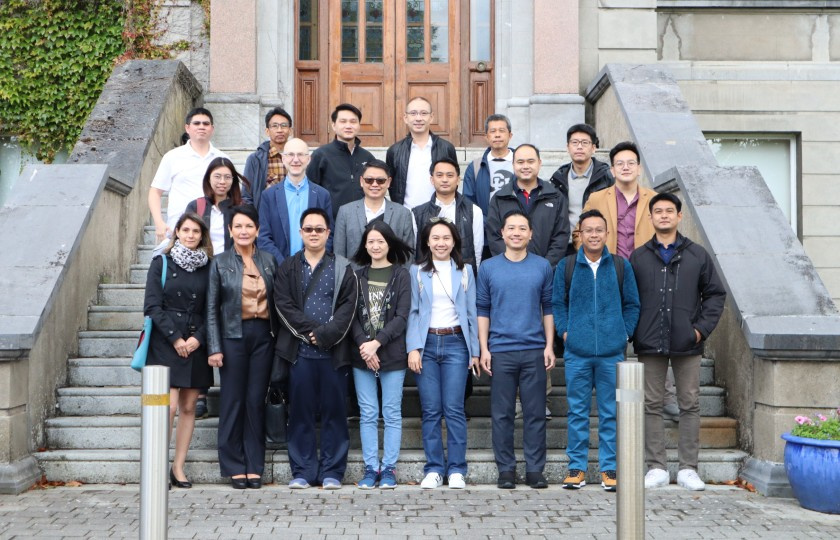 Academics from Thailand spent a week studying at Mary Immaculate College (MIC) recently as part of an ongoing project aimed at enhancing the level of teaching and learning at universities in the Asian country.
Last year, MIC joined with two European and five Thai university partners to form the ReCap 4.0 programme, led by the Asian Institute of Technology in Bangkok, and which is specifically geared towards the professional development of teachers of engineering and technology. This follows various reforms in Thailand where institutes and colleges have been granted university status and where there has been an increased focus on enhancing the quality of teaching and learning.
As part of the project, MIC developed a suite of professional development programmes which focus on innovative teaching methods and active learning. A number of professional development courses have already been delivered, both onsite and online to Thai university teachers, related to both innovative teaching methods and engineering such as data analytics and product design. These teachers then share the knowledge gained with the newly-established universities, thereby supporting the reforms of tertiary education in Thailand.
According to Director of Continuing Professional Development at MIC, Dr Cathal de Paor: "The project has provided a great opportunity for MIC to work with colleagues from Thailand, as well as Portugal and Romania, on issues of common interest in teaching and learning. MIC has drawn on its experience in further and higher education, in particular, on its teacher education expertise for the Further Education sector."
The eight partners in the project consortium are: Asian Institute of Technology (lead); Khon Kaen University; Mary Immaculate College, Prince of Songkla University; University of Minho, Portugal; University Politechnica of Bucharest, Romania; Mahidol University; King Mongkut's University of Technology North Bangkok.
Project coordinator from the Asian Institute of Technology (AIT) Dr Pisut Koomsap, commented on the significance of the project for supporting the quality of teaching in higher education in Thailand: "In order for graduates to be able to lead the transition to the knowledge economy and Industry 4.0, the quality of teaching in area such as industrial engineering is paramount. We truly appreciate the experience shared by our MIC colleagues on education, especially on teaching and learning methods. This one-week visit is the follow-up coaching activity from the training conducted in Thailand a couple of months ago by Dr Kathleen Horgan and Dr Cathal de Paor."
UpcomingThe ReCap 4.0 programme will now see further training in September to be hosted by the Portuguese partner university, further training in Thailand and a major conference in Thailand next year. Find out more about ReCap 4.0.