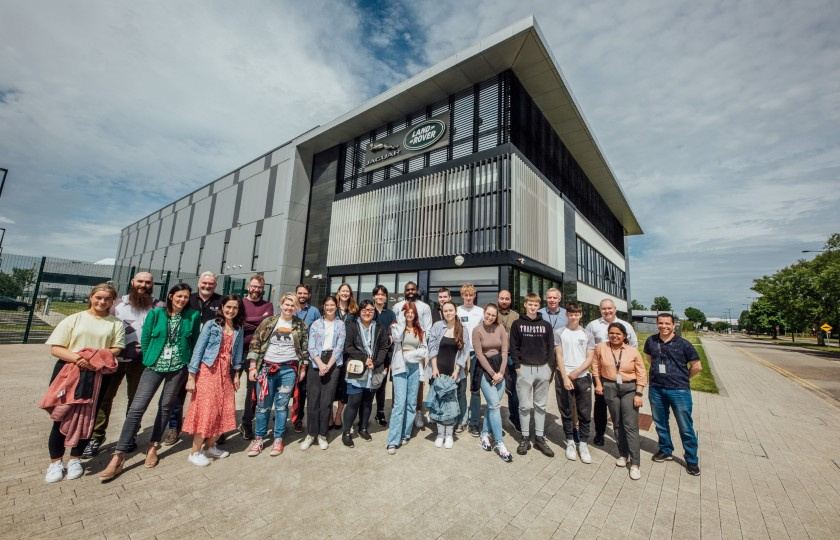 Students from across the MidWest have been inspired to develop creative, innovative and entrepreneurial skills for life as part of this year's EMPOWER programme. The free programme, designed and developed by Mary Immaculate College (MIC) and the Technological University of the Shannon (TUS), saw TY & 5th year students tasked with finding innovative solutions to some of the mobility challenges facing society. Now in its sixth year, the EMPOWER programme partnered with Jaguar Land Rover to give students a real hands-on approach to the tasks they faced.
Held from 7 to 17 June, the theme of this year's programme was 'The Future of Mobility'. The participating students spent a day at Jaguar Land Rover's (JLR) R&D Software Engineering Centre in Shannon where they took part in a Hackathon, mentored by JLR engineers, to give students a first-person experience of handling their own Future of Mobility projects.
According to Patricia O'Sullivan, Enterprise and Community Engagement Manager at MIC: "EMPOWER is a fantastic experience for young people, encouraging them to think creatively about some of the challenges in society today and consider how they might develop solutions. The programme also offers students an opportunity to meet new people and consider new perspectives. The visit to Jaguar LandRover however was the highlight of the week."
Dr Fiona Gilchrist, R&D Strategy Lead in Jaguar Land Rover, Shannon said: "We were delighted to have the opportunity to host these students. They got a real taste of JLR's ambitious plans for growth and it's engineering talent that will develop the products and technologies related to connected, autonomous vehicles of the future. We believe that the success of our global business, as well as the regional economy, lies in engineering and innovation. In order to achieve this, fostering innovation amongst the younger population is crucial. It's a very exciting time in our business and we need to nurture the minds of tomorrow."
During the four-day programme, students formed teams to compete for the titles of 'Overall Winner', 'Best Innovation' and 'Most Creative Pitch'. Almost €1,000 per week in prizes were awarded to the winning teams who generated interesting technologies including an augmented reality car windscreen, a bike parking app, and a car sensor which sought to prevent car accidents. Further future of mobility inspired pitches included an adaptation of a motorbike to suit those with disabilities, a stair walker, and a wearable device that could help the visually impaired live more independent lives through the use of sensors and GPS.
One of the students who participated in the programme said, "I loved talking through ideas with the people from Jaguar LandRover" and another highlighted how "The trip to JLR was effective in helping with the solution to the problem."
Gillian Barry, Head of Innovation and Enterprise at TUS, said: "EMPOWER set out to enable and empower students to approach problems, to experiment, and to find resolutions. It was fantastic to see participants working together to develop their ideas and solutions to the challenges they identified. Their enquiring minds and ability to question the norm was inspiring and we were delighted to see so many strong ideas forming during the week."
For more information on the EMPOWER programme and to register interest in participating in 2023 please contact patricia.osullivan@mic.ul.ie or gillian.barry@tus.ie