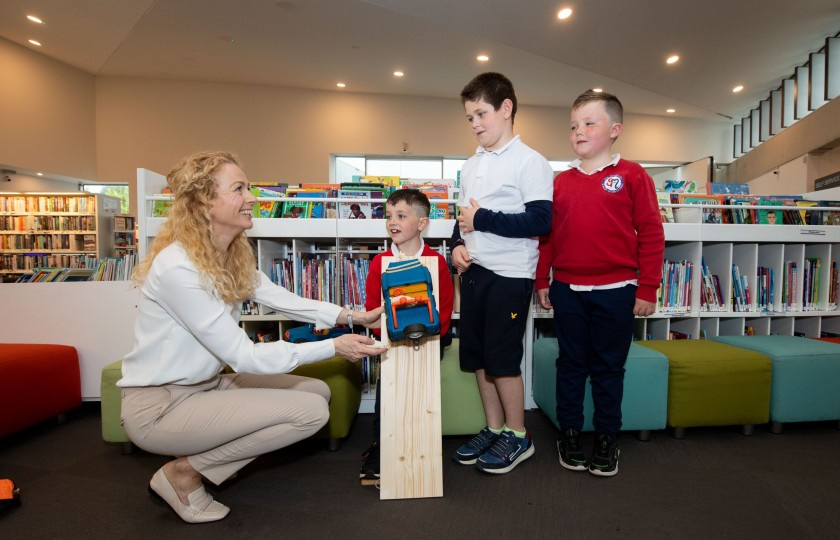 Dr Maeve Liston, Director of Enterprise & Community Engagement at MIC, pictured with students from Scoil Mocheallóg at Killmallock library during the Limerick Lifelong Learning Festival 2022 launch. 
The 12th annual Limerick Lifelong Learning Festival kicks off next week and Mary Immaculate College (MIC) is proud to support learning for all ages by hosting events as part of the festival's packed schedule.
Running from Monday 23 to Sunday 29 May, this year's festival focuses around a central theme of 'Learn Something New in 2022', and includes a blend of in-person, online and hybrid events. The festival was launched with a special event at Kilmallock Library recently where first-class students from Scoil Mocheallóg, Killmalock attended a workshop hosted by MIC's Department of Enterprise and Community Engagement.
Four further events are being hosted by MIC as part of the festival line up:
On 8pm on Tuesday 24 May, an online talk will discuss the benefits of introducing books to babies. The event is suitable for the general public, particularly parents, grandparents and families of young children, as well as early years practitioners, researchers and students. Hosted by the Department of Reflective Pedagogy & Early Childhood Studies and the Department of Psychology, you can register for the free event by clicking here.
On Wednesday 25 May, an on-campus event from 3pm until 5pm will offer attendees the chance to 'Be a Philosophy student for a day'. Head of the Department of Philosophy, Dr Daniel Vazquez will ask what ancient stoicism can tell us about today, while Dr Teresa Campbell will explore: "Philosophy What is it all about?". You can register for this free event by clicking here.
On Thursday 26 May, CRAFT will host a workshop with a Parent and Toddler group in Croom Family Resource Centre from 10am until 11.30am. CRAFT will also hold a workshop with the Afterschool group in Croom Family Resource Centre from 3.15pm until 5pm, where students will design and build a Scribble Bot. CRAFT is an exciting initiative of MIC to catalyse the public's engagement with STEAM through a variety of activities.
On Friday 27 May, an Age Friendly Coffee Morning will be held in G10 on the Limerick campus at 10.30am. The free event will allow MIC to engage with our senior neighbours and explore how we can make the campus more age friendly. You can register for this event by emailing patricia.osullivan@mic.ul.ie or by contacting 061 205 108.
Speaking about MIC's involvement in this year's festival, Patricia O'Sullivan, Enterprise and Community Engagement Manager at MIC and Festival Organising Committee Member, said: "Mary Immaculate College is delighted to once again be hosting a number of diverse and interesting events as part of Limerick Lifelong Learning Festival. The festival is an excellent occasion for MIC to engage with the public and share the wealth of knowledge and learning that exists within the college. The theme for this year's festival is to learn something new and the events being organised here at MIC really provide great opportunities for the public to do just that."
You can find out more about Limerick Lifelong Learning Festival, including the full line-up of events, by clicking here.