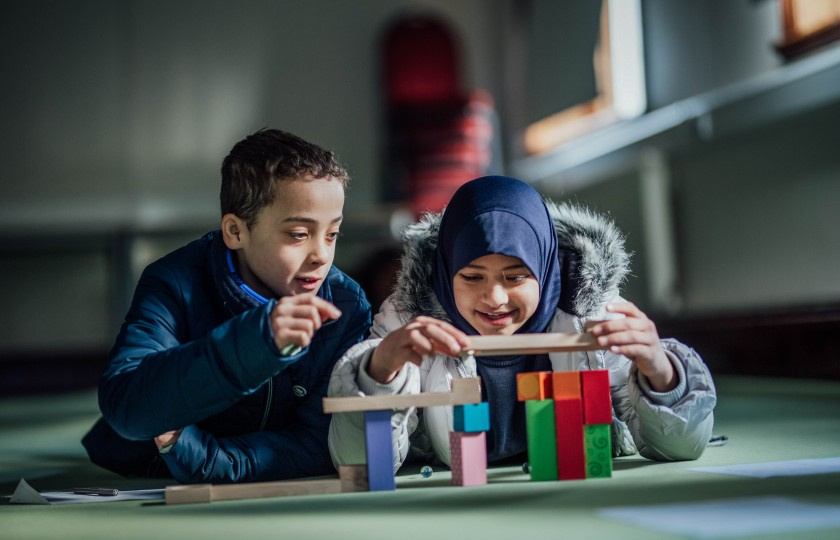 Primary-school students from across the Mid-West have been encouraged to engineer the Ireland of tomorrow during a series of events organised by Mary Immaculate College (MIC) to coincide with STEPS Engineers Week 2022. The annual week-long celebration promotes engineering and the importance of the profession in Ireland.
Earlier this month as part of STEPS Engineers Week, students from Limerick City primary schools – Scoil Mháthair Dé, Presentation Primary School, Project School, An Mhodh Scoil, and Scoil Íosagáin - were introduced to the engineering design process and had an opportunity to explore their own concept of what an engineer looked like and what their job was, as well as using plans to engineer their own creations using different materials. Olive Downes and Niamh Wilson, engineers from Limerick City and County Council, also took part and told the pupils about the projects they were working on, including the Limerick Greenway, Castletroy playground and the new bridge near Park Road. In addition to the in-person activities, packs to make fan-powered cars were also distributed to over 400 students in Tipperary.
According to the Director of Enterprise & Community Engagement, Dr Maeve Liston: "We were delighted to continue our work in delivering high-quality STEM outreach to schools and teachers during STEPS Engineers Week 2022. The engagement and enthusiasm from the children during the STEM Engineering Challenges was a delight to experience. Engineers Week also coincided with International Women's Day, therefore throughout the week, the engineering sessions at MIC, placed an important focus on breaking down stereotypes and promoting girls in STEM. This was achieved by exploring different engineering professions and including discussions with female engineers from the Limerick County Council, exploring the role of engineering in the children's local community."
Discussing the importance of such events was MIC STEM Project Outreach Officer, Dr Eleanor Walsh, who said: "Our activities this week reached over 500 children and their teachers, which we are really pleased about.  We look forward to being able to expand that reach even further in the coming months.  Children having that "Yes, it works!" moment never gets old."
Further STEM outreach activities are also being planned by the Department of Enterprise and Community Engagement. Tech Week will be celebrated between 17 and 25 March with MIC Early Childhood Care & Education students undertaking workshops with Microsoft DreamSpace, while second-level students in Clare will hear about the secrets of Superhero Technologies from Dr Barry Fitzgerald of BW Science. A three-day Easter Camp will also be held, with further information to be released soon.