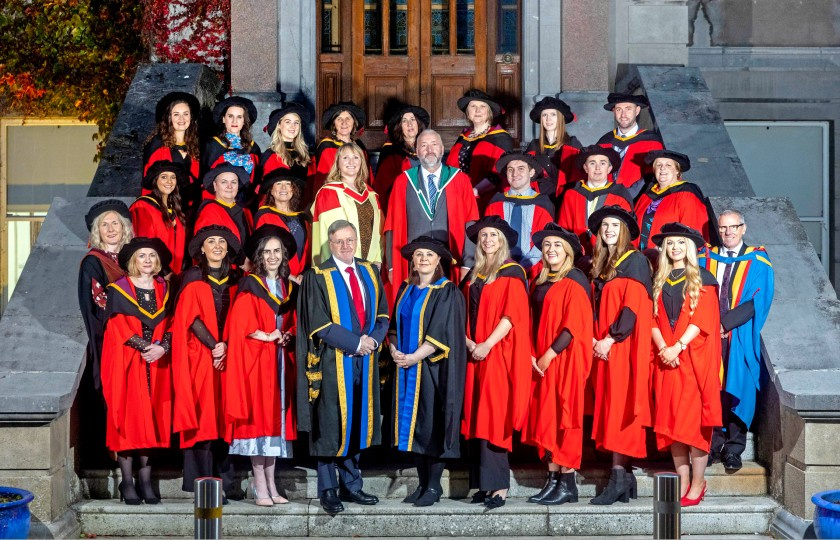 Mary Immaculate College (MIC) was delighted this week to celebrate the presentation of 30 graduates with doctoral awards – the highest number to ever receive PhDs from the College in a single year. The 30 doctoral awardees were among almost 1,500 students to graduate from MIC over two days on Thursday 27 & Friday 28 October.
Among those receiving parchments were nine graduates of the Professional Doctorate in Education and Child Psychology (DECPsy). The unique programme, which was established in 2016, is a three-year, full-time professional training course for students interested in pursuing a career as an educational psychologist. Research conducted by DECPsy students as part of their studies varied in focus from school life following acquired brain injury, asylum-seeker youths' experiences of education in Ireland, and a father's engagement with disability services as well as the perceptions and experiences of fathers and psychologists; all of which will have positive and lasting implications for future practice in educational and child psychology.
Other areas of exciting new research undertaken included Dr Clara Hoyne from Clarecastle, Co. Clare, whose research looked at the role of the home learning environment in cognitive and socioemotional development in early childhood; Dr Tom Carroll from Dripsey, Co. Cork, who investigated the compatibility of mindfulness and ethos in Irish Catholic Primary Schools; Dr Aoife Chawke from Croagh, Co. Limerick, who researched the impact of formal and non-formal teaching and learning approaches on piano students' musical knowledge, skills, engagement and motivation; and Dr Irene Hogan from Ballyarvan, Co. Cork, who studied the experiences and perspectives of volunteer female coaches in Ladies Gaelic Football.
Also among those receiving her doctoral award was Dr Ruth Bourke from Castleconnell, Co. Limerick, who researched how networking can support DEIS schools. Dr Bourke graduated from MIC in 2000 with a BA in English and Media & Communications Studies and a Master's in Education in 2004, upon which she began working with the Transforming Education through Dialogue (TED) Project. An initiative of the College's Curriculum Development Unit (CDU), TED seeks to improve and enhance educational outcomes for children through harnessing the expertise of MIC in the service of children, parents and teachers. Since joining TED Ruth has facilitated networks of DEIS schools and engaged in research and intervention work with DEIS schools. She was appointed TED Coordinator in November 2021.  She is currently Acting Director of the CDU, which is a nationally recognised centre of excellence in terms of curricular design and innovation.
Congratulating the 30 graduates on their doctoral awards was Professor Michael Healy, Vice-President for Research at MIC, who said: "Over the last 25 years, Mary Immaculate College has taken enormous forward strides in its development in the twin areas of academic staff research and expansion of postgraduate research at doctoral level. The MIC conferrings of 2022 represent a major landmark of achievement for all MIC researchers. Today we celebrate with each and every one of the PhD and Master's students conferred with a research degree from MIC. We salute their dedication to academic excellence and their achievements in their disciplines and specialist fields."
Joining graduates at the conferring ceremonies was Cllr Francis Foley, Mayor of Limerick, Geraldine O'Brien, Vice-President of the ASTI, Bishop Brendan Leahy, Chairperson of the Board of Trustees and Governing Authority of MIC, and Professor Kerstin Mey, President of the University of Limerick.
The two days of on-campus conferring ceremonies saw almost 1,500 students from 30 counties, 25 countries and 5 continents conferred with academic awards across the College's 30+ undergraduate and postgraduate programmes in Education and the Liberal Arts.