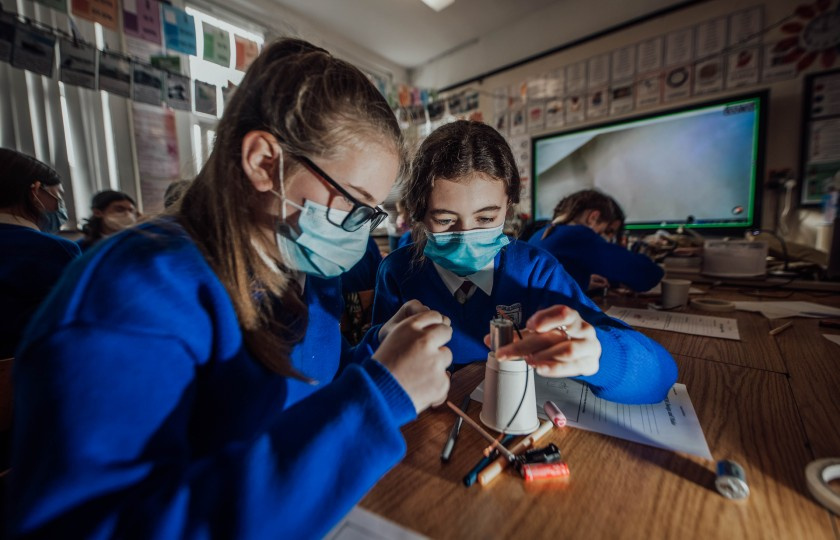 Pupils from St. Patrick's GNS, Limerick making a brighter future for girls in Science. 
As part of Mary Immaculate College STEM outreach engagement with children and schools under the CRAFT (Creative Art Future Technologies) Maker Space initiative, pupils from 35 primary schools across the Midwest got the opportunity to take part in designing and building Scribble Bots, an initiative where the children could make robots that create art!  The children learned in a fun way the basics of creating a simple circuit and to become familiar with the Engineering Design Process (EDP), involving imagining, planning, making and testing the bots. The children learned to think and act like scientists, mathematicians and engineers.
This project coincided with International Day of Women and Girls in Science last Friday, February 11th.  This day aims to promote the participation of women in science, technology, engineering and mathematics (STEM) disciplines and also aims to raise awareness about the contribution of women and girls in the field of science and technology.
Dr. Maeve Liston, Director of Enterprise and Community Engagement in MIC and Dr. Eleanor Walsh, STEM Project Outreach Officer in MIC, visited St. Patrick's Girls National School in Limerick on the day to assist and inspire the pupils, under our CRAFT Maker Space initiative.   CRAFT Maker Space is an initiative by Mary Immaculate College aiming to demystify STEM and STEAM and to catalyse the public's engagement with STEAM through a variety of accessible and inclusive outreach activities for all, that focus on building creativity, innovation and STEAM skills for life.