The achievements of women across a broad spectrum of Irish life will be celebrated at Mary Immaculate College (MIC) during FemFest, which makes a welcome return this March for the first time since the COVID-19 pandemic. The week-long event, held at MIC's Limerick campus, will showcase and celebrate the works of Irish women at a national, regional, local and institutional level. The week-long line up is born of cooperation between staff and students, as well as external academics and community groups, and promises something of interest to everyone.
According to MIC lecturer and FemFest Chair, Dr Dorothy Morrissey: "I'm delighted to see FemFest return following the turbulent events of the past few years. In particular, this year sees an increased collaboration between staff and students to offer a wide-ranging programme with something for everyone. The inaugural FemFest was held in 2019 and in the three years since that, the world has been changed totally by the pandemic. Now, as we emerge from that state of lockdown, we have the opportunity to celebrate the research, publications and work of women, especially that which went below the radar over the past few years. However, we also do so in the context of the tragic and upsetting circumstances of violence against women both nationally and internationally. As we celebrate the achievements of women, we remember too the progress that still needs to be made societally."
The opening event on Monday 7 March will hear from Professor Niamh Hourigan, Vice-President Academic Affairs at MIC; Mary Hayes from Women's Aid's and Dr Dorothy Morrissey, MIC lecturer; and will also feature a traditional music performance. At lunchtime, a memorial walk/run will be held in memory of MIC graduate Ashling Murphy, with all proceeds from this going to Women's Aid. Ashling was a renowned traditional Irish musician and a concert celebrating trad music will be held in conjunction with Seachtain na Gaeilge in the Lime Tree Theatre on Wednesday 10 March by staff and students, as well as Ashling's fellow graduates who have returned to perform in her memory.
As the percentage of girls and women taking up roles in Science, Technology, Engineering and Mathematics (STEM) increases, a STEM Construction Challenge will be held on Tuesday 8 March, in conjunction with Engineer's Week. This interactive engineering workshop for fifth class girls, led by female STEM role models, will teach participants about the Engineering Design Process and help them hone their skills as engineers, scientists and mathematicians. Also on 8 March, AfroPopCity will run Female DJ day, holding workshops on the art of disc-jockeying which will round up with a public performance in the TARA Building.
The research and publications of MIC authors and their books about women will also be celebrated and explored on International Women's Day, 8 March. Six academics will share insights into their works from such topics as Irish female playwrights to Irish-German literature and culture, and from the female representation on screen and in films to profiling historic Irish writers. Separately, a collective of Bachelor of Arts (BA) and BA in Contemporary & Applied Theatre Studies students and staff, who established the FemFest Theatre Collective to support emerging female theatre artists at MC, will give a final performance by way of demonstrating the ethos and work of this internal network.
Following on from the success of the 20x20 campaign to improve participation in, involvement in and media coverage of female sports in Ireland, FEMSPORT will explore the women's sports landscape, review progress to date and look forward to what might come next. A particularly topical subject due to recent calls for the merging of male and female GAA codes under one central governing body, this panel discussion will hear from female sports athletes, sports journalists, coaches and researchers. 
The full line up to the festival, which contains much more, can be found below. All events are open to the public and are totally free.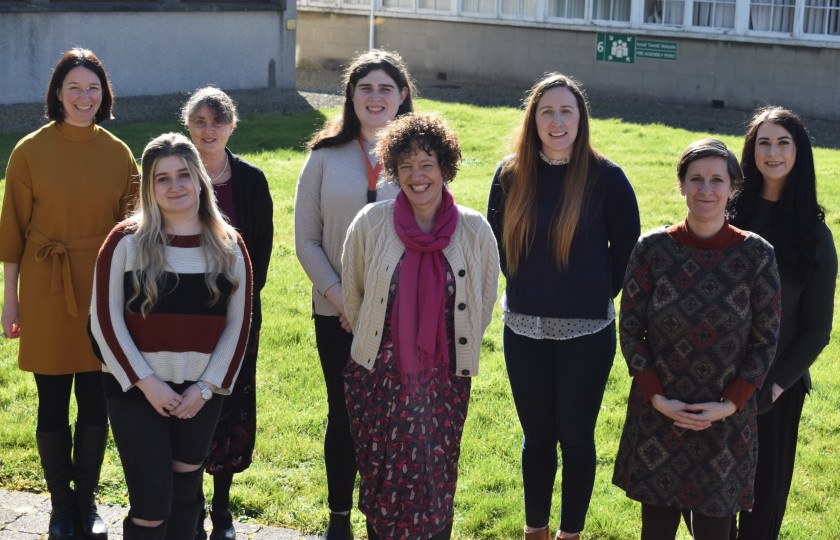 Line-up
CLICK HERE TO VIEW THE FULL PROGRAMME.
Monday 7 March
==============
OPENING EVENT 
12.45 - 1.30pm, Forum.
MEMORIAL WALK/RUN
1.30 - 2.30pm, Tailteann.
WOMEN AND SHORT FILM MAKING PANEL DISCUSSION
2 - 3.30pm, T115
Tuesday 8 March
==============
STEM CONSTRUCTION CHALLENGE
9 - 11.30am, G10
FEMALE DJ DAY - Girls Just Wanna DJ
Event 1: 10 - 11am (Education Elective)
Event 2: 1 - 2pm, Music Dept
Event 3: 4 - 5pm, (Education Elective) 
Event 4: 5 - 6pm, Forum
MAIDIN CHAIFÉ in aid of Women's Aid
11 - 12 noon, An Seomra Caidrimh
PIONEERING WOMEN IN PUBLISHING
1 - 2pm, G10
CELEBRATING MIC AUTHORS AND THEIR BOOKS ABOUT WOMEN
4 - 5.30pm, Lime Tree Theatre Stage
WORKSHOP PERFORMANCE - Basile's Tale of Tales
7pm, Halla
Wednesday 9 March
=================
FEMSPORT Power Hour
10.30 - 11.30am, G08 and online (register here)
WATCHING YOUR STEP: navigating the promises and contradictions of the visibility trap
1 - 2pm, streamed in G10
COWGIRLS & WITCHES performance
3.10pm (duration 10 mins), Student Lounge
3.40pm (duration 10 mins), Student Lounge
GEANTRAI AN EARRAIGH celebration of Irish Traditional Music in MIC
8pm, Lime Tree Theatre
Thursday 10 March
================
COWGIRLS & WITCHES
12.10pm (duration 10 mins), Student Lounge
12.40pm (duration 10 mins), Student Lounge
AISTEAR TEANGA - Minority Language Research in MIC
12 - 1pm, Online (watch here)
POSTGRADUATE RESEARCH ROUNDTABLE
1 - 2pm, G10
Friday 11 March
=============
PRECARIOUS CONTRACTS IN IRISH HEIs
11 - 12 noon, G08 and online (register here)
OTHER
======
MIC LIBRARY will host an exhibition over the course of FemFest week on topics related to the festival. 
An online project on German women in exile, hosted by Final Year Students of German Studies. This will be available here from Monday 7th March to Friday 11th March.
TAISPEÁNTAS DE LITRÍOCHT NA MBAN SA SEOMRA CAIDRIMH- Oscailte Don tseachtain / Exhibition of Women's Literature in the Seomra Caidrimh- Open for the week of FemFest