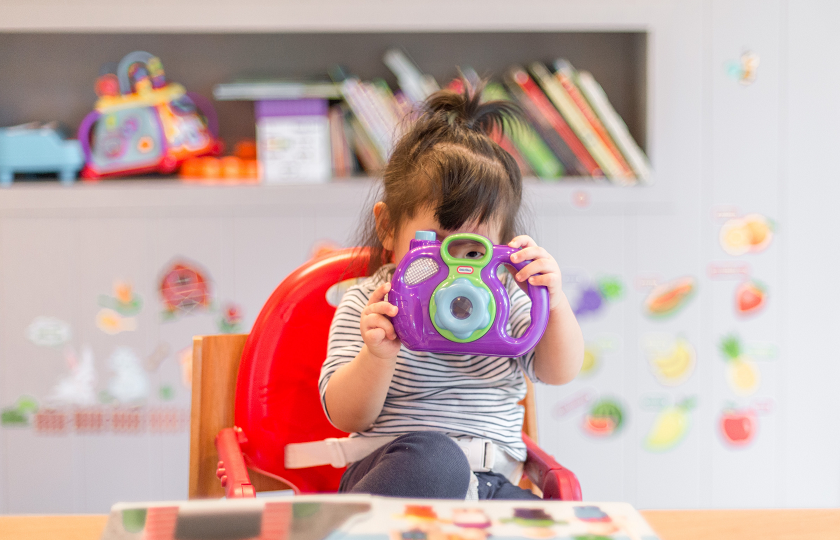 Research from MIC Reveals the Impact of COVID-19 Restrictions on Children
With a week to go to the reopening of childcare facilities, research from Mary Immaculate College (MIC) has revealed the impact of COVID-19 restrictions and childcare closures on children under the age of five.
Preliminary findings from the Play and Learning in the Early Years (PLEY) Survey, which was conducted by researchers in the Cognition, Development and Learning Lab at MIC, has shown that just over half of children aged 1-3 and two thirds of children aged 4-5 understand and have practiced social distancing. However, very few of one- and two-year olds understand social distancing.  
Almost all children aged 1-5 miss playing with their friends and with other children as a result of COVID-19 restrictions. Two thirds of children in this age group are missing childcare, along with nearly half of 6-10 year olds.
Over 500 parents were surveyed for this study, which also looked at the impact of the restrictions on children aged 6-10. Of the parents surveyed, one parent of a three-year-old outlined how difficult it has been during the COVID19 lockdown. "Being taken away from friends in creche/playschool and staying away from cousins has been very difficult. Both parents working full time from home has been extremely hard. It is truly a desperate situation and I feel the pressure on working parents and impact on kids has been down played and not sufficiently acknowledged."
Almost 80% of children are spending more time on screen activities with one parent of a two-year-old saying,"She is in front of the TV for 5-6 hours per day because I have to work. Before this she was in creche with nine other children. I take occasional short breaks to play with her but she often looks bored and under stimulated." The impact of creche closures was also echoed by a parent of a two-year-old who said, "My daughter was attending creche. She was very outgoing and loved seeing her friends. Now she has become very attached to Mum and is cautious at first when she sees someone out of the family home."
The Play and Learning in the Early Years (PLEY) Survey also looked at the impact of COVID-19 restrictions on children's play with one third of children aged 1-10 having brought the virus or the restrictions into their play. One parent of a three-year-old said that their child has introduced hand washing into their pretend play while a parent told of how their nine-year-old child had made a hospital with patients, a ventilator and test centre with Lego. Another parent of a nine-year-old said that their child was pretending to be the Coronavirus in chase games. A parent of a ten-year-old said, "Her Sims world features social distancing and extra hygiene equipment!", while a parent of a three-year-old who tried to enter their son's playhouse said, "I asked to come in. He said I couldn't because of the virus. Told me to go shopping but to make sure I wiped it all down before I gave it to him."
Death has also become a feature of play with one parent of a seven-year-old saying their child was "playing dead, playing doctors, pretend washing hands and pretending they were a teacher enforcing social distancing." A parent of a five-year-old told of how their daughter "pretends she has the virus and there is more death among her play figures."
There have however been many positive impacts on children also reported by parents who participated in the survey. Some reported their children being more content due to the lack of scheduled activities and the opportunities available for free play, while almost all children have spent more time playing outdoors. A parent of a five-year-old said, "He plays on his own now. This play has become more sophisticated and he has created whole worlds using blocks, animals, items from the recycling bin, whatever he can get his hands on. The absence of massive structure and rushing in his day has given him an opportunity to just be and let his imagination run wild." Another parent of a seven-year-old said, "She spends a lot more time doing art and crafts and using her imagination a lot more."
Commenting on the findings, lecturer in the Department of Psychology at MIC and lead researcher on the PLEY Survey, Dr Suzanne Egan, said, "While findings from the PLEY Survey shed light on the psychological impact of the current restrictions on children, and show that some children and families have adapted well, more research will be needed to determine whether any negative effects will have a longer-term impact on children's psychological health and well-being. It is possible that these effects could continue over a longer time period or they may reduce as children begin to return to their normal lives."
Dr Egan noted that 'normal' life may seem quite different to children, even as their usual childcare settings reopen. She said, "Children have experienced many changes over the last few months and the childcare settings they return to will be somewhat changed also. For health and safety reasons children will have rules about who they can interact with and what they can play with. Many children will adapt readily to the new arrangements, but for some this will be a further change in addition to the many others they have recently experienced, including for some children the death of a family member. The responsive and nurturing high quality care provided by early childhood professionals will be essential in supporting young children through this challenging period, alongside the care and support of parents, and health and social care professionals where needed."
On the inclusion of the virus and restrictions in their play, Dr Egan said, "The inclusion of information about the virus and restrictions in many types of children's play from a young age shows their awareness of the crisis. However, this is a very natural thing for children to do as children make sense of their world through their play and it helps them understand what is going on around them."
The Play and Learning in the Early Years (PLEY) Survey was launched in May and open to parents of children aged 10 and under for two weeks during Phase 1 of the easing of restrictions in Ireland. Over 500 parents of young children answered questions about how the COVID-19 crisis has affected their child's play, learning and development. The survey was conducted by members of the Cognition, Development and Learning Lab at MIC led by Dr Suzanne Egan.
View an infographic of the Key Findings on Childcare here and infographic of the Key Findings on Play here.
Read the PLEY Survey Preliminary Findings Report here.