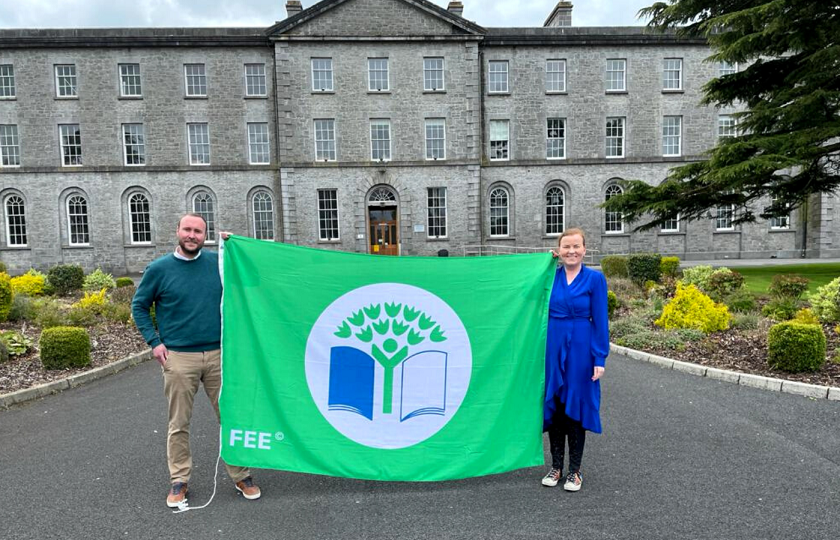 Mary Immaculate College (MIC) has been awarded a Green Flag for its Thurles campus in recognition of the efforts of students and staff who have successfully reduced waste throughout the campus, increased recycling, and raised awareness of environmental and sustainability issues amongst the student and staff population.
In granting the Green Flag to MIC Thurles, Dr Michael John O'Mahony, Director of An Taisce's Environmental Education Unit, commended the MIC Thurles Green Campus Committee for its "commitment, engagement and innovation". He said, "Particular strengths in the programme include student led initiatives, engagement with local schools and embedding sustainability into the learning on campus. We are delighted to acknowledge and recognise MIC Thurles on their Green Campus journey".
Over the past two and half years, the MIC Thurles Green Campus Committee, which includes students Elisha Dore, Kate Darcy, Brian Cowhey, Patrick Finucane, Béibhinn Byrne, Shannon Young and Nathan Kelly, as well as lecturers, Dr Nigel Quirke-Bolt and Dr Kate Stapleton, librarian Ruth Talbot and campus administrator Rob O'Halloran, completed a comprehensive environmental review of the campus and implemented an action plan driven by students. Through a series of fundraising and awareness raising events, the Committee integrated sustainability and environmental issues across the College's post-primary education programmes and increased staff and student research in the area. Through closer monitoring of litter and waste, students across MIC Thurles successfully increased recycling and significantly reduced single use plastic across the campus – an equivalent of almost 22,000 bottles. The Committee also forged links with local groups, including Cabragh Wetlands, 3 Counties Energy Agency and the Thurles Lions Club, to increase environmental awareness throughout the local community.
Following completion of the seven-step Green Flag programme, a committee from An Taisce carried out a campus assessment and noted "the excellent student involvement and great support from management and staff", as well as the "wonderful links to the wider community".
As the students at MIC Thurles are all studying to become post-primary teachers, An Taisce noted the opportunities for the creation of a "learning loop", whereby MIC Thurles students can bring their Green Campus experiences into schools whilst on teaching practice. Chiara Hanrahan, An Taisce's Green Schools Education Officer, was particularly impressed with the students idea to create a 'Sustainable Education' resource pack that students could utilise in the classroom during School Placement.
Reacting to the Green Flag award, Elisha Dore, a fourth-year student studying on the BA in Education, Gaeilge and Business Studies programme at MIC Thurles, said, "Receiving Green Flag status for MIC Thurles means a lot to students as it demonstrates the positive effects that our college community can have when we collaborate to achieve our goals. It has been a much-needed lift and it's been great to feel so connected to our campus again despite everything being online. Achieving this flag demonstrates how important environmental issues are among MIC Thurles students and our Green Campus project aims to create a more sustainable future for all."
Dr Nigel Quirke-Bolt, MIC Green Campus Committee member and lecturer in education at MIC Thurles, commended the classes of 2019 and 2020 for their input, energy and drive and noted the wonderful support of a large number of students over the past two years as the College strived for the Green Flag Award. He said, "The staff brought their wisdom and advice to the committee, while each student brought their own personal and unique qualities and expertise, and their free and generous use of their time, with the resulting synergy providing a powerful force of directed enthusiasm and passion."
He added, "The students worked tirelessly to promote and safeguard the environment of our historic and beautiful campus and to solve the problems we experienced in a selfless and collegial manner.  They displayed a strong sense of community and shared leadership that benefitted not only the entire campus, but which also helped to develop and enrich their own intellectual, spiritual and personal development. It is easy to imagine how the student members of the Green Campus Committee will become the motivational, inspiring and influential teachers within our schools in the future."
Over the coming year, the MIC Thurles Green Campus Committee will continue to actively promote environmental issues to the MIC college community. In addition to the development of a 'Sustainable Education' resource pack for School Placement, the Committee aims to increase biodiversity on campus by planting a pollinator garden. The committee also hope to focus on energy management and conservation through awareness and information campaigns, and will continue their recycling efforts and reduction of single use plastic.
There are currently 40 campuses across Ireland registered on the Green Campus programme with 16 campuses awarded the Green Flag. Further information about the Green Campus programme can be found here.