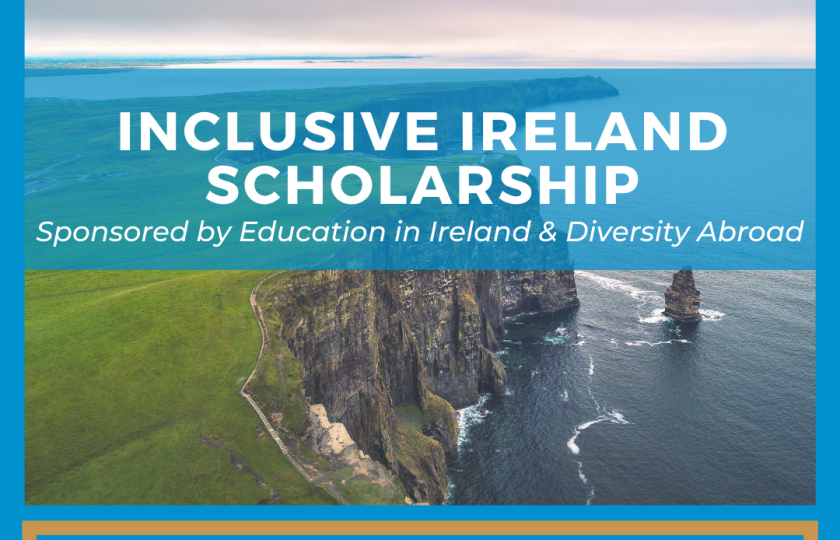 Inclusive Ireland Scholarship
Mary Immaculate College (MIC) is delighted to partner with Education in Ireland and Diversity Abroad in the creation of the Inclusive Ireland Scholarship Programme 2021. MIC is committed to providing academically rigorous and culturally immersive study abroad experiences for students from all backgrounds and identities. We believe that diversity among our visiting students only serves to enrich our society and our campuses, and so we are excited to welcome this cohort of scholars in Fall 2021.
In order to be considered for the scholarship, you must meet the following criteria:
Be currently enrolled as an undergraduate student at a college or university in the USA
Identify as BIPOC (Black, Indigenous, and People of Colour)
Intend to study abroad in Ireland during the Fall 2021 term
Have a cumulative grade point average of 3.0 or above
Here are the Study Abroad options at MIC. If you would like more information about Study Abroad at Mary Immaculate College, please contact Alison.Dervan@mic.ul.ie
The scholarship application process will close on April 1st, 2021, at 11:59 PM PST. The application requires contact details and two essay questions.
Please see Education in Ireland for more details.
Sara Dart, Vice President Education in Ireland commented, "Education in Ireland is thrilled to be partnering with Diversity Abroad to launch the Inclusive Ireland Scholarship program. Access to international opportunities is a question of equity, and providing these scholarships is one way we can meaningfully reduce that barrier to participation. Ireland truly is a welcoming destination for students of all identities and backgrounds, and we're excited for the Inclusive Ireland Scholars to join us in Fall 2021!"
Holly Cowman, Director of International Engagement at MIC noted that, "Mary Immaculate College is delighted to take part in this exciting initiative and to offer an Inclusive Ireland Scholarship for Study Abroad. The International Office at MIC is committed to continuously improving access to global learning opportunities for more students and we really value the broader perspectives, intercultural learning and rich collaboration that greater diversity among our student body brings to our friendly, welcoming and inclusive campus community in the heart of Limerick City."