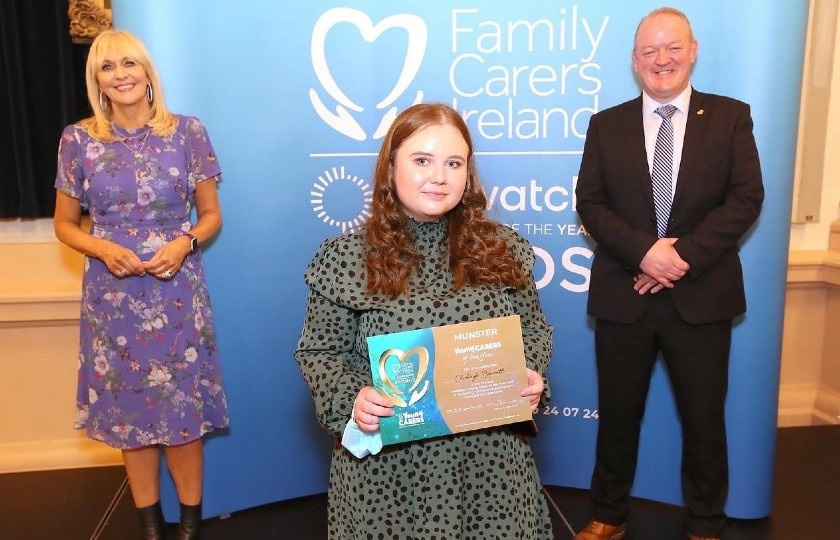 A first-year Mary Immaculate College (MIC) student, Clodagh Bennett, has been chosen as the Netwatch Munster Young Carer of the Year, in recognition of her work caring for her three siblings.
Clodagh, who is from Limerick and is studying the BA in Education, Gaeilge and Business Studies at MIC Thurles, was successfully nominated by her mother, Jessica, for her selfless actions.
Despite commuting between Limerick City and Thurles daily for college, Clodagh helps with the care of her three siblings at home, including helping her sister Niamh who has mobility issues and needs help in her room and with such things as bathing. When Niamh unfortunately contracted COVID-19 last year and required hospitalisation for some assistance recovering, Clodagh took charge with the housework while her mother cared for Niamh in hospital.
Clodagh also cares for her brother Aidan and sister Saoirse, both of whom are on the ASD spectrum and have some mental health difficulties.
Reacting to being announced as the Munster Young Carer of the Year, Clodagh said: "I was completely shocked to find out I had been selected as I didn't even know I was nominated! I think it's great to have received so much recognition as people who aren't involved in caring for someone don't typically know how much work is involved in doing so. I also want to say that I don't see this as "winning" an award: this is not a 'win or lose' situation. Rather, I want this to be a symbol of all the young carers around the country who may be in a similar position to me and all of the other unseen heroes. I must also say that the support I've received from the staff at MIC has been incredible. Everyone working here are so kind and always willing to help. I'm truly enjoying my time at MIC so far."
Congratulating Clodagh on her achievement was Head of School at MIC Thurles, Dr Finn Ó Murchú, who said: "It's always amazing and sobering to realize the invisible work and skill set that lies behind each of our students as they attend college. On behalf of the entire MIC community I wish to congratulate Clodagh on this much deserved recognition. Her selfless dedication to caring for her family through a global pandemic, while successfully completing her Leaving Certificate and then moving on and showing such commitment to Third Level education is truly remarkable."