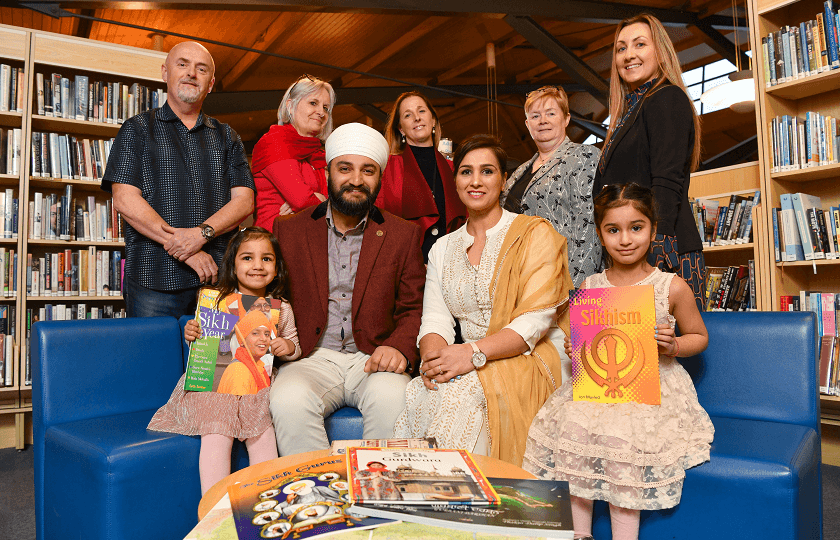 **PLEASE NOTE THAT THE BELOW EVENTS ARE CANCELLED UNTIL FURTHER NOTICE**
The Irish Institute for Catholic Studies at Mary Immaculate College (MIC), in collaboration with the Mid-West Sikh Community and Limerick City and County Council, will host a symposium on Friday 13 March at MIC Limerick to honour the life of Max Arthur Macauliffe, the Limerick man revered by the Sikh community throughout the world.
A native of Templeglantine in West Limerick, Max Arthur Macauliffe is considered the most significant western figure in the history of Sikhism and is best known for his English translation of the Sikhs' holy book, Guru Granth Sahib, which is widely used by Sikhs all over the world today.
The symposium on Sikhism commemorating Max Arthur Macauliffe will take place at MIC's Limerick campus from 2.30pm to 7pm on Friday 13 March. In his keynote, Professor Tadhg Foley of NUI Galway will explore the life and work of this pioneering individual who travelled from Ireland to India in 1864. Gurinder Singh Mann, historian and director of the Sikh Museum Initiative, will also speak at the symposium and will examine the Sikh faith from the writings of Macauliffe whose six-volume work on the Sikh religion has been in continuous print since it was first published in 1909.
Other events on the day will include an interfaith dialogue café where staff and students at MIC and members of the public will be given the opportunity to converse with members of the Bahá'í, Catholic, Hindu, Muslim, Quaker and Sikh communities. Sacred Sikh music will also be performed at the symposium, while an exhibition of posters on Sikhism by Dr Jasbir Singh Puri will also be on display at MIC Limerick throughout the month of March until 6 April. The poster exhibition will be formally launched by Professor Niamh Hourigan, Vice-President of Academic Affairs at MIC and Mayor of Limerick City and County Council, Cllr Michael Sheahan, on Wednesday (11 March), and a number of books on Sikhism will also be donated to the MIC Library on the day by Dr Jasbir Singh Puri and the Sikh community. 
Speaking ahead of the symposium, Professor Eugene Wall, President of MIC, said, "Mary Immaculate College is delighted to host a series of events to celebrate the rich culture and religious traditions of the Sikh people in Ireland, and in particular to remember the pioneering work of Limerick man, Max Arthur Macauliffe."
He continued by saying: "MIC was established during the life-time of Max Arthur Macauliffe and since then it has lit a flame of excellence in education and generous scholarship in the service of people both locally and nationally. As an inclusive institution, we welcome everyone of all faiths and none. Engaging in inter-religious learning through events such as this one is key to our commitment to inclusivity and reflects the College's openness to the religious traditions and values of all."
Extending a welcome to the Sikh community, Professor Wall said, "We hope our relationship with the Sikh community continues to flourish into the future, and it is our hope that many members of the Sikh community will come to study at MIC."
Dr Patricia Kieran, director of the Irish Institute for Catholic Studies and lecturer in the Department of Learning, Society and Religious Education at MIC, said, "This series of events provide a real opportunity to celebrate the intercultural and inter-religious work of Max Arthur Macauliffe – a brilliant scholar and linguist who immersed himself in the Sikh tradition. It is inspiring that one of our own, a native of county Limerick, could have had such an incredible intercultural openness and such a rich capacity for dialogue with the sacred Sikh tradition."
She added, "He is particularly significant for academics and students in MIC today and is especially significant for those studying to be teachers as his father was principal teacher in Templeglantine National School where Max Arthur Macauliffe also taught for a short amount of time before travelling to India. Macauliffe's life and work epitomises a thirst for knowledge and understanding of different religious traditions and an openness to their spiritual, linguistic and cultural treasures. His work showed that through dialogue and openness each person can have a remarkable impact on communities for generations to come. We are honoured that the vibrant Sikh community in Ireland will come to MIC to share their rich religious and cultural heritage at the Symposium on Sikhism."
For more information and the full schedule of events, click here. 
Pictured above L-R: Dr John McDonagh, senior lecturer at MIC; Trisha Rainsford, Mid-West Interfaith Network; Jillian Robinson, Community Engagement Officer, Limerick City and County Council; Anne Rizzo, Regional Age Friendly Manager, Limerick City and County Council; and Ciara Barry, Librarian, Limerick City and County Council pictured with (front row) Gurmukh Singh Bimbra and Rajwinder Kaur Bimbra and their daughters, Pranjit Kaur Bimbra (3) and Parmpreet Kaur Bimbra (6).